Salmon Crudo with Pickled Pear, Soy Mayonnaise and Cucumber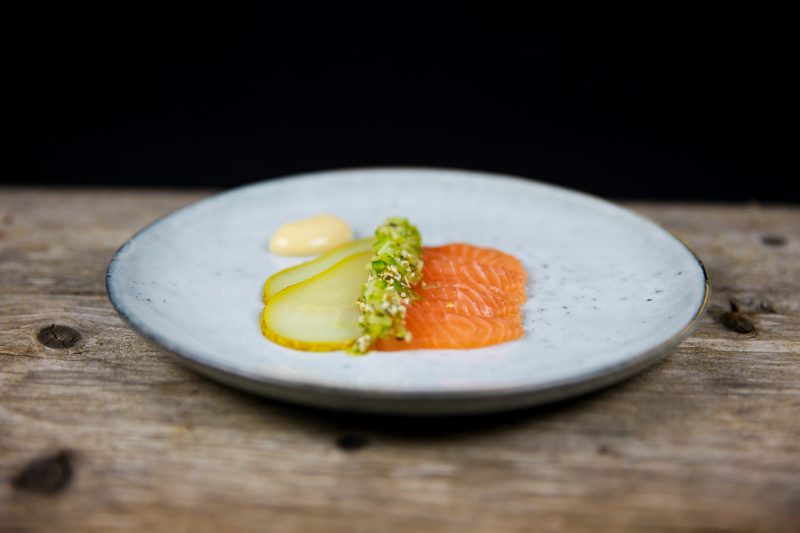 Try this simple recipe for a Salmon Crudo with pickled pear, soy and sesame mayonnaise and cucumber and chili crisp.
Salmon Crudo or raw salmon is a great way to enjoy salmon. What you need to keep in mind is that there is always a risk when consuming raw food. This goes for fish and seafood as well. In this recipe I used a fresh farmed salmon, if you can find wild salmon that will of course work fine too.
The salmon is quite fatty so if you want to replace it with another type of fish you can but it will be sort of a different dish. In that case you might want to add some extra oil to not make it feel dry. Now let's do this.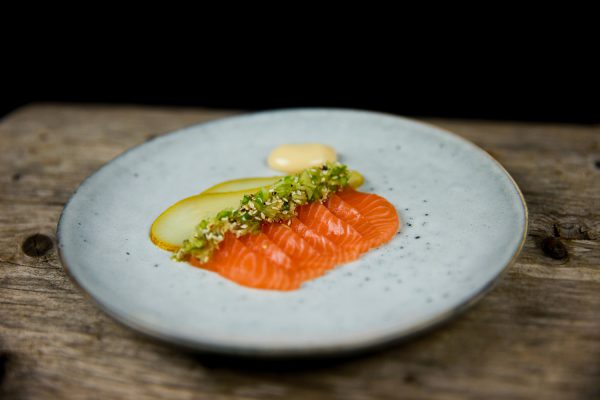 Salmon Crudo with Pickled Pear, Soy Mayonnaise and Cucumber
serves 4 as an appetizer
Salmon Crudo
7 oz / 200g fresh salmon, center loin of fillet
salt
Cut the salmon in thin slices. Salt lightly and leave to rest.
Pickled Pear
1-2 pears
0.5 cups / 1.1 dl sugar
0.5 cups / 1.1 dl white wine vinegar
0.5 cups / 1.1 dl water
Bring water, sugar and vinegar to a boil. Cut two thin slices of the pear for each serving, eight slices in all. Add the sliced pear to the pickling liquid and let it simmer on low heat for five minutes. Set aside and leave to cool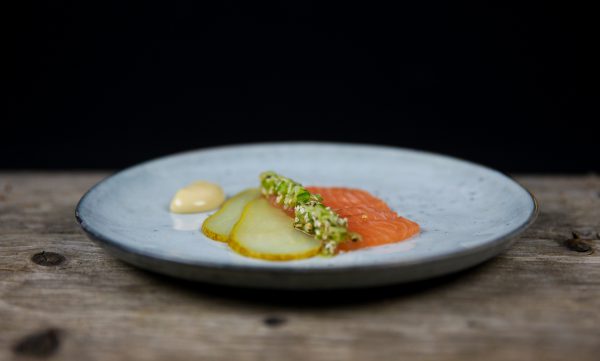 Soy and Sesame Mayonnaise
1 egg yolk
2 tsp lime juice
0.5 cups / 1.1 dl canola oil
1.5 tbsp Japanese soy
0.5 tsp roasted sesame oil
Add egg yolk, lime juice, soy and sesame oil to a bowl. Whisk together. Add the oil in drops a little at the time while whisking. Once the mayonnaise is thick check the seasoning and adjust if necessary. If the mayonnaise gets too thick you can thin it with a few drops of water.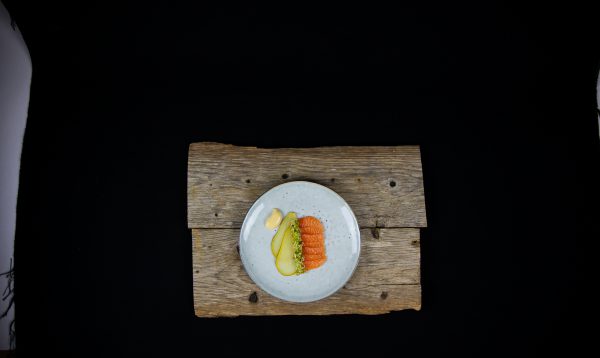 Cucumber and Sesame
⅓ cucumber
½ green chili
2 tsp toasted sesame seeds
1 tbsp olive oil
salt, black pepper
Toast the sesame seeds in a dry pan until golden. Peel and remove the seeds from the cucumber. Dice the cucumber in very small cubes. Chop the chili. Combine sesame seeds, cucumber, chili with the olive oil. Season with salt and pepper.
Plating
Add two slices of pear, arrange a few slices of salmon on the side. Add the cucumber on top. Add a spoonful of soy mayonnaise on the side. Serve.