Marinated Shrimps with Fresh Mango, Cilantro & Lime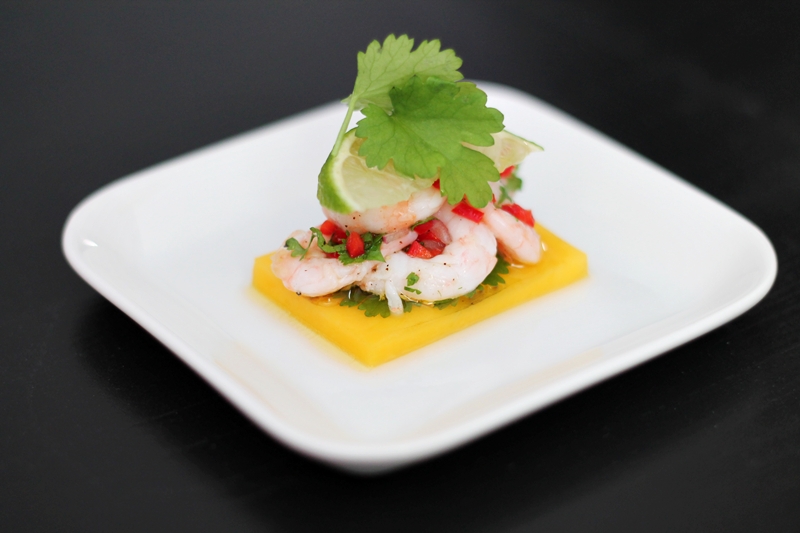 Try this great little seafood tapas. A fresh and flavorful dish that can just as easily be served as an appetizer or even turned into a main course. Let's make marinated shrimps with fresh mango, cilantro and lime. You won't regret it.
Shrimps with fresh mango, cilantro & lime served as simple as possible. It is a great tasting and refreshing little tapa that you can pretty much serve any time. It works great as a snack or tapa with a drink in your hand. Or make it about twice the size as I have here and you have a perfect appetizer. Still not enough? Don't worry, add salad or maybe some rice noodles and we are talking main course as well. What matters here is the flavor. The combination of the slightly sweet seafood, fruity mango and the boldness of the acidity from the lime and a gentle heat from the chili is just perfect.
For the ingredients, I use freshly peeled shrimps. These might not be available everywhere so you can exchange it for any kind of shrimp you like. Fresh mango and cilantro is a must, other than that the dish only consists of lime, chili with a bit of salt and pepper, what could possibly go wrong? Oh and if you like seafood I've got a few other recipes you might want to try, find them here. 
Shrimps with fresh mango, cilantro & lime
Makes 4 tapas or 2 appetizers
1 handful fresh shrimps
1/2 fresh mango
2 tbsp chopped fresh cilantro
1 limes lime
1 fresh red chili
1 tbsp olive oil
salt, pepper
Peel and slice the mango and then cut it into pieces. Finely dice the red chili, remove seeds if you don't like it too hot. Squeeze some lime juice and combine with the shrimps, roughly chopped cilantro, chili, salt, pepper and a few drops of olive oil. Add the mango to a plate and add the shrimps on top, add some extra cilantro on top and serve with lime wedges. Good luck!
If you like this recipe chances are you will like some of my other recipes as well. Do check them out here.