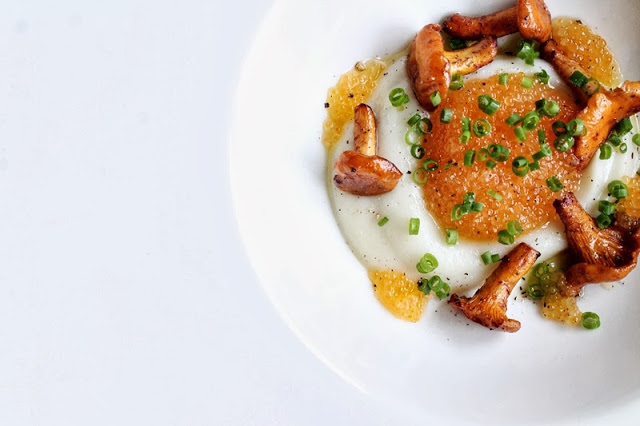 Sunchokes, chanterelles and bleak roe, that's a combo you'll love. Try this recipe for Sunchoke cream with chanterelles and bleak roe.
It's hard to say who has the lead in this dish, sunchoke cream, chanterelles or the bleak roe? It doesn't really matter, what is important is that they go beautifully together. It's not very hard, get some sunchokes or Jerusalem artichokes as they are called sometimes. Add some chanterelles fried in butter and top it off with a generous spoon of bleak roe. Done.
I'm not sure how easy it is to find fresh chanterelles and bleak roe in other parts of the world. With that in mind you can try to replace the chanterelles with any other flavorful mushroom, the one that comes to mind is cepe mushrooms. The bleak roe can be replaced with most other fish roes, try to get one with small eggs. Now the best way is of course to use what is in the recipe, replacing will change the dish but it will still be delicious. Now let's cook some sunchoke cream and chanterelles shall we?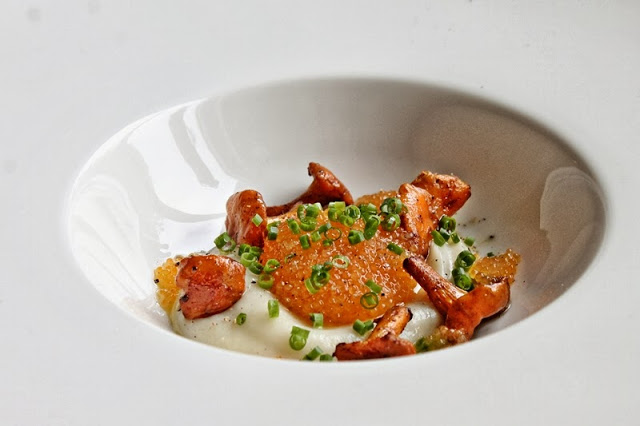 Sunchoke Cream with Chanterelles and Bleak Roe
Serves 4 as an appetizer
200g / 7 oz chanterelles
About 8 Jerusalem artichokes
4 tbsp cream
chives
1 tbsp butter (for the sunchokes)
1 tbsp butter (for the chanterelles)
salt, pepper
2 tbsp white wine
1 shallot
150g / 5.3 oz bleak roe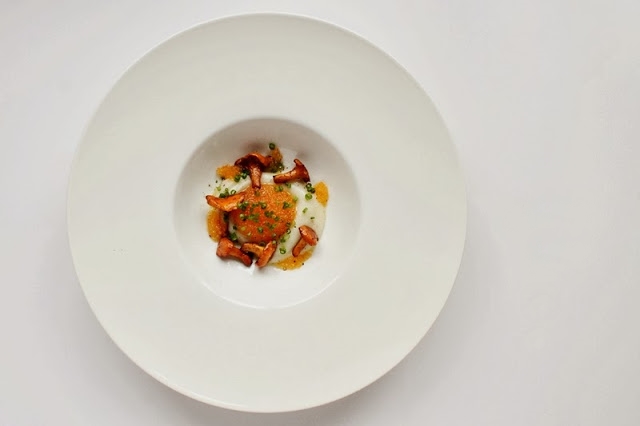 Peel the artichokes and the shallots and chop them roughly. Fry them on medium heat in a pan for a few minutes, add salt, pepper and white wine and bring to a boil. Add water and the cream and let the artichokes simmer until cooked through. Once done remove the liquid and set aside and the blend the artichokes to a smooth puree. If it gets too thick then thin it with the liquid.
Fry the chanterelles in butter and season with salt and pepper. Serve the artichoke cream with the bleak roe and the chanterelles, when serving add some sliced chives.
Tags: bleak roe, chanterelle, fish, jerusalem artichoke, mushrooms, roe, sunchoke