Arugula and Manchego Pesto with Grilled Parsnips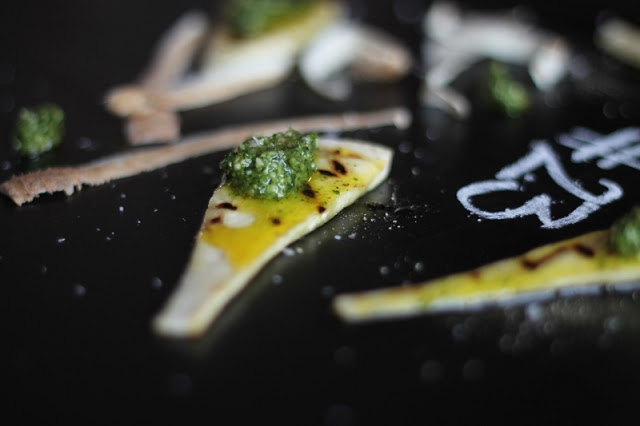 Simple vegetarian snack or a lovely side, try this recipe for an Arugula and Manchego Pesto with grilled parsnips.
Try this arugula and manchego pesto that I'm serving on top of some grilled slices of parsnips. It's a great way to use to somewhat (at least for me) pesto but with a little bit of a twist. The pesto is more or less done like any other pesto, blend the crap out of all the ingredients, add the cheese at the end and then serve.
To turn it into an arugula and manchego pesto I have of course replaced some of the ingredients, instead of olive oil I use cold pressed canola oil, if you can't find that then use olive instead. I use whole almonds with the skin on and instead of Parmesan and Basil which is the base for a traditional pesto I use arugula salad and Spanish manchego cheese.
I served this as a snack to go along with some other stuff with some drinks. But you can use it for pasta, side dishes, bruschettas and much more.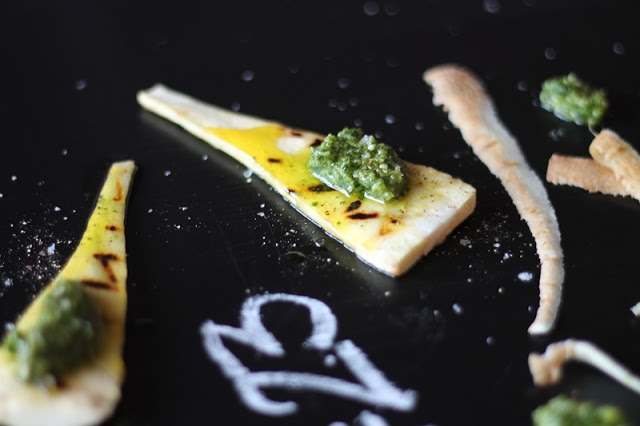 Arugula and Manchego Pesto with grilled parsnips
Serves about 4 as a snack
4 Parsnips
75g / 2.5 oz almonds
50g / 1.8 oz manchego cheese
2 cloves of garlic
50 g / 1,8 oz arugula
3 tbsp cold pressed rapeseed oil
salt, pepper
olive oil
Peel and cut the parsnips lengthwise, toss in olive oil and season with salt and pepper. Grill until almost cooked through.
Blend almonds, garlic, arugula for a few seconds. Add the cheese and oil and season with salt and pepper. You might have to adjust the oil if the pesto is too thick. Put a spoonful of pesto on each parsnip.