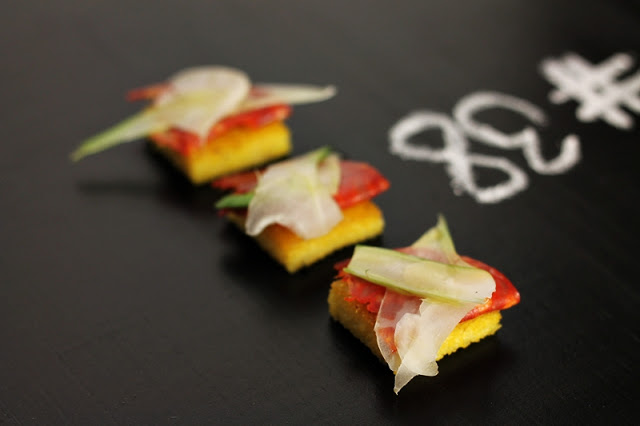 Try this recipe for Polenta with Fennel and Chorizo, polenta can used like this when you want to serve snacks but get away from the constant snacks made with sliced bread.
So I made these squares of Polenta with fennel and chorizo. The idea is simple, instead of using sliced bread to put some nice chorizo and crunchy fennel. Now normally I'm not the biggest fan of polenta but served like this it's not that bad. What I do is cook the polenta in chicken broth and simply some olive oil, salt and pepper.
Then I pour the polenta onto a plate or tray and leave it to cool. The polenta will set and you can cut it into squares and then fry them in a pan and serve warm with any topping. The good thing is that it can be served warm and if you don't eat gluten it's a good alternative to bread.
You can also make it vegetarian, then simply replace the chicken stock with vegetable stock and leave out the chorizo on top. Now let's cook this stuff shall we?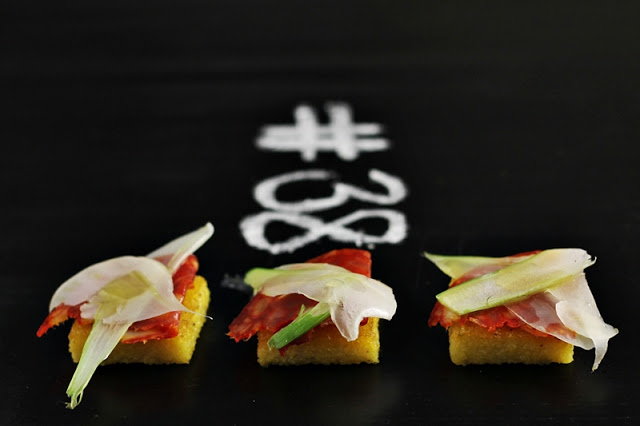 Polenta with Fennel and Chorizo
Serves 4-6 as a light snack
2 dl / 0.8 cups polenta
10 dl / 4 cups chicken broth
1 fennel / anise
4 tbsp olive oil
Salt, pepper
Chorizo, about 10-20 slices
1 tbsp olive oil (for frying)
Bring the chicken stock to a boil, add the polenta and let it cook for about 30 minutes, make sure to constantly stirring it. Polenta easily sticks to the bottom. Add the olive oil and season with salt and pepper. Once done pour onto a flat tray, brush the tray with some oil before so you can remove it easier.
Slice the fennel thin. Cut the polenta in squares and fry them in a pan until slightly crispy. Remove and add a slice of chorizo and some fennel on top.