Herbed Lamb Fillet with Goat Cheese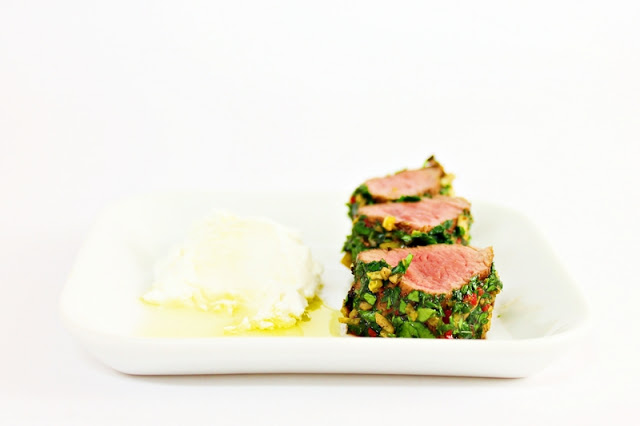 Try this herbed lamb fillet recipe like a snack or make it big for a full meal, keep reading to learn it all.
Lamb fillet is a great meat and is perfect in size for serving small, if you can't get your hands on some fillet you can change it for a bigger piece, also the recipe goes great with beef. In my recipe I serve it like a small snack. It's not that easy to see in the photos since I only did closeups but what you see on one plate is a small appetizer. So if you are serving it as a full meal I suggest you triple the recipe.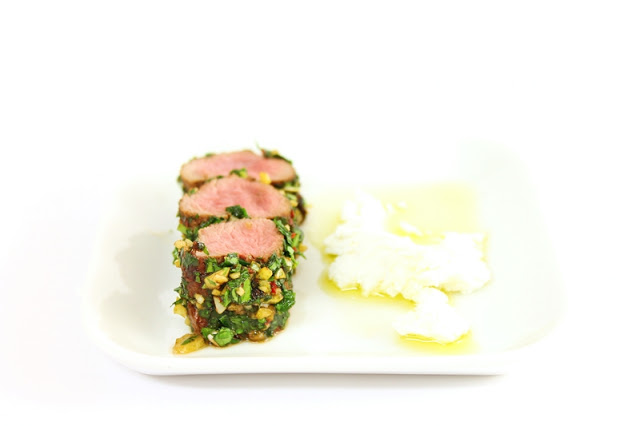 Herbed Lamb Fillet with Goat Cheese
Serves 4 as a small appetizer
200g / 7 oz lamb fillet
4 tbsp chopped parsley, chives, rosemary
1 lemon
1 clove garlic
80g / 3 oz goat cheese (chèvre)
1 small red chili
3 tbsp olive oil
1 tbsp butter
salt, pepper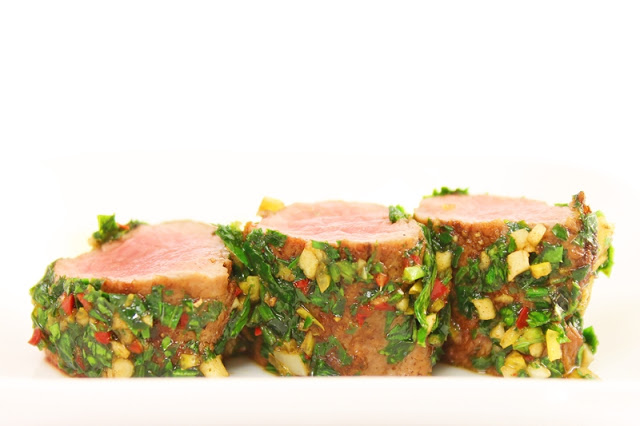 Peel the lemon using a potato peeler. Split and remove the seeds from the chili. Chop the garlic, lemon peel, chili and herbs into a rough paste. Season the lamb with salt and pepper and fry in butter until golden and medium rare, this goes really quickly with such a small piece of meat so be careful not to overcook it.
Once done roll the meat in the herb mixture and put it back in the pan for a few seconds. This will help the herbs stick better to the meat. Then roll it in the herbs one more time. Leave to rest, meanwhile put the goat cheese on the plate and add a little bit of olive oil. Cut the lamb into bite sized pieces and plate. Serve warm, good luck.