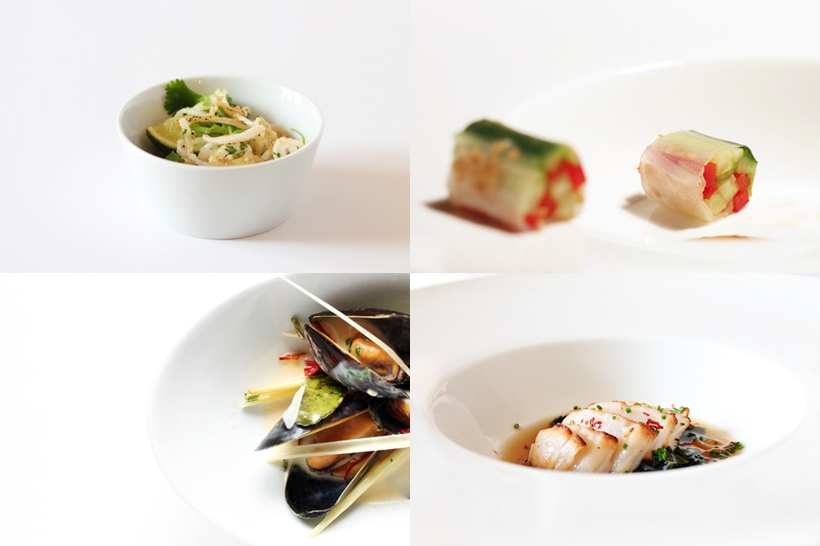 Not everyone want to make the same old lobster, steak and chocolate for New Year's Eve. Some of you would maybe like to try something new. So we put together this Asian inspired menu. Some appetizers, a starter and a main course. The dessert is up to you.
Asian inspired menu for New Year's Eve
Appetizers
Vietnamese spring rolls with sesame seeds and soy dipping sauce
Calamari with cilantro, lime and spring onion
Mussels with Thai flavors
Starter
Scallop in dashi with wakame and chili oil
Main course
Soy braised ribs with chili and cilantro
Momofuku quick salt pickles
Rice balls with cilantro and chili soy dip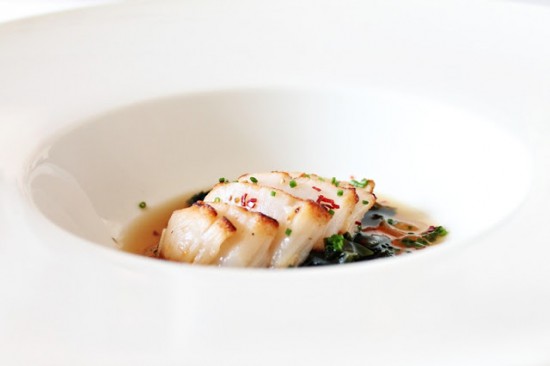 Vietnamese spring rolls with sesame seeds & soy dipping sauce
serves 4
Vietnamese spring rolls works great as a tapas or appetizer, fill it with whatever you like. These ones are filled with cucumber, paprika, spring onion and roasted sesame seeds but feel free to add or replace any of it. Most fillings work fine but crunchy vegetables and shellfish are my favorites.
8 Vietnamese spring roll paper
4 spring onions
1 paprika
1 cucumber
2 tbsp sesame seeds
4 tbsp sweet chili sauce
1 tbsp Japanese soy
4 tbsp sesame oil
Cut the vegetables lengthwise, roast the sesame seeds in a dry pan until golden. Combine the vegetables with a little bit of sesame oil and the seeds.
Dip the spring roll paper one at the time in almost boiling water, remove and place on a cutting board. Place the vegetables in the center of the paper and carefully roll the paper around the vegetables. Using a sharp knife trim the edges of the roll and cut the roll into bite size pieces. Combine sweet chili sauce with a dash of soy, sesame oil and some sesame seeds.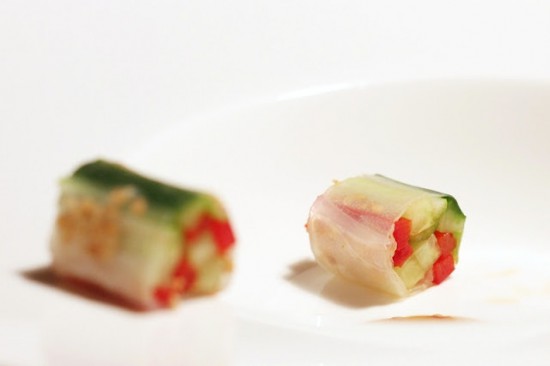 Calamari with cilantro, lime & spring onion
serves 4
This is probably the tastiest way I ever had calamari, simple, fresh and tasty. For this recipe I used frozen baby squid which is better since you want to slice them as thin as you can, taste wise there is no problem using larger calamaris but if you´ll find small, get them.
200g / 7 oz baby calamari
1 handful fresh cilantro
2 limes
6 spring onions / scallions
salt, pepper
olive oil
Slice the calamari as thin as you can, slice the spring onion. Heat olive oil in a pan on high heat and add the calamari, sear it for about thirty seconds constantly stirring. Add salt and pepper and then the spring onion. If it starts to dry out then add a little more olive oil. Finally squeeze in lime juice and some roughly chopped cilantro, serve immediately.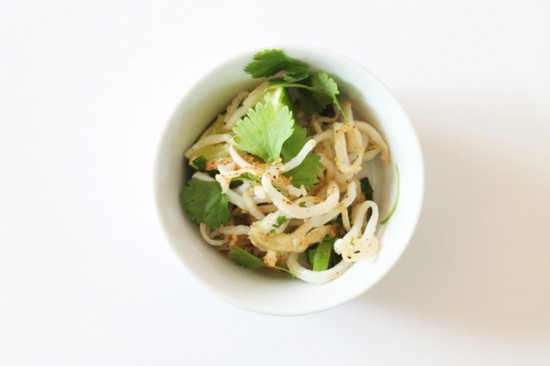 Mussels with Thai flavors
serves 4
This is a great recipe when you want to spice up your basic Moules Mariniere recipe, it's more or less the same thing but I add some Thai flavors to the recipe to spice it up a bit. I have seen some recipes where the cream have been replaced with coconut milk but I think using cream with the Thai spices gives a much better result.
1 kg / 2 lb fresh mussels
2 dl / 7 oz dry white wine
2 dl / 7 oz cream
2 lemongrass stalks
6 lime leafs
2 red chillies
2 cloves garlic
1 small onion
1 piece fresh ginger, about the size of your thumb
oil
salt, pepper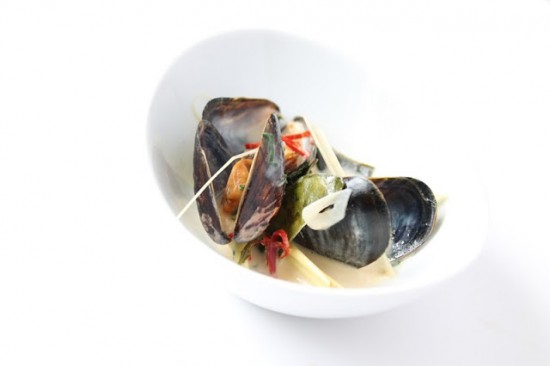 Clean the mussels and discard any broken ones, rinse under cold water. Roughly chop lemongrass, lime leaves, red chili, garlic, onion and ginger. In a big pot add oil and the chopped ingredients and let them cook for a few minutes in the oil on medium heat. Season with salt and pepper.
Add the mussels and white wine and turn the heat to max, put a lid on and let the mussels steam for a few minutes. When the mussels have opened the remove them and set aside. Add some cream and bring the sauce to a boil, adjust salt and pepper to taste. Pour the sauce over the mussels and serve immediately.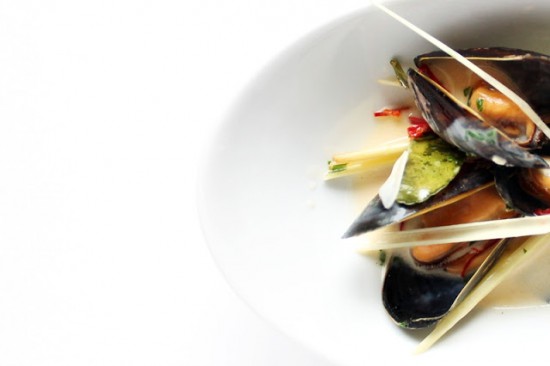 Scallop in dashi with wakame and chili oil
serves 4
For this broth I use a store bought dashi powder that you can get at an asian supermarket. I follow the instructions on the package and I use dried wakame that I soak in water and then add to the dashi.
There are several brands of dashi so feel free to season it to taste, I simply add a little bit of japanese soy to mine but everything goes.
8 scallops
dashi powder, cook with water according to the instructions on the packaging
50 g dried wakame
2 fresh red chillies
chives
leeks
4 tbsp japanese soy
vegetable oil
olive oil
dried chili
Combine water with the dashi powder and bring to a simmer, season with the soy. Soak the wakame in water for ten minutes. Discard the water after soaking and add the wakame to the dashi. Roughly chop the red chili and mix in a blender with a little bit of vegetable oil until smooth.
Slice the leeks and chives, sear the scallops in the olive oil, season with salt and pepper. Slice the seared scallop in a few slices. In a bowl add the wakame from the dashi and put the scallop on top, add the leeks, chives and a few drops of chili oil and some sprinkles of dried chili. Finally add the dashi broth on top. Serve varm.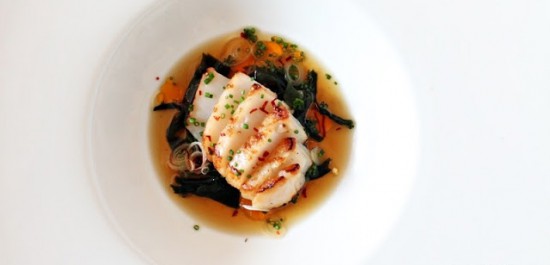 Soy braised ribs with chili & cilantro
serves 4
This main dish is made up by three different tapas dishes that work really great together, soy braised ribs, pickles and rice balls. If you don't feel like it you can serve the rice just steamed and skip the part where you're shaping them into balls. Now let's cook, we are starting with the ribs.
1,2 kg / 2,5 lb Pork ribs
150g / 5 oz Japanese soy
100g / 3,5 oz Honey
1 handful fresh cilantro
1 tbsp chili flakes
Combine soy with honey and brush the ribs with the marinade. Roast the ribs in oven on medium heat until tender, for me this usually takes between 2-3 hours. Brush the ribs every twenty minutes until done.
Take out the ribs and let cool down, then cut between bones and brush one more time, sprinkle with chili flakes and chopped cilantro. Serve varm.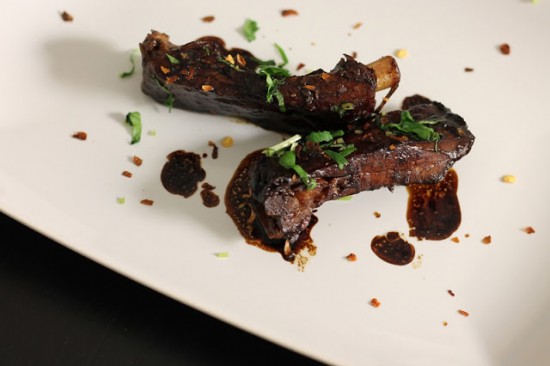 Momofuku quick salt pickles
serves 4
First of all, thanks David Chang for allowing me to steal this recipe. It's the easiest pickle recipe I ever tried and they are very versatile and can be served on their own, to ramen noodles, tacos, pulled pork, burgers, you name it.
In the original recipe there is only cucumber but I usually add a fennel as well since I think it goes great with the cucumber and is excellent for pickling, so let's go!
1 Fennel
1 Cucumber
1 tablespoon sugar
1 teaspoon coarse sea salt
Cut the vegetables in slices and combine with the salt and sugar, let sit for ten minutes, adjust salt and sugar to taste, you can rinse if they are too salty or sweet. Serve within a few hours.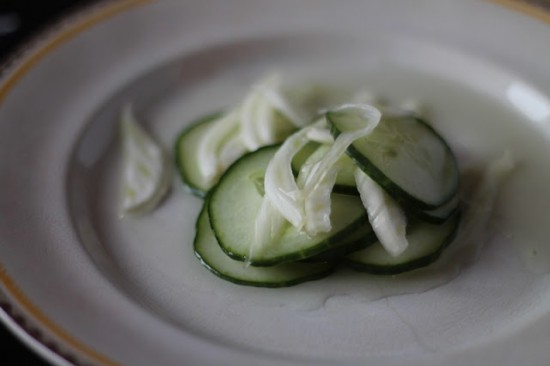 Rice balls with cilantro & chili soy dip
serves 4
500g Cooked basmati rice
2 handfuls of fresh cilantro
1 tbsp Dried chili flakes
4 tbsp Japanese soy sauce
1 tbsp sesame seeds
2 tsp Sriracha sauce (or any other hot chili sauce)
1 tsp sesame oil
Finely chop the cilantro, save some leafs for decoration. Combine the chopped cilantro with the rice and form round balls.
Combine soy, sesame seeds, sriracha sauce, sesame oil and chili flakes into a dip. The soy is the base so this should be the dominant flavor and go easy on the sesame oil because it can easily get to dominant. Decorate with some sesame seeds, cilantro leaves and chili flakes. Good luck.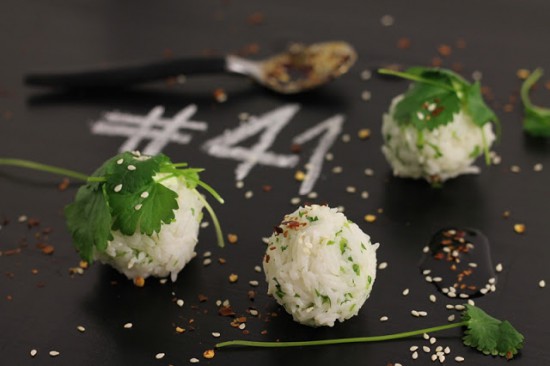 New Year's Menus at Ateriet
We've rounded up some of our favorite recipes and created a few different menus based on different themes. We've left out the desserts and focused on the starters and main courses. Most of the recipes are served in small bites but they are all easily scaled up to work great as main courses. You can check out all of the menus under our tag New Year's at Ateriet.
If you recognise some of these recipes they have been posted before on my previous food website Delicious Tapas and some of them have been featured here at Ateriet before. Happy New Year!
Tags: asian, calamari, david chang, momofuku, mussels, new years at Ateriet, new years menu, pickles, recipes, ribs, rice, scallop, seafood, soy