Try this Braised Calamari with tomatoes, chili and garlic recipe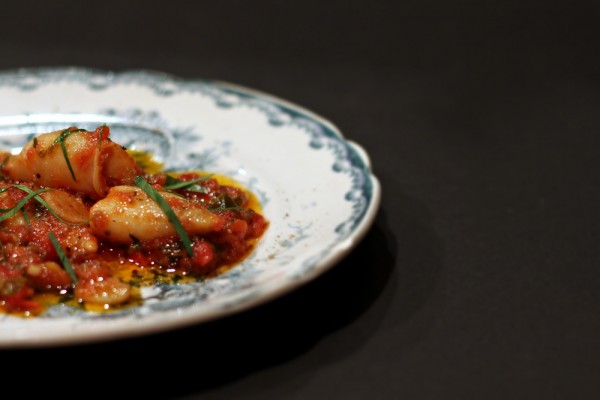 Try this great recipe for Braised Calamari with tomatoes, chili and garlic. A great way to eat calamari.
Calamari is not something I eat very often, I do love the flavor but it somehow seems like I forget how great it can be. Serving it like this just slow cooked with tomatoes, chili, garlic and some herbs is a great way to enjoy calamari.
If you have guests that don't like it I highly recommend to try to serve this recipe with some pasta, do like in the recipe but instead of leaving the calamari whole then chop them up in small pieces. This will give you a rich great tasting pasta sauce that most people who claim they don't like calamari will love. Usually people don't like it due to the texture and once chopped up you have eliminated the problem.
However if you are serving the way I have in this recipe then leave them whole or in bigger pieces if you can't find small calamari. The ideal size is one bite for each calamari.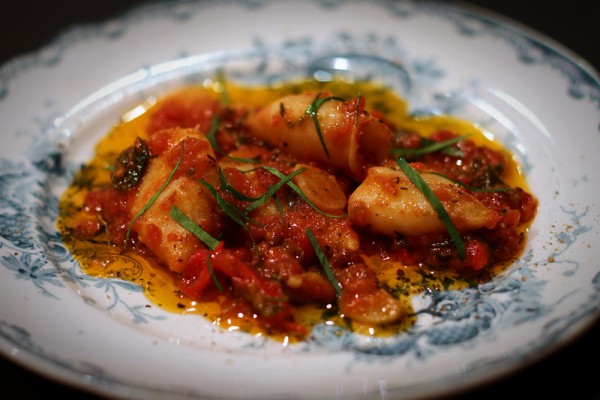 Braised calamari with tomatoes, chili and garlic
serves 4 as an appetizer
400g / 14 oz calamari, as small as you can find or bigger cut in bite size pieces
200g / 7 oz high quality canned tomatoes, crushed
4 tbsp olive oil
4 cloves of garlic
1 fresh red chili
parsley
thyme
salt, pepper
Slice garlic cloves, part and remove the seeds from the chili and the slice it. Add olive oil, garlic, chili and the calamari to a frying pan and let it cook for about ten minutes on low to medium heat. Add a few leaves of parsley, thyme some salt and pepper.
Then add the canned tomatoes and turn down the heat to low and slowly simmer the calamari for about one hour. Remove from the heat and let cool of for a little while, add some julienne of parsley and serve warm.