Goat Cheese, Bresaola and Yellow Beet and Carrot Quick Pickles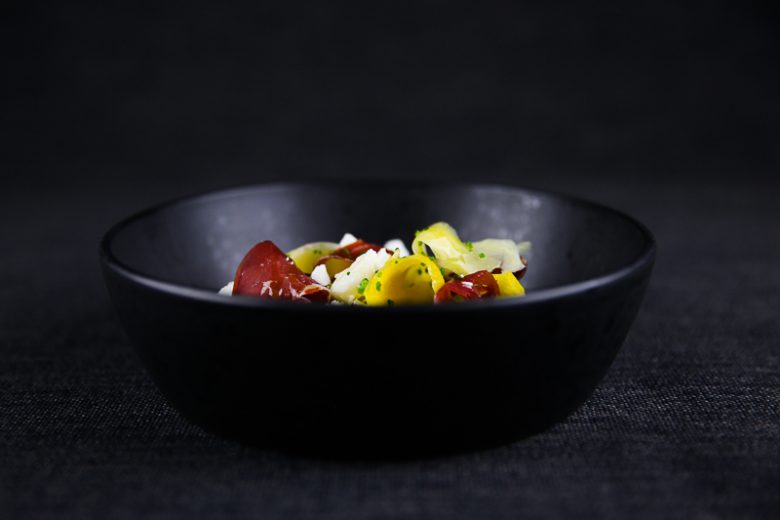 Try this quick and easy appetizer, goat cheese, bresaola served with some quick pickles. Quick and easy to make but most importantly, it's delicious.
Goat cheese, bresaola and some quick pickled yellow beets and carrots. Add a bit of olive oil and sprinkle some salt on top and you've got a great and quick appetizer. That's really all this recipe takes, don't you also love a recipe like that?
What I like about this dish besides it being so quick and easy to make is the flavors and the texture. The meaty Italian bresaola with creamy goat cheese and the crunch and acidity from the quick pickles. I promise you'll like it. Now lets see how to make it.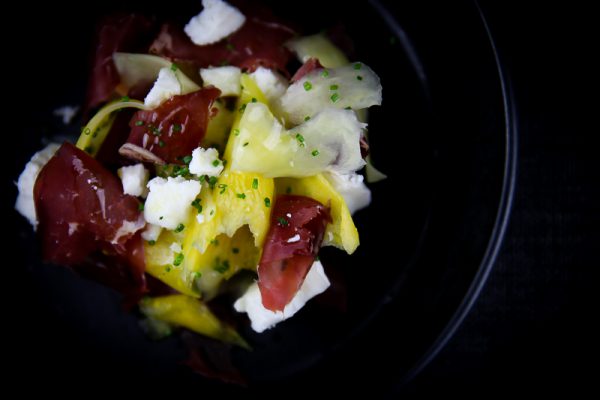 Goat Cheese, Bresaola and Yellow Beet and Carrot Quick Pickles
serves 4 as an appetizer
2 tbsp yellow beet and carrot pickles (recipe below
8 slices of bresaola
5.3 oz / 150g Chevré goat cheese
2 tbsp olive oil
chives
salt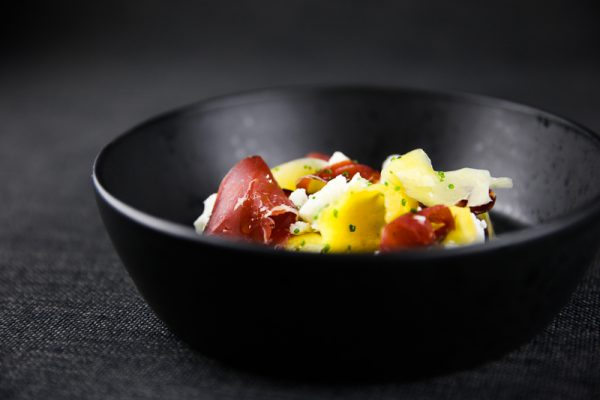 Set up four plates. Slice a little bit of chives as thin as you can. Take up the pickles from the jar and toss with the sliced chives. Cut the cheese in slices and then tear each slice in a few pieces. Pull each slice of bresaola into a few pieces as well. Arrange it all on the plates. Add one piece of each on top of eachother until you've used it all. Drizzle with the olive oil and sprinkle with some salt, serve. Now you'll have to agree that that was fairly easy right? I hope you like it. The recipe for the pickled beets and carrots follows below. Good luck and I hope you like it.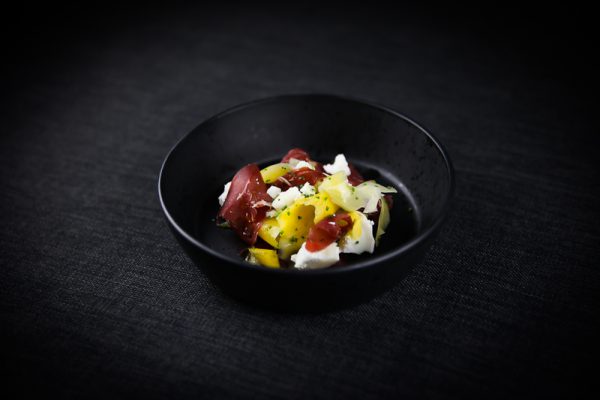 Pickled Yellow Beets and Carrots
2 big yellow carrots
2 big yellow beets
1 cup / 2.36 dl white wine vinegar
1 cup / 2.36 dl sugar
a dash or water
Peel and rinse the carrots and beets. Then use a potato peeler to slice them thin directly into a glass jar. For the carrots you could also use a carrot sharpener if you have one. If not use a potato peeler for those as well. Once the jar is filled set it aside.
Add white wine vinegar and sugar and a dash of water into a pot and bring it to a boil. Leave to cool for a few minutes. Then pour the brine into the jar until the vegetables is covered. Leave to cool.
The pickles is ready to eat in an hour or so and will last at least a week. I reality I'm sure they last longer but I always eat them before that.