Green gazpacho with cream cheese crostini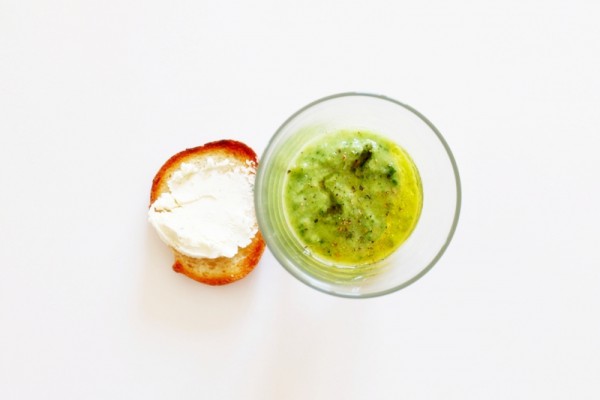 The classic Spanish Gazpacho soup is a must for me at least once a week throughout the summer, this version is made using only green vegetables except for the tomatoes which are yellow. The flavor gets a bit different but equally good and fresh.
The amount of ingredients are a guesstimate and there is no need for it to be exact, taste and let your own preference do the judging. Usually heat, salt and acidity is what needs to be adjusted a bit. Good luck.
Green gazpacho with cream cheese crostini
serves 6-8 as an appetizer
1 cucumber
2 green peppers
2 green chili, jalapeno or other, seeds removed
4 yellow or green tomatoes
4 tbsp white wine vinegar
4 tbsp olive oil
2 slices of white bread
salt, black pepper
2-3 cloves of garlic
1 small baguette
4 tbsp cream cheese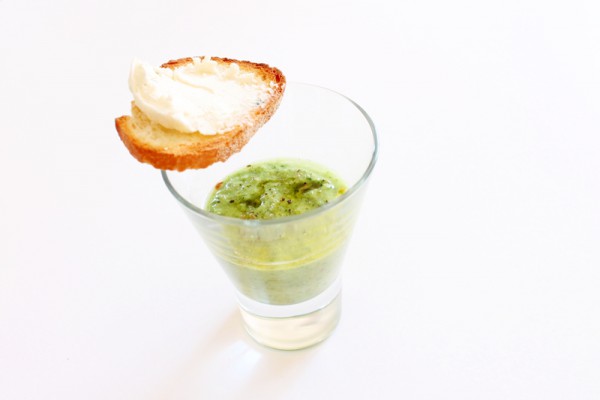 Cut all vegetables into pieces, add a few pieces of white bread and splash over some vinegar, olive oil, salt and pepper. Let sit out for half an hour to let the vegetables marinate.
Blend the vegetables into a soup, season with vinegar, oil, salt and pepper. Cut bread into thin slices and toast, spread on some cream cheese. Serve the soup ice cold.