Homemade dried tomatoes with arugula and garlic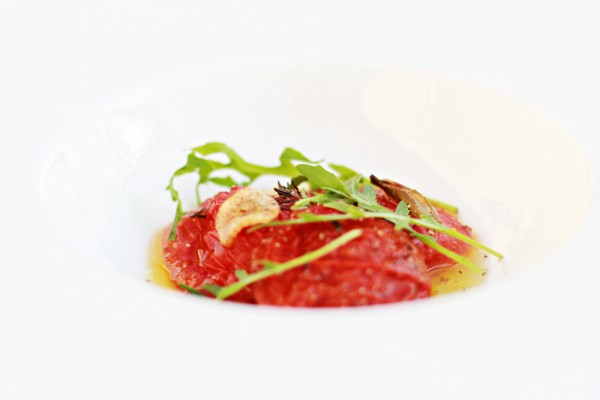 Homemade dried tomatoes is a great way to serve tomatoes and I think they are good enough to serve as simple as this. Just the tomatoes with a few leaves of arugula and the oil and garlic from the drying.
The technique for this is simple, all you need are good tomatoes, some herbs and garlic, olive oil and a few hours to spare. What you are doing is simply to dry the tomatoes in your oven until they are about half their original size, this will concentrate the flavors and make taste amazing, however the result is very dependent on what tomato you will choose.
You don't have to spend a fortune but there is one simple rule, if the tomato is not good before drying it won´t be afterwards.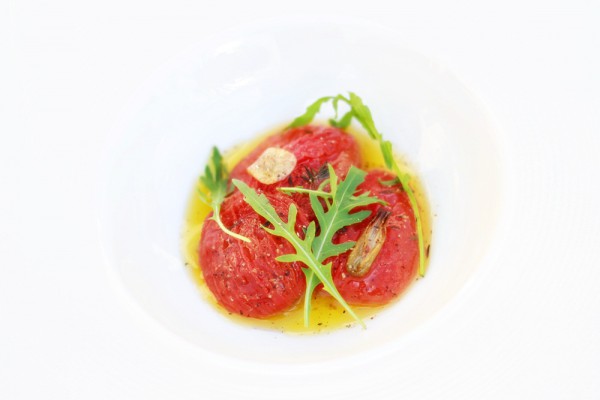 Homemade dried tomatoes with arugula & garlic
tomatoes
some herbs, I used some chives, parsley and basil
garlic
olive oil
salt, black pepper
arugula
Bring water to the boil, prepare a big bowl packed with ice and water beside to boiling water. Cut through the skin of the tomatoes on the end sides, this will help the skin open up when you boil it.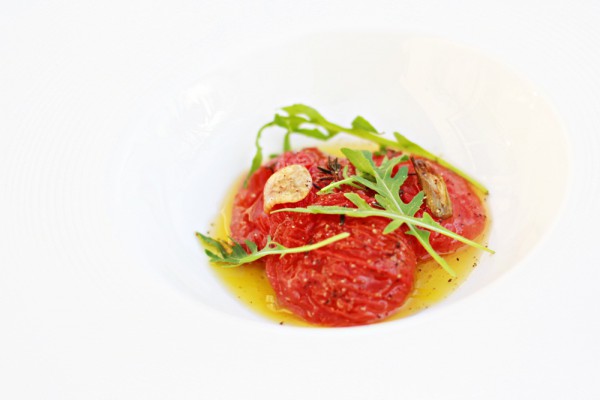 Add the tomatoes to the boiling water and leave in the water for about 10-20 seconds and then lift out and chill them immediately in the ice water. If you are making a big batch then boil them in batches, otherwise the tomatoes will chill the water and either the skin won't come off or the cooking will take too long and make the tomato soggy.
Peel the tomatoes and cut in half and put on a tray with the skin side up, drizzle with olive oil, add sliced garlic and a few leafs of chopped herbs. Season with salt and pepper. Place in the oven for drying at 110°C / 230 F. The drying will take anywhere between 4-8 hours, check them every hour and take them out when you like them.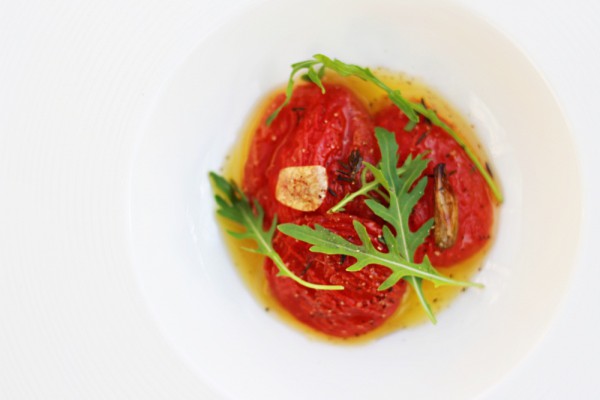 Add the tomatoes to a plate and add a few leaves of arugula and some olive oil and garlic from the drying. This can of course be prepared one or two days ahead of serving, make sure you gently warm them in oven before serving.
And I think it goes without saying that this is also great for all tomato dishes like a Caprese salad, on home made pizzas or as a side dish with some grated Parmesan cheese! Good luck!