Nacho Bites with Avocado Mayonnaise & Red Peppers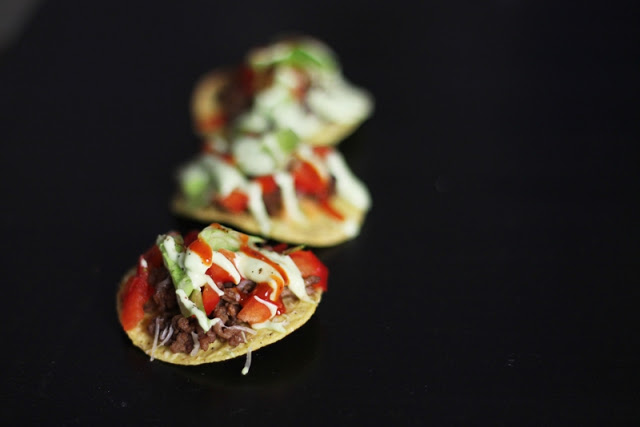 Try these delicious Nacho Bites with Avocado mayonnaise and red peppers, the slightly less messy way to eat nachos. Try them!
Nacho bites as I call them are simply nachos that I make one by one. Instead of filling a full tray I use round nacho chips and serve them as snacks topped with some ground beef, tomatoes, peppers, cheese and top them off with some simple avocado mayonnaise.
Now you don't really need a recipe to make this, all you have to do is top the chips with whatever you like to put in tacos or on top of nachos. But since I already made them I'll tell you what I used for this batch. But they are small and since there are a lot of ingredients on top you will use very little of each. So that is the reason why I haven't written out how much you need. Get as little as you can, for instance one tomato will be enough for at least 10-15 nacho bites. So keep it low.
The only thing I think require some measurements is the avocado mayonnaise, for that I used one avocado with half a cup of mayonnaise. And I got more than half left over…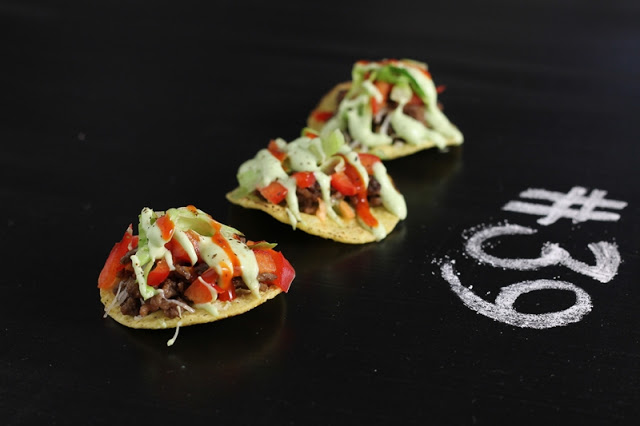 Nacho Bites with Avocado Mayonnaise & Red Peppers
Nachos
Red peppers
Tomatoes
Minced beef
Sriracha sauce (or any other hot chili sauce)
Iceberg lettuce
Cheese
Chili Powder, cumin, garlic powder
Mayonnaise
Avocado
Lemon
Salt, pepper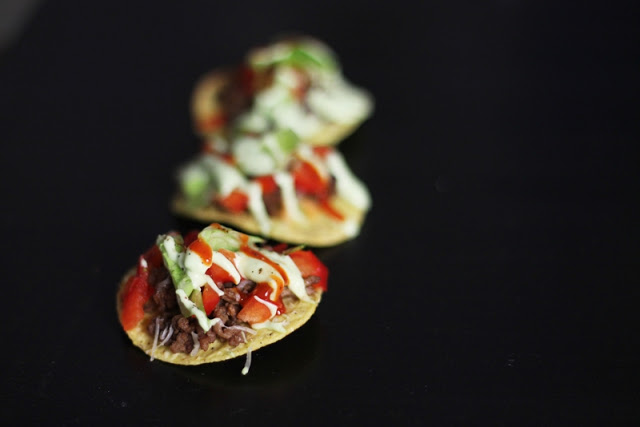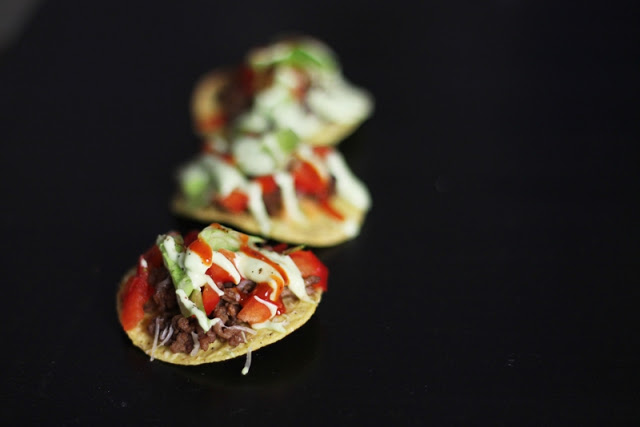 Dice the peppers, tomatoes, lettuce. Put the mayonnaise and avocado in a blender and blend until smooth, season with lemon juice, salt and pepper.
Fry the minced meat and season with chili, cumin, garlic, salt and pepper. Put some meat on each nacho and grate cheese on top, bake in oven for a few minutes. Take out and put tomatoes, peppers and lettuce on top, finish with the avocado mayonnaise and sriracha sauce, enjoy.
One last thing, this recipe is just a nice idea, you can of course find your own nacho bites favorites and add or take away anything you like. Why not try a few different ones and serve them at the same time?