The OLD BAY Seasoning Story – Born on the bay. Loved in the USA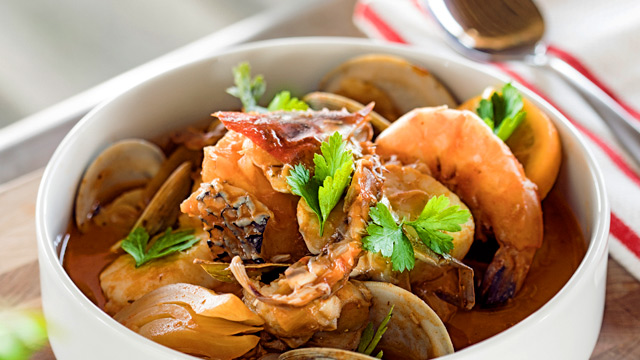 OLD BAY Seasoning dates back to 1939 when it was first created in the Chesapeake Bay Area. Since then it has gained fans all across the country. It was born on the bay and is loved in the USA. Find out more about this great seasoning including a great recipe for Chesapeake Cioppino with OLD BAY Seasoning from McCormick's Director of Culinary Science and Executive Research Chef Chef Gary Patterson. (Sponsored post)
For more than 75 years OLD BAY Seasoning and its distinctive blend of spices and herbs have been a tradition, especially in the Chesapeake Bay. There you are sure to find it right next to the salt and pepper shakers.
Fans all across North America keep on sprinkling it on everything from chicken and pizza to salads and tacos. You can even find it written out on restaurant menus, much to the delight of its biggest fans. The zest and boldness that the seasoning brings to the food have simply become a must for many.
When OLD BAY Seasoning was first invented it was called "Delicious Brand Shrimp and Crab Seasoning". Maybe not the most selling name ever, but you sure knew what to use it for. A name of a product that tells you what to use it for can be a good thing. But as you know it can be used for far more things than just shrimp and crab.
Eventually, the name was changed to OLD BAY Seasoning, inspired by the steamboats that traveled between Maryland and Virginia. The seasoning has traveled far longer since then and it lands on far more things than just seafood. But what is it that makes OLD BAY Seasoning taste so great?
What makes OLD BAY Seasoning Taste So Good?
Salt, celery seed, paprika, and mustard. Those are the key ingredients. Pair them with a handful of others in just the right amounts and you have a great mix that provides distinct flavor as well as excitement and zest to every moment. There are no substitutes.
Thanks to the complex balance of the ingredients the OLD BAY Seasoning is very versatile. You can literally put it on anything. Think of it as an irreplaceable flavor element that adds instant appeal to any dish. But that's not all, you can tweak it on your own too.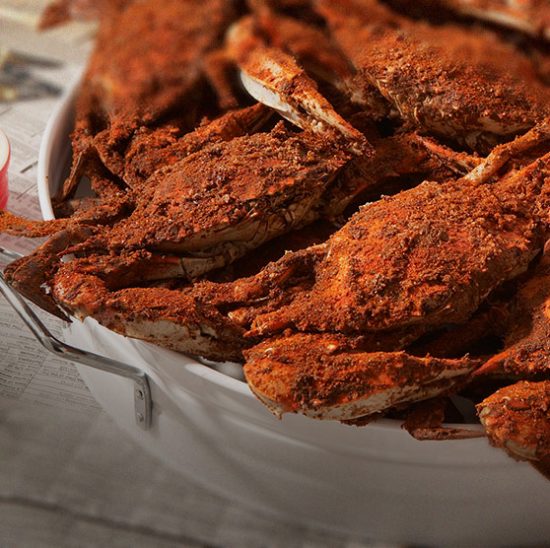 Make it your own
18 different herbs and spices go into the OLD BAY Seasoning. Each and every one has its own flavor and function and it is the combination of all these that make the seasoning so great. That does not mean you can't experiment on your own.
For example, in OLD BAY celery seed is an important flavor. Why not highlight this flavor element by adding celery, fennel, or mild mushrooms like button or cremini as an ingredient. I can think of loads of great dishes using something like that as a base. But don't stop there.
Spice things up with a touch of cayenne pepper or make it sweeter with some added paprika or diced bell pepper. With simple tweaks like this not only do you get the great original flavor of OLD BAY, you also make it your own in the process.
To wrap this all up there are two things you need to know about OLD BAY Seasoning.
It's great on everything else
To find out just how good it can be I have gotten my hands on this great Chesapeake Cioppino with OLD BAY Seasoning. The recipe is created by McCormick's Director of Culinary Science and Executive Research Chef Gary Patterson and it is a great one. Do try it out.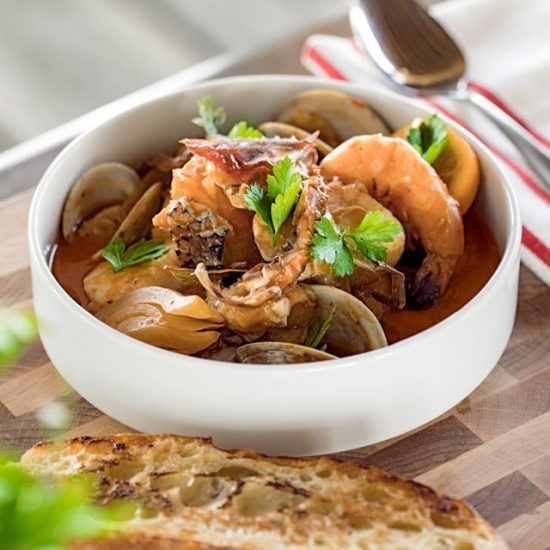 Chesapeake Cioppino with OLD BAY Seasoning
(Entrée)
Originally a classic of the San Francisco area, cioppino becomes true to the Chesapeake region with OLD BAY Seasoning and fresh, local ingredients. The goal is to layer flavor and bring out elements of the OLD BAY Seasoning with additional red pepper and bay leaves. Celebrate the bounty of the Bay with this dish, which can be adapted to whatever regional seafood you have on hand.
Yield: 4 Servings
*For a yield of 24 servings multiply all ingredients by 6.
Ingredients:
2 tablespoons Butter, unsalted
1 tablespoon Olive oil
1/2 cup Celery, medium diced
1 cup Onion, medium diced
1/2 cup Fennel, thin sliced
2 tablespoons Garlic, thin sliced or minced
2 cups Chardonnay
2 ounces Pernod
1 tablespoon OLD BAY® Seasoning
1 each McCormick Culinary ® Bay Leaves
1/2 teaspoon McCormick Culinary ® Oregano Leaves, Mediterranean Style
1/4 teaspoon McCormick Culinary ® Red Pepper, Crushed
1/4 teaspoon Worcestershire sauce
2 cups Chicken stock, low sodium
3 cups Tomato puree, low sodium
1/2 each Lemon, sliced
1 pound Shrimp, 16/20, peeled & deveined
1 pound Maryland blue crab meat, jumbo lump
12 eaches Oysters, shucked
1 pound Rockfish, large cubes
24 eaches Mussels, cleaned
Instructions:
For the Cioppino:
 

Combine butter and olive oil in a medium stock pot. Heat on medium until butter has melted.

 

Add celery, onion, garlic and fennel to the stock pot. Sauté until onion has become translucent.

 

Stir in chardonnay, pernod, OLD BAY Seasoning, oregano, crushed red pepper, and Worcestershire Sauce. Bring to a boil for 5 minutes or until a good amount of the alcohol has cooked off.

 

Add chicken stock and tomato puree. Bring to a boil, reduce heat to low, cover and simmer for 30 minutes.

 

Add the sliced lemon, shrimp, whole crab meat, oysters, rock fish and mussels, staggering to accommodate for cook times. Cover and simmer for 5 minutes or until mussels have opened.

 

Serve hot and sprinkle with extra OLD BAY if desired.
Pro Tip: Elevating Signature Flavors
OLD BAY Seasoning is the ultimate secret weapon, adding new dimension to many standard menu offerings. Imagine how far you can take common recipe components – breadings, batters, sauces, dips—when you add the extra boost of savory flavor and regional authenticity of this signature blend.
Recipe Created By: Gary Patterson, McCormick Director of Culinary Science & Executive Research Chef.
For more flavorful recipe inspiration and chef insider tips visit: www.mccormickforchefs.com.

About Sponsored Posts at Ateriet
Ateriet publishes sponsored post from time to time and always clearly mark them as sponsored. That does not mean that anything goes, we carefully go through sponsored post suggestions and only accept collaborations when we feel it is a cause or brand we like and can happily support and at the same time be beneficial for our readers.