Smoked Paprika Aioli with Chili Paste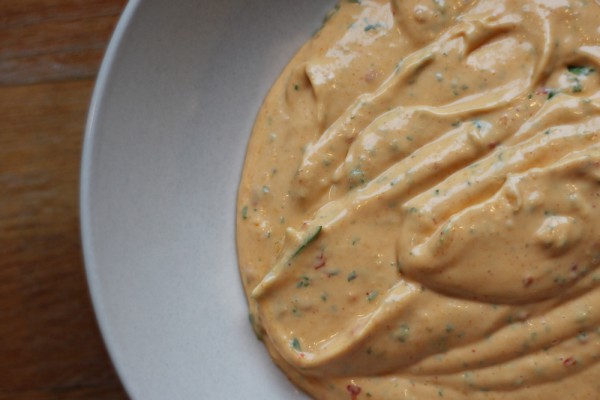 Try this Aioli with smoked paprika and chili paste. A simple recipe for a great sauce that works with so many things, try it.
This is more of a garlic mayonnaise flavored with smoked paprika and chili paste but I like to call it an Aioli because that is how I usually use it. It works great with any grilled meat, perfect for any fish. I also tried to base a potato salad with this sauce and that worked great as well.
The smoked paprika I use in this recipe is bought in Spain but you can usually find it in any good supermarket, if you can't then see what type you can find and adjust the amount according to your own taste.
Smoked Paprika Aioli with Chili Paste
2 egg yolks
2 dl vegetable neutral oil
½ tsp smoked paprika
1 tbsp Sambal Oelek chili paste
2 cloves of garlic
1 tbsp chopped fresh parsley
½ tbsp red wine vinegar
salt, pepper
Add the egg yolks, paprika, chili paste, garlic, parsley, vinegar and a little bit of salt and pepper to a mixer and mix for a few seconds. Then carefully add the oil a little bit at the time and mix in between so the aioli thickens. Start with very little oil, as it thickens you can add the oil faster. Once all oil is in check the taste and add more salt and pepper if necessary.
The sauce is ready to serve directly and will last a few days in the fridge.