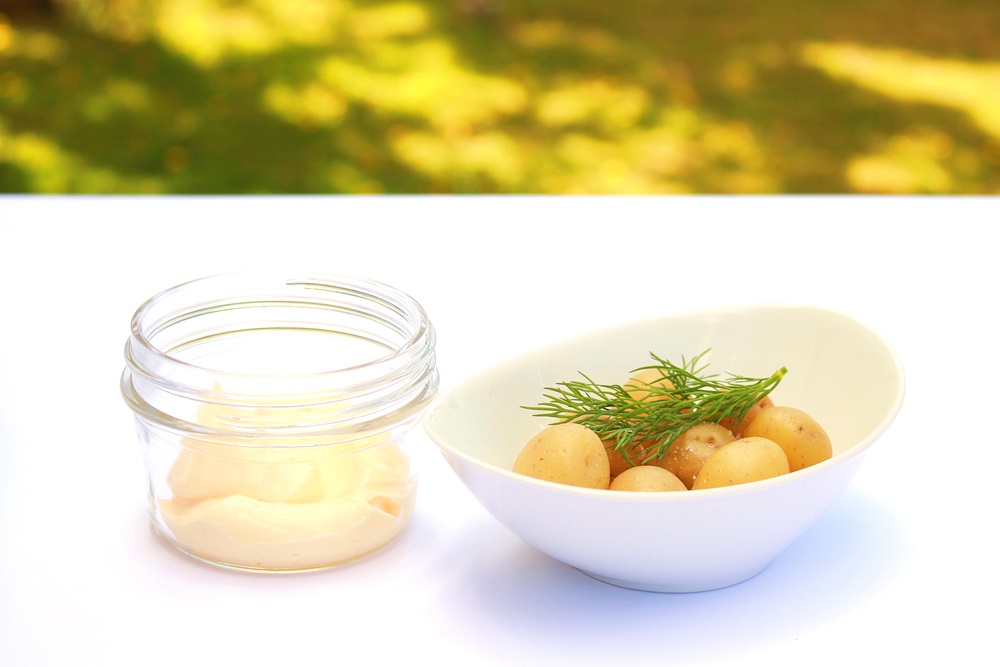 Learn all you need to know about the Swedish Midsummer Food. By the end of June each year all Swedes celebrate midsummer. The biggest celebration of the summer where everyone get together for a day of dancing, drinking and of course eating. But what do they eat? Ateriet will teach you all you'll need to know and we'll even give a recipe or two to try.
First meal of the day is lunch, this can of course vary between different parts of the country and within families but there are a few things that is absolutely crucial.
Herring – but not any kind like for Easter or Christmas. The most important herring for midsummer is the soused herring or matjessill as it is called in Swedish. This is often served as a dish on its own with boiled potatoes, soused herring, chives and chopped onion and sour cream or cream. Check out some of the herring varieties here.
Potatoes – the first potatoes of the year i sold around this time, lightly scrubbed and boiled with fresh dill and salt.
Dill and Chives – the dill is boiled with the potatoes and the chives is served with the soused herring.
Strawberries – this is the time when Swedish grown strawberries hit the shelves, at least if the weather have been good. They are an absolute must and are sold everywhere during midsummer. At many stores you can even pre book your strawberries to be sure not to celebrate without them. People serve them in different ways but the most common way is with milk, cream and sugar or in a strawberry cake with cream.
Beer and Akvavit – Akvavit or snaps and beer has a major part in any Swedish celebration and this goes for midsummer as well. Usually regular lager beer and bought or homemade akvavit is served. Along with some singing of course. If you want to make your own akvavit we have made a guide on how to and you can also learn a thing or two about this great drink.
That's about it for the lunch, of course there are many other things served but this is the base that you are the most likely to serve or be served for the lunch. But many add other favourites to the lunch but for those dishes there are more variation. Some examples are
Salmon, smoked or cured
Herring – other pickled varieties like mustard, onion, garlic, crayfish
Any seafood – creamed shrimps like the famous Skagenröra (recipe further down)
Bread and cheese – Rye bread with strong hard cheeses, for example the Västerbotten cheese or a good Cheddar.
Meatballs – for those who's not into herring
Prinskorv – Prince sausage, a small smoked pork sausage
Janssons Frestelse – Jansson's temptation, a potato gratin with shredded potatoes, onion, cream and herring.
Eggs – boiled and cut in two, served with shrimps, mayonnaise, herring or whatever tastes good.
These are just a few examples, for the extra stuff you can go with anything you like really.
Before we talk a bit about what to eat later in the evening we give a recipe for the Swedish Toast Skagen and a great recipe for a little bit different but taste wise very traditional way to serve soused herring. Enjoy!
Toast skagen
This is probably the most common starter in Sweden and there are some variations but in a good one there´s usually only shrimps, mayonnaise, dill, lemon, salt and pepper, in supermarkets and cafés you'll find all sorts of stuff in it so make your own.
One thing that is missing from mine is a healthy spoonful of bleak roe that you top it off with but I skipped that this time. I also grated in some fresh horseradish.
Toast skagen
Mayonnaise
Fresh peeled shrimps
Lemon
Horseradish
Salt, pepper
Dill
Bread
Roughly chop the shrimps and dill, add mayonnaise and combine. Season with horseradish, lemon, salt and pepper. Toast the bread, cut some wedges of lemon, put the skagen on the toast, garnish with dill and lemon.
Soused herring with potatoes, egg and browned butter
potatoes (in Sweden the new harvest of potatoes is a big deal and a must if you´re Swedish, if not you can replace it with a good tasting, firm and small potato).
soused herring
eggs
chives
butter
salt
Scrub the potatoes clean and boil in salted water until done, boil the eggs until hard boiled, peel the eggs and chop them. Slice pieces of herring thin, slice the potatoes and arrange potatoes, egg and herring on top of each other.
Slice the chives and put on top. In a pan add butter and let it turn brown in a pan on medium heat. Stir the butter during the whole process to make sure it doesn't burn on the bottom of the pan. When it starts to turn brown carefully smell it, it should have a nutty aroma to it, and is the reason it's called Beurre Noisette in french which translates to Hazelnut butter.
If you haven't used this much before then get to it because it´s has an amazing flavor and can be used to all sorts of good stuff. Pour the butter over the plate and serve immediately. Good luck.
What to eat at night for midsummer
So lunch is done and it is time to move on to the evening and now the herring tradition is tossed out the window. It is time to grill.
Now all bets are off and you'll get to grill and keep drinking. Alcohol that is. Beer, wine, cider, drinks are served and pork, beef or seafood are grilled and depending on where you are and what type you are celebrating with midsummer now become a full blown party that will keep going as long as there is energy and drinks left. Expect people to keep going at least until the sun comes up again which is around four in the morning, and if you celebrate in the north of Sweden, well it won't go down at all.
If you're interested to see some more of the traditions of swedish midsummer you can check out this video on all of it, it pretty much nails midsummer.
Tags: akvavit, beer, grill, herring, midsummer, potatoes, recipes, snaps, sourcream, soused herring, sweden, traditions