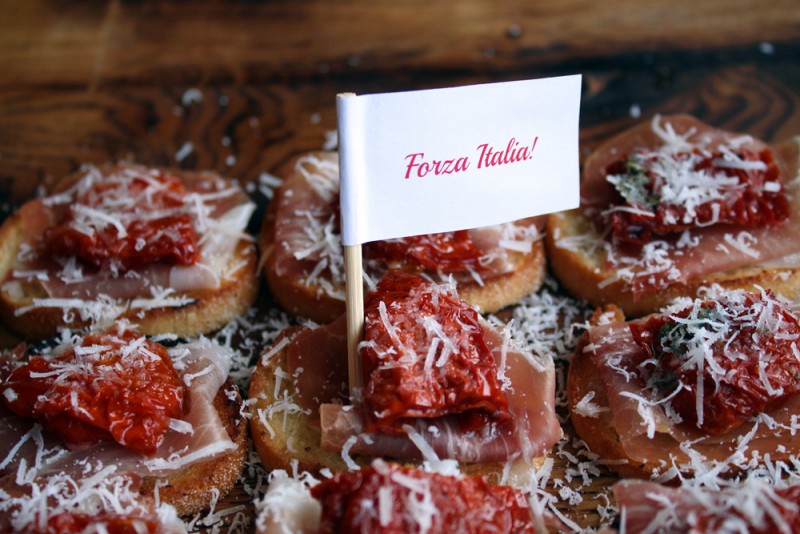 Try this simple Tomato crostini with Parma ham and Parmesan cheese, no cooking required and the perfect simple snack when you're in a hurry.
Tomato crostini is a super simple snack to put together when time is not on your side. And when you're having friends over for dinner it's always nice to be able to serve something that is not just peanuts or some olives. But that does not mean you should spend all day making it. This recipe for Tomato crostini with Parma ham and Parmesan cheese is one of those recipes.
Actually it's almost not even a recipe, more like some short instructions for putting some stuff on top of eachother. But there is one thing that is important for simple snacks like these, don't buy second grade ingredients. There are big quality differences between different types of sundried tomatoes and Parma hams. So when you have the chance try a different brand to find your favorite.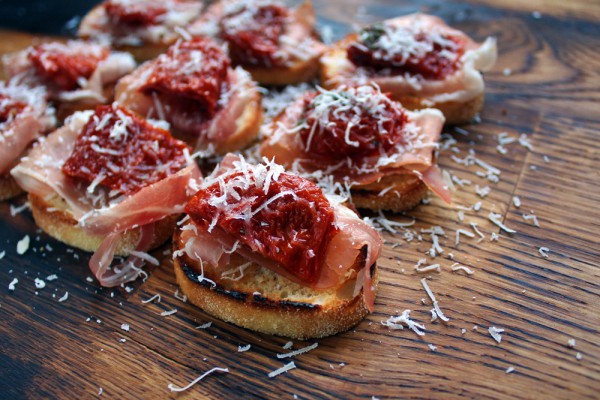 Also in my recipe I toast the crostini in the oven, if you're really in a hurry there are crostinis available to buy. Personally I think they are a bit too dry and crunchy so I prefer to make my own but feel free to get some if want to skip the slicing and toasting of bread.
Tomato Crostini with Parma Ham and Parmesan Cheese
Serves 4-6 as a light snack
1 baguette
8 slices Parma ham
1 piece Parmesan cheese
8-12 sundried tomatoes
olive oil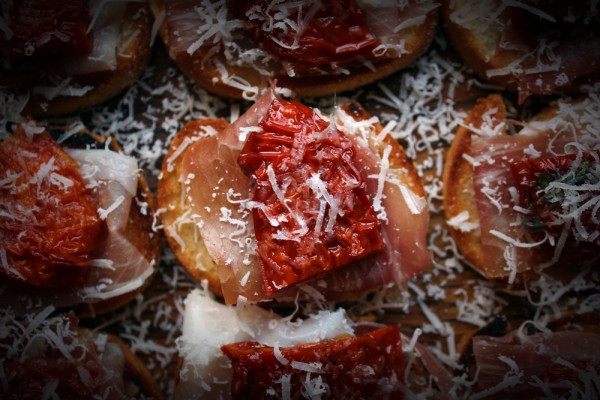 Cut the sundried tomatoes in smaller pieces, about half the size of a slice of toast is fine. Tear the Parma ham in about the same size. Slice the baguette and brush with a little bit of olive oil and toast on high heat in the oven or in a frying pan until golden. Leave to cool. Add a piece of Parma ham and a piece of tomato on top and grate some Parmesan on top. Add a few drops of olive oil.
Tags: bread, cheese, crostini, italian, olive oil, parma ham, parmesan, recipes, snacks, sundried tomatoes, tomato