Eating at 108 Restaurant – The full test of Noma's little sister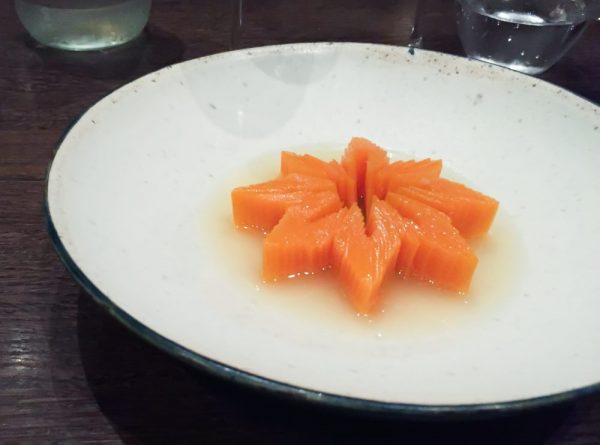 The time finally came to try out Noma's little sister restaurant 108 in Copenhagen, Denmark. Find out what I loved and what I think can be improved on.
So I finally got to eat at 108 in Copenhagen. I originally planned to eat here in the fall of 2016. But just days before my reservations 108 had a kitchen fire and had to shut down the restaurant instead. Luckily no one was hurt and the restaurant could reopen after a few days.
After missing that reservation I had thought about coming back again and this fall I made a second reservation and kept hoping that no fires or anything else would get in the way of some eating. Nothing did so I finally got to eat, let's see how I liked it.
Getting There
108 is located on Strandgade 108, around the corner from the original Noma and just a few minutes walking from Nyhavn in central Copenhagen. If you're staying anywhere reasonable central in Copenhagen a nice walk before dinner is recommended. If you're feeling lazy or are running late hop into a taxi which is usually easy to find in Copenhagen.
Being welcomed at 108
We arrived a few minutes late to our reservations, sadly our table wasn't ready so we were welcomed into the small bar that the restaurant connects to. This bar area serves as a small café during the day and is called The Corner.
We were told that our table would be ready soon and got poured a complimentary sparkling natural cider while we waited. A very nice way of treating us, who cares if a table is a few minutes late when you're welcomed this way. More restaurants need to get better at this. 108 are already doing it the best way.
After a few minutes, we were welcomed at our table.
Interior at 108
The restaurant is set inside a former factory and it shows. Raw concrete walls in grey combined with wooden tables and chairs. Some plants and nice lights. It's about as modern Nordic as it could be. Since I live in Sweden I almost grew tired of this style but at the same time it looks great so there's nothing to complain about. It does fit the food and the Nordic perfectly.
The Menu Setup and Cost of Eating at 108
The menu offers a few different choices. Order from the regular menu where you can choose between about 10 different individually priced dishes. Prices per dish are between 110-265 Danish Kroner.
You can also combine those with the so-called Livretter, the favorites at 108. These are family-style served larger dishes where one serving is enough for two people. Prices for the Livretter are between 350-550 Danish Kroner.
You can also go with two different set menu options. A Taste of 108 which is a menu selection of eight dishes not including drinks. The menu price is 1150 Danish Kroner.
Lastly, The Full Taste of 108 is an eight-course menu with six glasses of wine, water, coffee and avec. A full dinner with everything you'll need for 1950 Danish Kroner.
We went with The Full Taste of 108. Once you start doing the math this is the best choice in my opinion. What I often miss in good restaurants is more options like this. I'm there to eat and I already know it won't be cheap. Just give me a price for everything and then I'll know what it will cost. If that's too much money for me than I will simply go somewhere else.
The Food
108 is a sister restaurant of Noma which shows in the food. Nordic, local ingredients, plenty of fermented things and you've most likely never eaten many of the things you'll get to try here. At least not prepared or served this way. This is great if you're used to eating out and love new flavors, if you like french fries and a nice steak, go somewhere else.
This review was written about a month after my visit. Most of these dishes have come off the menu by now so think of this more of the style of the meal. Not what you will be eating if you decide to eat here.
The photos here are not great, they are taken with my phone in bad lighting and after having more than one glass of wine. Hopefully, you'll get an idea of how great the food looks anyway.
Fresh Hazelnuts with Royal Belgian Caviar – mild chopped hazelnuts with what I think was a hazelnut broth and a spoonful of Caviar. Mild and delicious, never had hazelnuts this way but I loved the mild nutty flavor and Caviar is always Caviar.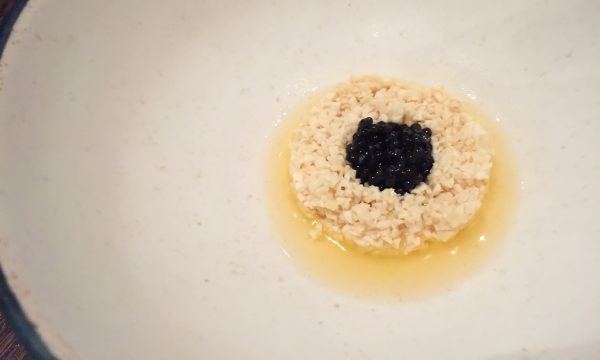 Butternut Squash marinated in fresh almond oil – the plating of this dish is amazing. Lots of time spent making a few of these. Mild butternut flavor that paired great with the almond oil and broth. I'm not a big fan of butternut so even though this was good it wasn't my favorite dish.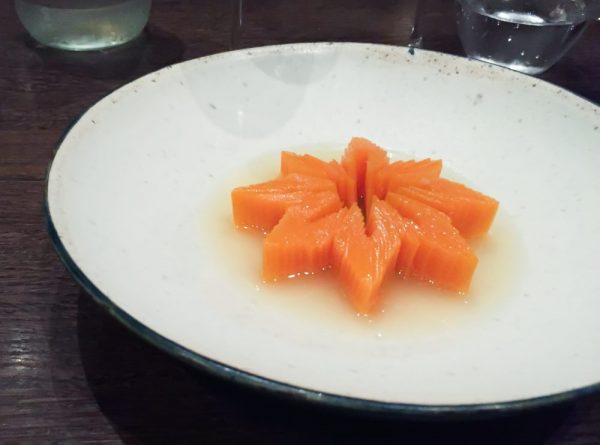 Blue Lobster in a cold broth of green tomato – Cold blue lobster meat mixed with greens and surrounded by a tomato broth. Packed with fresh umami flavor and a bit of sweetness from both the lobster and the tomato broth.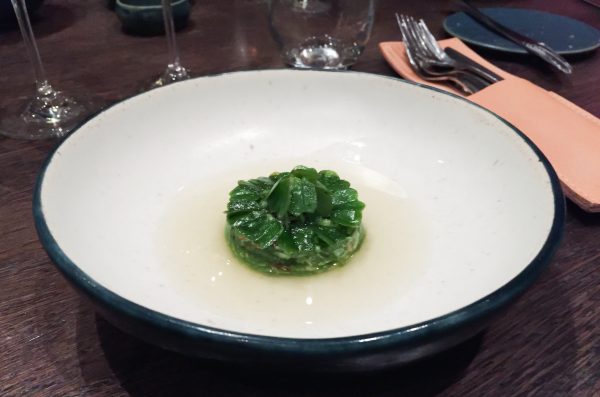 Brown Beech Mushrooms with a smoked egg yolk sauce – Deep fried mushrooms dusted with a green herb powder and a creamy egg yolk sauce served for dipping on the side. The mushrooms tend to become a bit spongy but were still nice. The egg yolk sauce was extremely rich and had an intense egg flavor. Almost too strong in my opinion. Fun idea for a dish though, I would have liked a bit more acidity in the dish overall.
Braised Pork with Autumn Truffle – Deep fried pork balls which was filled with a mild pork rillette, sort of the French style pulled pork. On top of each pork ball was as much truffle as you could possibly get on there. Absolutely delicious, again I would have liked a bit more acidity but it was still a great dish.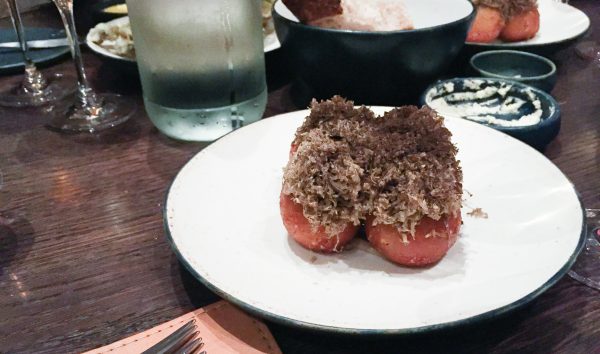 Monkfish on the bone – Glazed monkfish on the bone, the glaze looked and felt more or less like a barbecue glaze. Very rich and the fish was cooked perfectly. On the side we got a celeriac cream. All in all good but once again I would have liked something to freshen the dish, maybe something crunchy with a bit of acidity.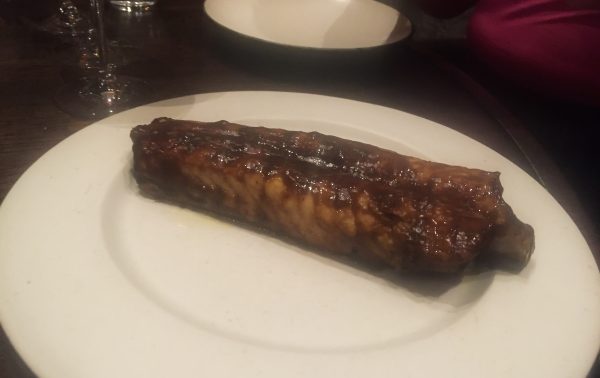 Sorbet of wild blackcurrants with hazelnut milk – Small pieces of sorbet topped with sort of a rye bread chip and pickled pine, the hazelnut milk was like a cream sitting underneath the sorbet. Absolutely delicious and very creative. A delicious bite that I would have liked more of.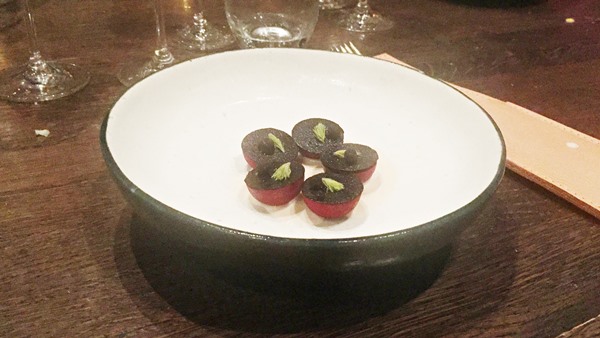 There was one more dessert but my photos were not good enough and I can't find it described in the menu. All I can remember is that it was just as delicious as the other dessert.
What I think about the food
There is no question that the food has much in common with Noma. It's Nordic, it's a bit challenging if you're not used to it. The food, in general, was good with a few dishes standing out a bit more. I would have liked more textures, especially when it comes to crunchy things. I wouldn't mind a higher level of acidity in several of the dishes. The desserts, even though I only wrote about one here was spectacular. All in all, I do recommend going to 108, but it can be even better than it is now.
The Wine & Service
108 serves so-called natural wines. Maybe I'm too old or not modern enough but I have to say I prefer regular wine. Not that it was anything wrong with any of the wines we've got but I do feel that you could easily find much better alternatives in regular wines. I think that most natural wines I tried are great with food but not as great on their own. I would prefer a wine that works with both, especially since you don't always drinks as fast as they pour.
The service was on point, knew their stuff and we felt taken care of all the way. No complaints.
About 108 Restaurant
108 Restuarant started as a pop-up restaurant in the old Noma space which now holds Barr Restaurant. After the pop-up was over the restaurant opened at its current location on Strandgade 108. 108 holds one Michelin star and is often compared to its older sister Noma, for good reason. 108 is often told to be a cheaper version of Noma, I'm not sure I would go as far as calling 108 a cheap restaurant. The prices are about at the same level as most top restaurants in Copenhagen. But it is value for money. For current menus and reservations visit the restaurant online here.
Ateriet Restaurant Reviews
Ateriet loves restaurants and we eat out as much as we can. Although Ateriet's focus is not mainly reviewing restaurants sometimes we find places that are worth writing about. All those can be found in the tag Restaurant Reviews. We visit way more restaurants than we write about. It's also worth noting that we don't give out grades or anything like that, we just eat. Then sometimes we write. Enjoy.