Asian Beef Carpaccio with soy, wasabi and chili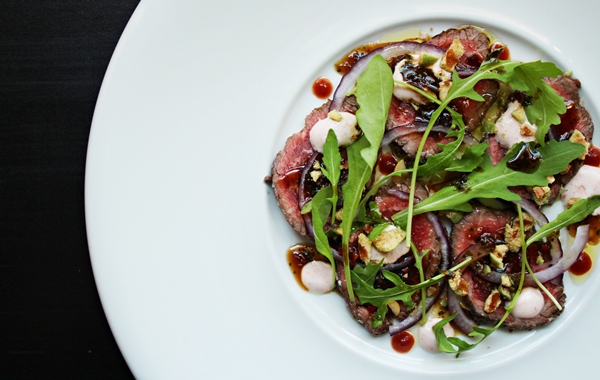 Try this great twist on the classic Carpaccio, we pair it with some wasabi nuts, Sriracha sauce and soy vinaigrette.
Carpaccio is such a great starter but sometimes it's good to take a small step away from the classic recipes and put your own twist on things. So I decided to make an Asian Beef Carpaccio. I've made plenty of different carpaccios through the years and somehow I always come back to the asian varieties. What is a bit special with this one is that I tried using some regular wasabi nuts, that turned out to be a great idea. I have been served similar recipes at restaurants and the crunch in the wasabi nuts gives great texture and a bit of spice.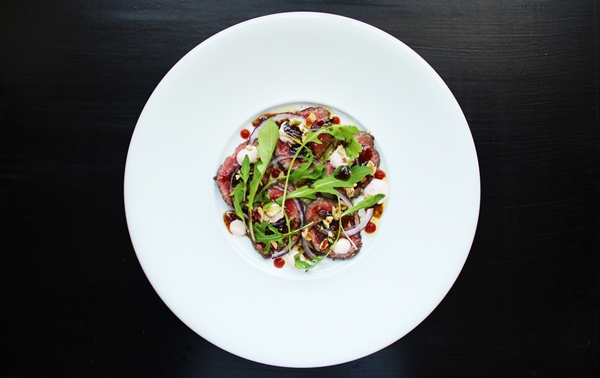 For the meat I use a regular flank steak instead of the classic tenderloin. There is nothing wrong with using a tenderloin but there are plenty of other cuts that work great for carpaccio. I sear the meat and then cut with a regular knife. This give a different texture and more of a grilling feel to the dish.
Enough talk, let's start cooking.
Asian Beef Carpaccio with soy, wasabi and chili
serves 4 as a starter
200g / 7 oz skirt steak
2 tbsp mayonnaise
1 tsp Sriracha
1 tbsp sweet chili sauce
1 tbsp japanese soy sauce
1 tbsp olive oil
10-15 wasabi nuts
some arugula
1 red onion
olive oil, for frying
salt, pepper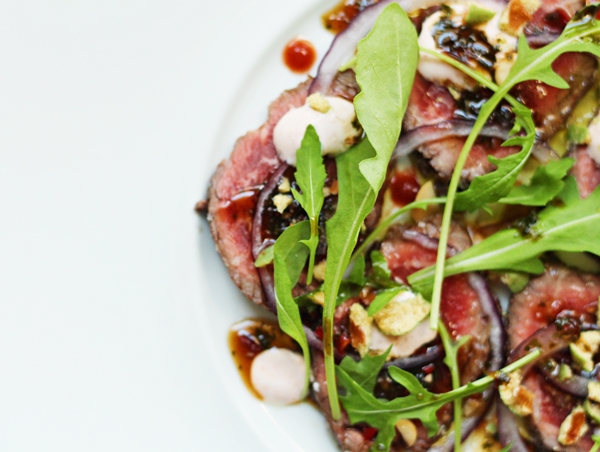 Season the meat with salt and pepper, sear on high heat all around in olive oil. Remove and leave to rest. Combine the mayonnaise with the Sriracha sauce. Combine the sweet chili sauce with the soy and olive oil. Crush the wasabi nuts. Peel and thinly slice the onion.
Slice the skirt steak thin and distribute on four plates. Add the onion, crushed wasabi nuts, Sriracha mayonnaise, soy vinaigrette, arugula, salt and pepper. If you want a bit of extra heat you can add a few drops of Sriracha as a bonus. Serve.