Caesar Salad with Bacon and Parmesan Cheese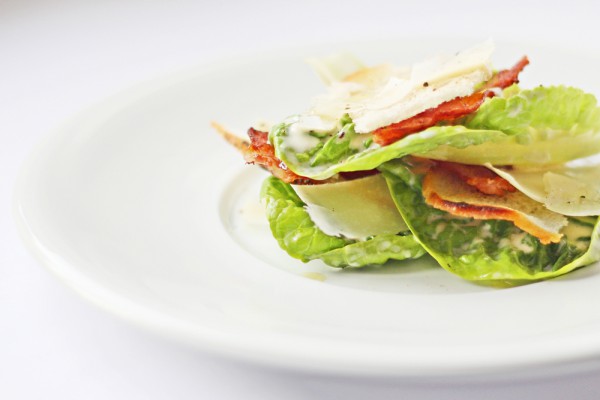 Ceasar Salad with crispy bacon and Parmesan cheese, it's a classic that you should master, try it now!
It's time for a classic, few salads can beat a classic Caesar salad and it's it works really good served as a starter or tapas dish. Usually, I do it as a side dish to grilled meats during the summer. But now it was time to let this classic get all the attention. Instead of croutons I used a fresh white bread and sliced it a thin as I could using a normal kitchen knife. Then roast it in a pan with a little bit of butter. This makes the croutons a little less hard to chew on and I prefer them that way for this dish.
Besides that, just make the bacon crispy, get great cheese and romaine lettuce. I got my hands on some really small ones that was perfect for this serving size, if you can't find small ones then get the normal size and just cut them up in smaller pieces.
I serve this salad as a course on its own but as already mentioned it goes great as a side, for more tasty side salads I have 10 great ones here. Now let's make Caesar Salad.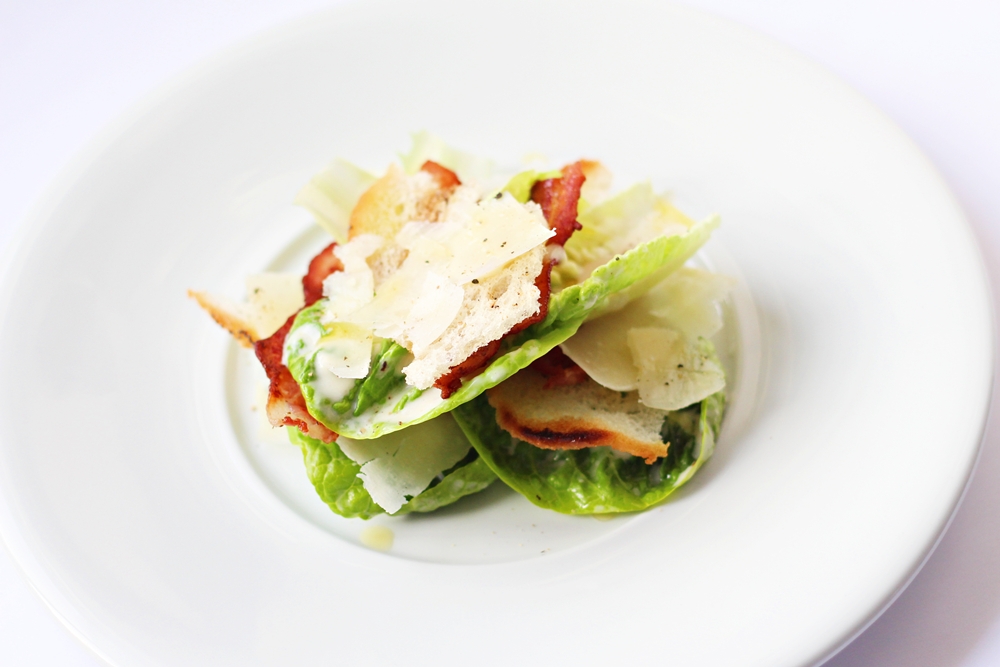 Caesar Salad with Bacon and Parmesan Cheese
romaine lettuce
Parmesan cheese
bacon
white bread
butter
Caesar Dressing
2 anchovy fillets
1 egg yolk
1 clove of garlic
1/2 cup neutral oil, I use rapeseed oil
lemon juice, salt, pepper
water
2 tablespoons of grated Parmesan cheese
Using a blender mix egg yolk, anchovy and garlic, then slowly add the oil until the dressing thickens. Season with salt, pepper and lemon juice, then add the Parmesan cheese. If the dressing gets too thick then thin it with a few drops of water.
Wash and cut the lettuce if necessary, slice the bread thin and roast until golden in a frying pan. Fry the bacon until it's crisp. Combine the lettuce with the dressing and then arrange lettuce, crouton slices, bacon and some extra Parmesan cheese on a plate, serve. Good luck.