Mussels with Thai Flavors, Spice Up Your Mussels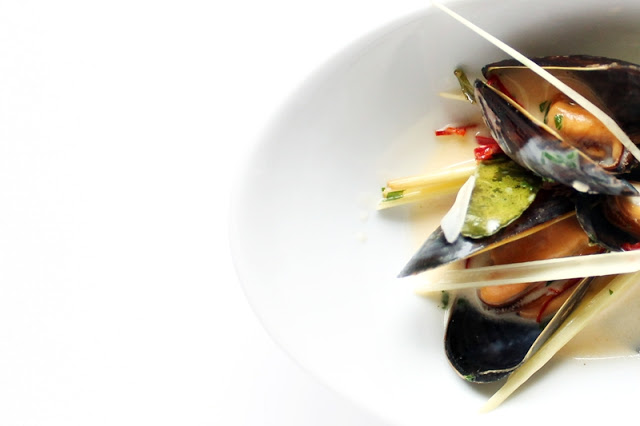 Spice up those Moules Mariniere with this Thai twist on the classic recipe. I'm making Mussels with Thai Flavors, it's delicious and easy to make, try them!
So let's make mussels with Thai flavors, this is a great recipe when you want to spice up your basic Moules Mariniere recipe. It's more or less the same thing but I add some Thai flavors to the recipe to spice it up a bit. I have seen some recipes where the cream have been replaced with coconut milk but I think using cream with the Thai spices gives a much better result.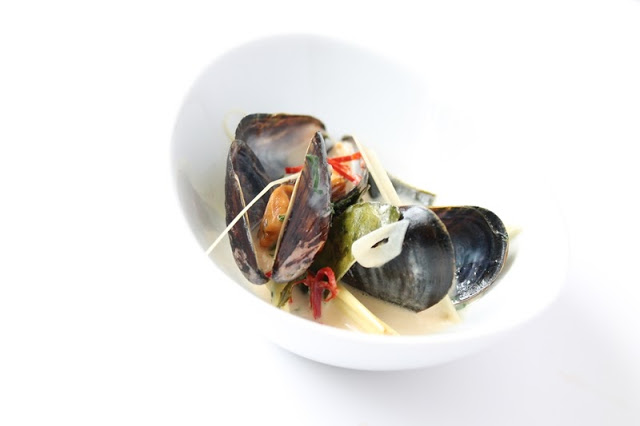 Mussels with Thai flavors
serves 4 as a small starter or 2 as a main course
1 / 2,2 lb kg fresh mussels
2 dl / 6,5 oz dry white wine
2 dl / 6,5 oz cream
1 stalk of lemongrass
4 lime leafs
1 fresh red chili
2 cloves of garlic
1 small onion
1 piece of fresh ginger, like half a thumb in size
2 tbsp neutral cooking oil
salt, pepper
Clean the mussels and discard any broken ones, rinse under cold water. Roughly chop lemongrass, lime leaves, red chili, garlic, onion and ginger. In a big pot add oil and the chopped ingredients and let them cook for a few minutes in the oil over medium heat. Season with salt and pepper.
Add the mussels and white wine and turn the heat to max, put a lid on and let the mussels steam for a few minutes. When the mussels have opened the remove them and set aside. Add some cream and bring the sauce to a boil, adjust salt and pepper to taste. Pour the sauce over the mussels and serve immediately.
This is one of my favorite ways to serve fresh mussels but as you can see it's really just adding some Thai spices to a regular cream and white wine sauce for mussels. Which means you can spice them up in all sorts of ways. So don't be afraid to try your own versions.
For more recipes with mussels I have a more classic version served with pasta here which I also love, and one with pan-fried mussels that I really love too. Don't be afraid to try them and good luck!