Spaghetti with Mussels, Cream and Garlic – Pasta Moules Marienere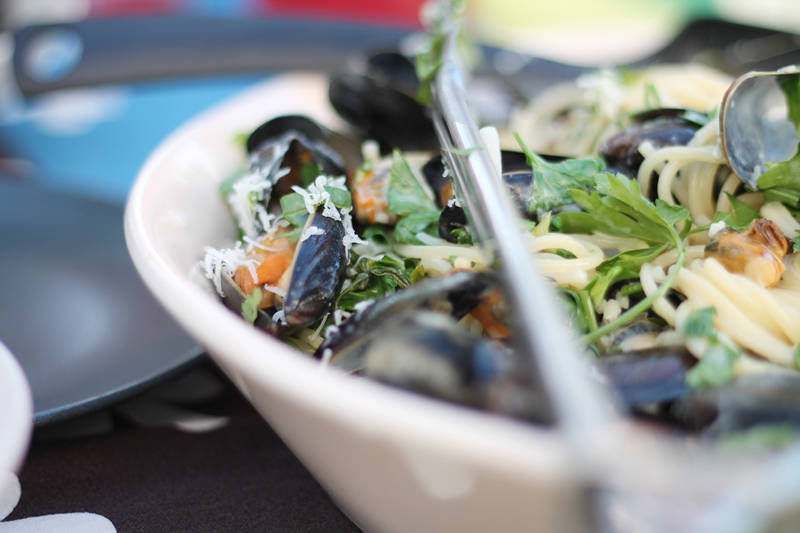 Moules Mariniere or mussels steamed with white wine, cream and garlic are one of my favorite dishes. But this great dish can easily be made into a great pasta dish by just adding some spaghetti. So try our recipe for Spaghetti with mussels, cream and garlic.
If you haven't worked with fresh mussels before than this will be your first try, it's not very hard. In this recipe, I use blue mussels because they are the most common in Sweden. There are other kinds you can use and you can still use the same recipe. Once you have got your mussels you have to rinse them and throw away any that are broken. You rinse them by scraping off any dirt on the shells with a knife and rinsing them in cold water.
You can not replace the fresh mussels with frozen or preserved ones in this recipe because what makes this dish great is the broth you'll get from cooking the mussels. Ok, let's make some spaghetti with mussels. If you want to try something else with mussels you could try these Thai flavored mussels or these Pan-fried mussels, both are delicious.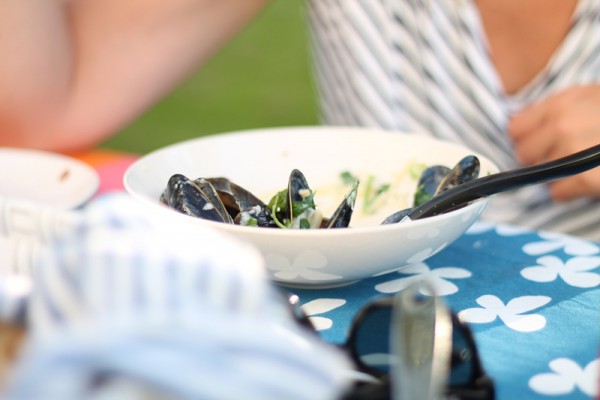 Spaghetti with mussels, cream and garlic
serves 4-6 people
500g / 18 oz spaghetti
2 kg / 70 oz fresh blue mussels
4 shallot onions
6 cloves of garlic
8 scallions
1 dl / 0,5 cups roughly chopped leaf parsley
3 dl / 1,2 cups heavy cream
3 dl / 1,2 cups dry white wine
salt, pepper, olive oil
Parmesan cheese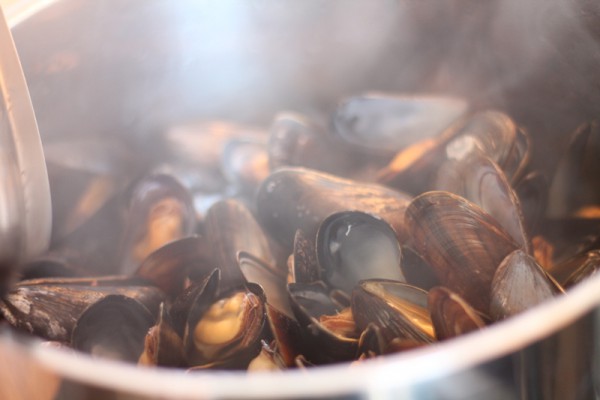 First, clean the mussels, dice the garlic and shallots. Slice the scallions. Heat some olive oil in a big pot, you'll need a big one because the mussels will need some space to be able to open up. Add the garlic and shallots and season with salt and pepper. Add the mussels and white wine and turn the heat up to full, put a lid on and carefully shake the pot while boiling. Let the mussels cook until they have opened up, this takes up to 3-5 minutes.
Remove all the mussels from the pot and set aside to cool. Bring the pot to a boil and add the cream, taste the sauce and adjust with salt and pepper if necessary. Once you're happy with the taste pour the sauce through a sieve to remove any mussels that been left or pieces of shell. Set the sauce aside.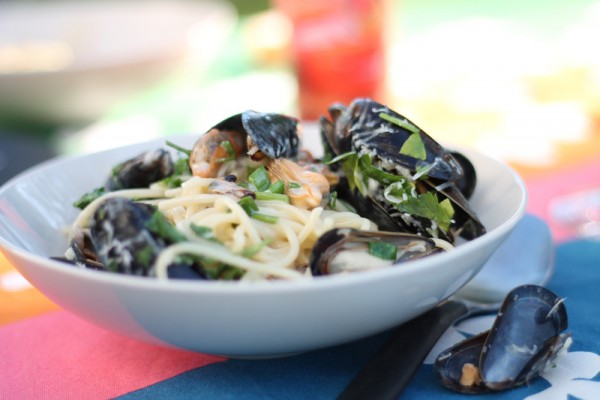 Pick out the mussels from the shells, leave a few with the shell on for decoration. Throw away any mussels that haven't opened up during the cooking.
Boil the spaghetti in salted water until it's almost done, discard the water and let the spaghetti steam off for a minute or two. Then add the spaghetti to the mussel sauce, add the scallions, chopped parsley and mussels. Pour over everything on a big serving platter and grate parmesan cheese on top. Serve.