A-Z Food Photography Project – G is for Grapefruit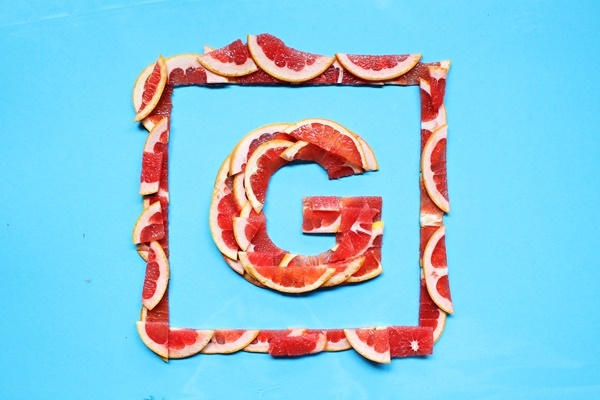 This project keeps on going, we have reached the letter G in our A-Z Food Photography Project and we chose G is for Grapefruit. Let's see how things went this time.
Ok, so I haven't given up yet. After the F is for Fennel some lessons was learned and today I spent most of my time slicing grapefruits for the G is for Grapefruit post. This is how things worked out.
G is for Grapefruit
It was not hard to chose grapefruit, it is one of my favorite fruits and I eat it regularly and also use it in normal cooking. For me red and pink grapefruits have the perfect balance between sweetness and acidity. Most other citruses are either to sweet or too sour. I was considering grapes for a short while but gave up on that quickly, they might come back in the future though.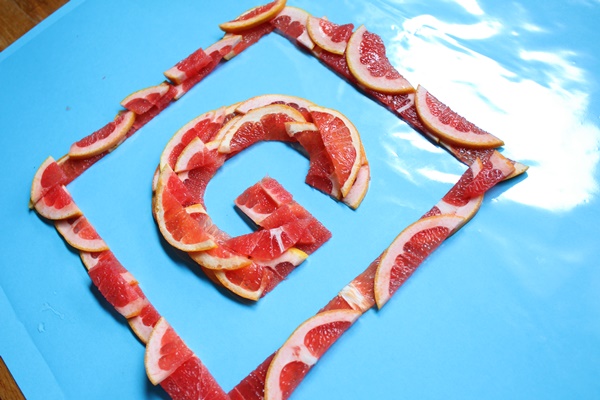 Shaping a G as in G is for Grapefruit
Turns out that shaping a G out of a grapefruit is pretty damn hard. The first idea was to cut one big slice of a grapefruit and then cut it into a G using the original round shape of the slice. That was not easy, grapefruits are quite soft and even though I managed to something that looked somewhat like a G it was not good enough.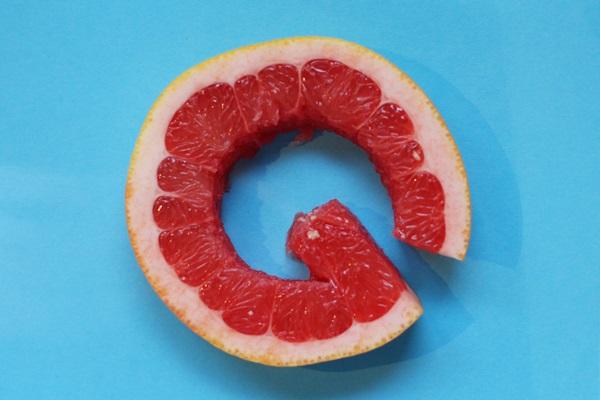 So I had to go to plan B which was going back to the type of designs that I've used before. Cutting things up and laying them out. It worked ok and after going through about three or four grapefruits I was happy with the result.
But I had a full cutting board with leftover sliced and mushy grapefruit so I decided to frame the G with a square of the leftover grapefruit. Worked ok I think.
Background and font
I promised last time that I would change the font so I went with a Arial Bold G. In the previous posts I've been stuck to using a black background which seems a bit boring, the exception is the E is for Egg that I think is the most successful letter yet.
But now I had to come up with something else so I went to a paper store and bought some big sheets of colored paper. After trying to match them with the grapefruit I settled for a light blue.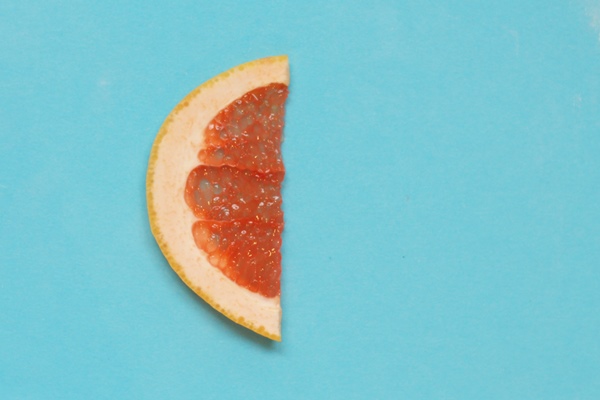 What I used
To get the actual photos I used the following.
Blue paper
Transparent flower film, to protect the blue background
Camera
Tripod
Grapefruits
Knife
Scissors
Ruler to measure out the frame
Pen
Natural light
A big printed G
First I set up my background, blue paper and lay out my printed G on top, I then covered it with the flower film. This way I could lay out the full G and then remove the paper with the printed G and have a good looking G left. It also protects the paper so that it could be used for more projects.
Then I cut and placed all the grapefruit to shape the G, set up the camera and took the photos. The scissor was used to make the bent shapes where it turned out it was easier to cut it like that then to use a knife.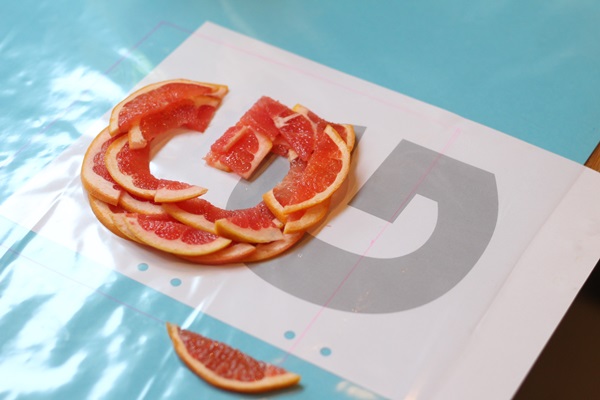 Lessons learned when making G is for Grapefruit
Some lessons learned this time as well and with this progress I might be learning quite a bit during this project.
Using flower film to protect the background is good but maybe glass would be better, try this in the future

Keep on using printed letters to use under the glass or film, works great.

Keep using other background than black

Never try to cut a grapefruit into a G ever again, turns out it's real hard.
Next letter up is H, there I have some plans that I am hoping will turn out great, see you then.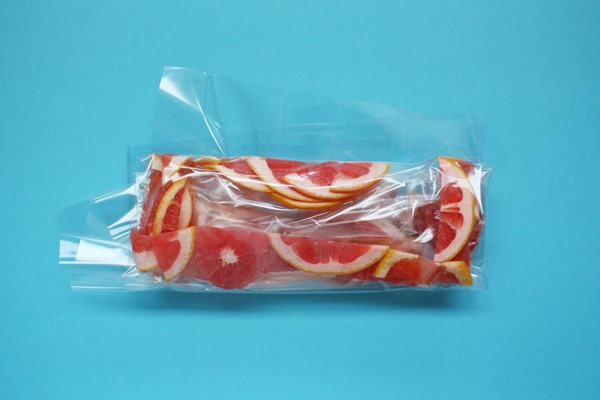 About A-Z Photography Project at Ateriet
A-Z Photography Project is a photo project here at Ateriet and at Instagram. The idea is to photograph each letter of the alphabet and let it represent one food or something edible. I am making the project for fun and to hopefully improve on my photography skills.
You can follow the project on Instagram under the tag #atozinfood where some of these photos will be published from our Instagram for Ateriet that you'll find at @AterietFood.
Feel free to share and contribute and come with critique about this project, just send us an email, leave a comment or connect on social media.