How to make Boquerones with Herring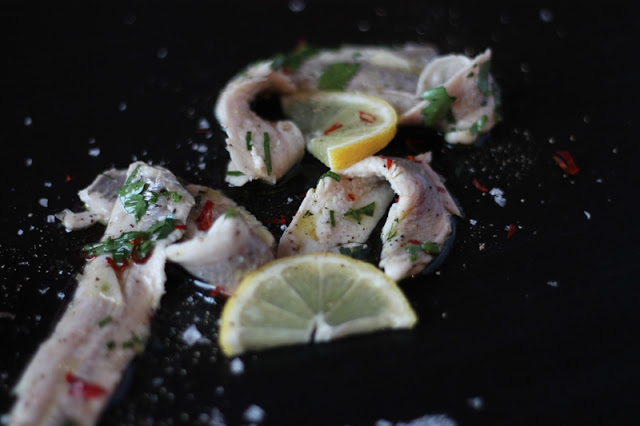 Learn how to make Boquerones with Herring, this classic Spanish tapas can be made using fresh herring instead sardines, find out how.
Boquerones is a spanish traditional tapas made from sardines, this recipe is with fresh herring which has a slightly different taste but either one works fine. Now since I live in Sweden fresh sardines are hard to come by. There are some stores that sells Spanish made boquerones but where's the fun in that.
Instead I am making them with fresh herring which can be bought cheap in any fresh fish shop in Sweden. The method is the same, rinse and remove the skin of the herring filets, marinate in lemon juice until the flesh have turned white and then marinate with other spices. Serve.
You can serve this as a small dish on its own but I prefer to serve it with other types of tapas like olives, jamon serrano, bread and of course some wine or beer.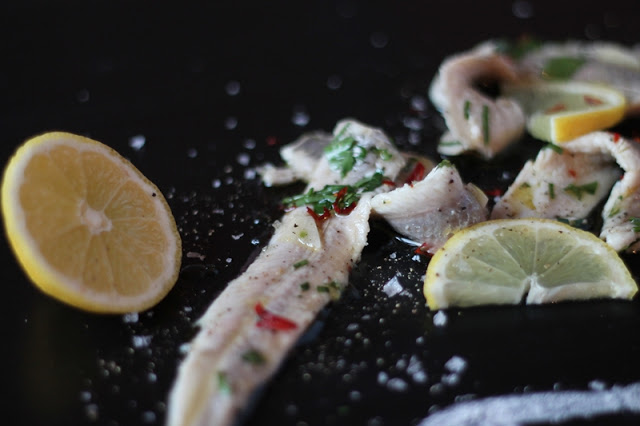 Boquerones with Herring
serves 4 as a tapas
300g / 10 oz Fresh herring filets
10 Lemons (for lemon juice)
6 tbsp Olive oil
1 handful Parsley
1 red Chili
1 clove Garlic
Salt, pepper
Pull the skin of the herring and rinse in cold water, marinate the herring in lemon juice until the flesh has turned white all the way through the filet. Discard the lemon juice and marinate the herring in olive oil, chopped parsley, chili and a little bit of garlic. Season with salt and freshly ground black pepper before serving.