Soused Herring with soft boiled eggs and raw onion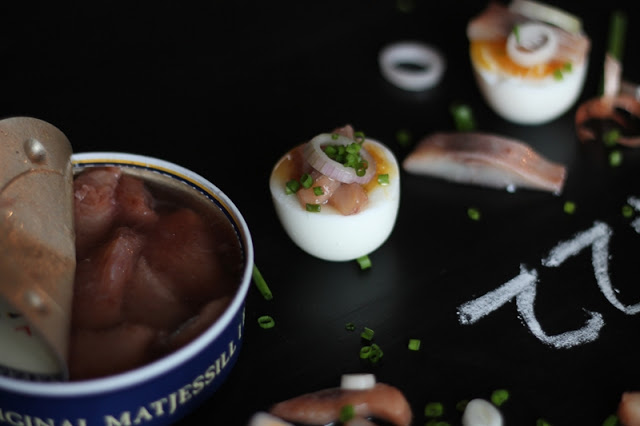 Try Soused Herring served with soft boiled eggs and sliced raw onions, one of the easiest but tastiest things you can make.
This recipe for soused herring with soft boiled eggs and raw slices of onions is barely even a recipe. But it is a very Nordic tasting dish and it is packed with flavor. The dish uses soft boiled eggs cut in half, Swedish soused herring and slices of raw shallot onions.
The creamy egg with the salty herring and the sharpness and crunch of the onion make this dish really hold together even if it's only made up of three parts. Well it is four if you count the sliced chives but those are more for decoration than taste in this case.

Soused Herring with soft boiled eggs and raw onion
serves 4 as a snack or small starter
6 eggs
150g soused herring, liquid drained off
1 shallot onion
2 tbsp sliced chives, optional
Boil the eggs soft, I usually cook them for six minutes for a soft boil and I always add them to already boiling water. Chill and peel the eggs and split them in half. Cut away the tip of the eggs so they can stand up. Then add a piece of soused herring on top of each egg and top with a slice of onion and some chopped chives.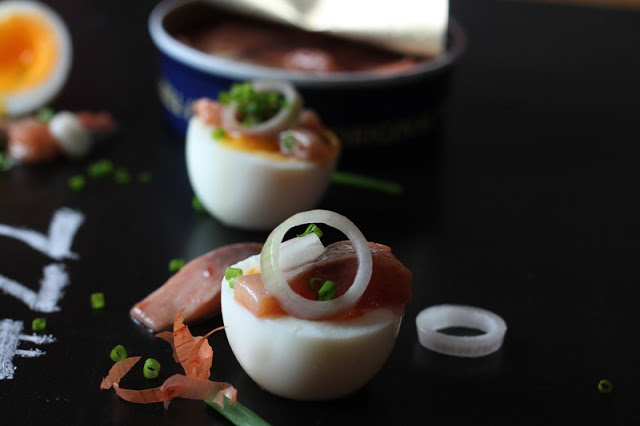 About Soused Herring
Soused herring is herring that have been preserved in a spiced brine. In Swedish it is called Matjessill and it is often served at Midsummer, Christmas and Easter. Soused herring is usually served cold. Soused herring is also common in Norway, Denmark and The Netherlands.