Poached Scrambled Egg with Bacon and Parmesan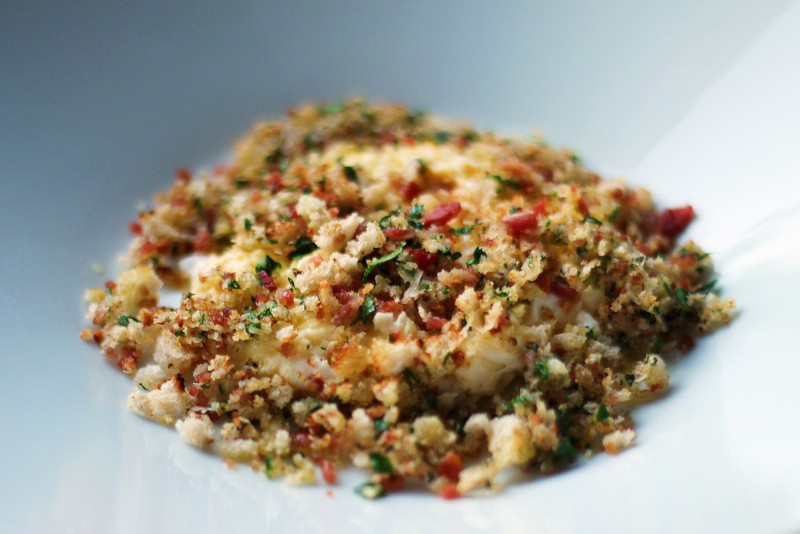 Try this low fat poached scrambled egg with bacon and parmesan. A failed poached egg with a crumble of bread, bacon and parmesan cheese. Works both as an appetizer or why not for breakfast?
The other night I was looking at some old episodes of Mind of a Chef, the theme was egg and one of the guests was Chef Daniel Patterson. In the episode he makes sort of a poached scrambled egg that I have never tried before. So I had to give it a go.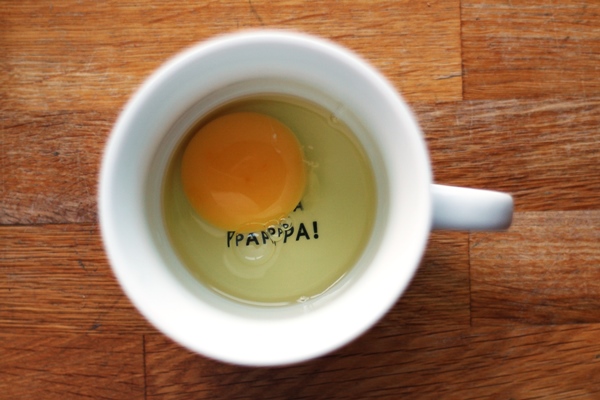 When I say that I haven't tried it I mean that I never ate it. I failed to poach eggs many times and the result have been something similar to this recipe.
The idea is to lightly whisk an egg and then add it to salted boiling water while you're whisking. The egg stays in the water for about half a minute and then it is carefully strained through a sieve. This leaves sort of a airy soft poached scrambled egg. Since there is only the egg with some salt and water it becomes quite airy.
So I decided to make a simple dish out of this test. To add some texture and taste I chose bacon since that is one of the best things to serve with eggs. I fried the bacon crisp and then chopped it with some parmesan, toasted bread and parsley. I served this with some olive oil on top of the egg. Worked out pretty good.
A plus with the recipe is that is fairly low in fat. I don't use any of the bacon fat from the pan and use a moderate amount of both olive oil and cheese. Serve this as a light starter or for breakfast on the weekend. Good luck.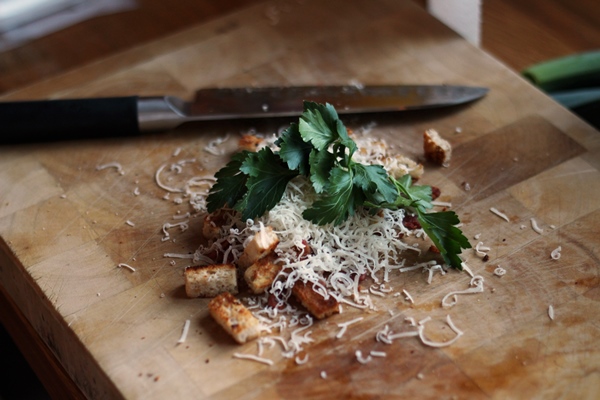 Poached Scrambled Egg with Bacon and Parmesan
serves 1
1 egg
a pinch of salt
½ slice of bread
1 slice of bacon
a few leaves of fresh parsley
1 tbsp grated parmesan cheese
salt, pepper
olive oil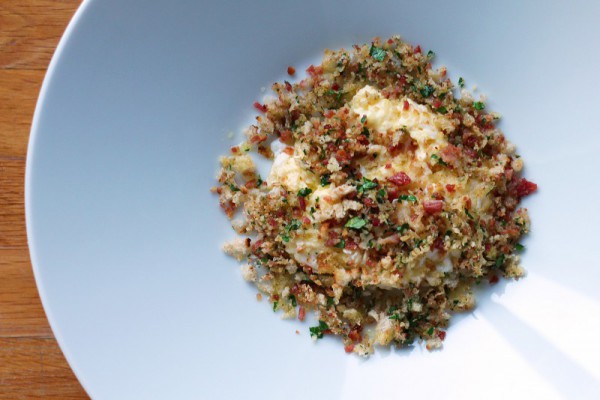 Toast the bread until crisp. Fry the bacon until crisp. Chop the bread and bacon with the parsley and cheese into a fine cut crumble, season with salt and pepper. Whisk the egg with a pinch of salt in a cup. Bring salted water to a boil. While whisking the water into a swirl add the egg and let it poach for around 30-40 seconds. Carefully strain the egg through a sieve and then add to a deep plate. Heat the crumble in a pan and then spoon it on top of the egg. Add a few drops of olive oil. Serve.