Try These 5 Great Coleslaw Recipes – You Will Love Them All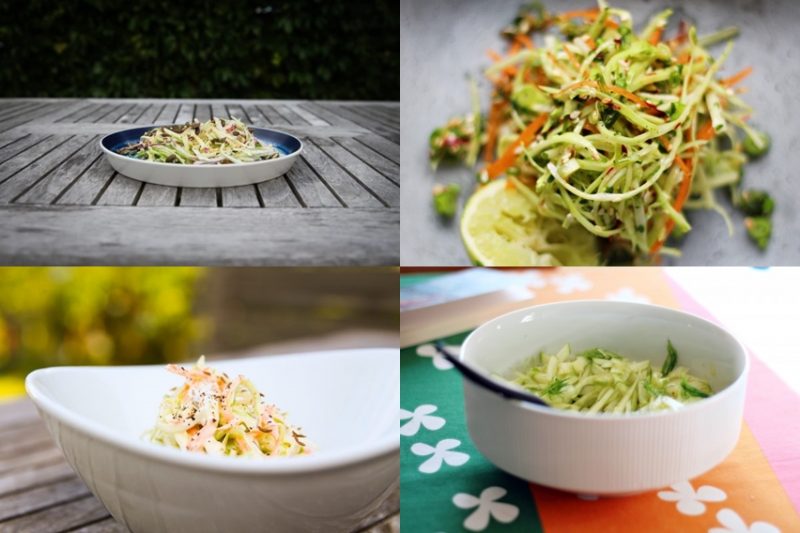 Coleslaw is the best, but the thing is this. You can make coleslaw in many different ways. Tag along as I bring you 5 great coleslaw recipes you will love.
So let's make some coleslaw recipes. All of these five favorite coleslaw recipes of mine have been featured here at Ateriet before. They are all great and each has a little bit of different flavor profiles, textures, and ingredients.
In the title of each recipe, there is a link if you want to take a closer look on any of the specific recipes. If you are looking for more recipes I recommend that you check out my full recipe collection here. Now let's make some coleslaw.
Using apples for coleslaws is always a good idea as you will know if you try out this Apple Cabbage Coleslaw with pumpkin seeds and mustard.
Instead of going with the classic cabbage, carrot, and mayo (which I also love) this one comes with fresh red apples, cabbage, red onion, yogurt and some mustard seeds and pumpkin seeds. Let's see how it's made.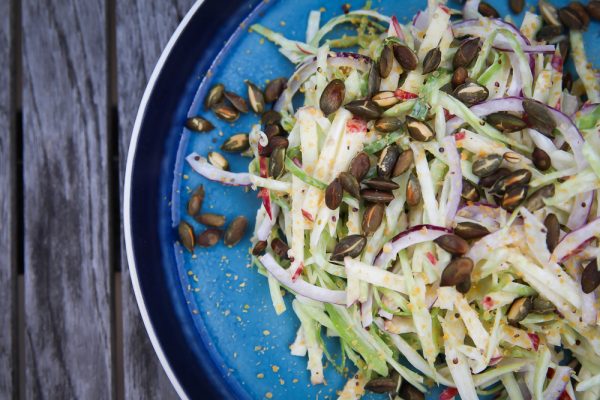 Apple Cabbage Coleslaw Side Salad With Pumpkin Seeds
serves 4 as a side salad
300g / 10 oz cabbage
2 red apples
1 red onion
1 dl yogurt / 0.4 cups Greek-style yogurt 10% fat content
1 lemon
3 tbsp pumpkin seeds
1 tbsp olive oil
1-2 tsp crushed mustard seeds
salt
pepper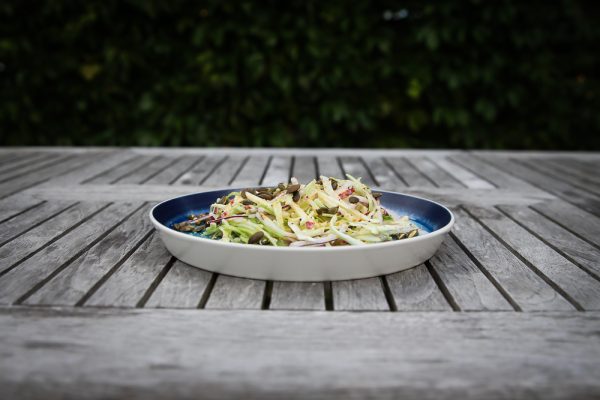 Shred the cabbage and season with salt. Set aside. Then peel the onion and cut in thin slices. Shred the apples. Add both the onion and apples to the cabbage.
Squeeze the lemon into the yogurt and season with salt and pepper. Combine with the shredded vegetables.
Heat a pan and add the pumpkin seeds. Toast in the pan until they start to pop, this happens when the thin green shells crack. Set aside and leave to cool. What I like about pumpkin seeds is, of course, the flavor and texture. I love that crunch you'll get and the flavor is great too. Whenever I toast them like I do in this recipe I use all the seeds I happen to have at home. They tend to get eaten once you have some leftover.
Transfer the coleslaw to a serving platter. Sprinkle the pumpkin seeds on top and finish off with the crushed mustard seeds. Done, good luck!
A Classic Coleslaw Side Salad is a classic for good reasons. I'm guessing you can't even step into a meat-focused restaurant without finding yourself minutes later eating some cole and mayo. The reason is simple, coleslaw is delicious.
I make this one often and even though coleslaws aren't the most exciting recipe in the world it's still nice to have a recipe you can depend on. This is my version, hope you'll like it as much as me.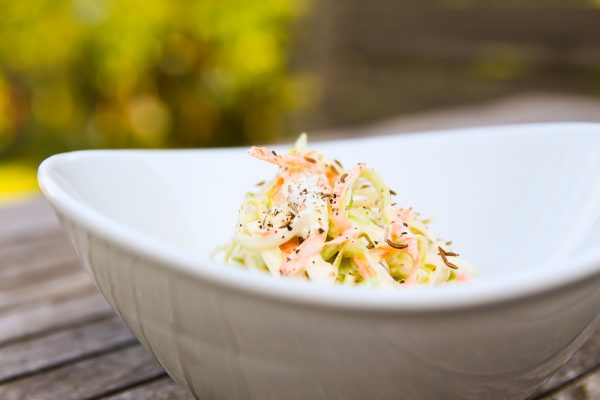 Classic Coleslaw Side Salad
serves 4 as a side
400g / 0.9 lb cabbage
2 carrots
1 tbsp salt
2 tsp caraway seeds
a twist of pepper
4 tbsp mayonnaise
4 tbsp Greek style yogurt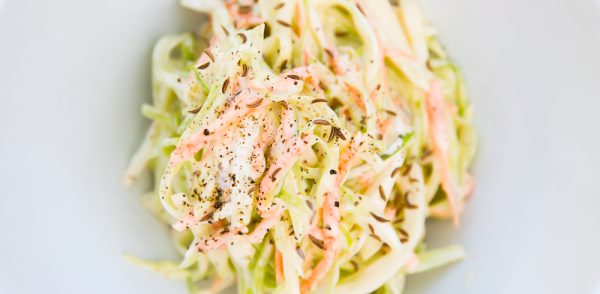 First, shred the cabbage with a knife as thin as you can. Add to a big bowl and add the salt. Mix the salt with the cabbage with a spoon so the salt gets evenly distributed. Set aside to rest for about half an hour. It can also sit longer without any problem. The reason for making this is so some of the water in the cabbage will be released. This makes the cabbage softer but will still be crunchy.
Once the cabbage is done you can discard the water that has built up in the bottom of the bowl. Then peel and grate the carrots and add to the salad. Add the caraway seeds, pepper, mayonnaise, and yogurt. Combine and check the flavor. Usually, the salt from the beginning and in the mayonnaise be enough but you might need to add just a little bit more. That's it. The classic coleslaw will keep for at least a few days if kept cold.
I've featured this red cabbage coleslaw here at Ateriet before. I used in a recipe for a Chimichurri taco. But you don't have to make tacos to find this recipe useful. It's a very simple recipe to make, just shred some cabbage, add lime, oil and some black pepper. That's really about it. So let's start cooking, shall we?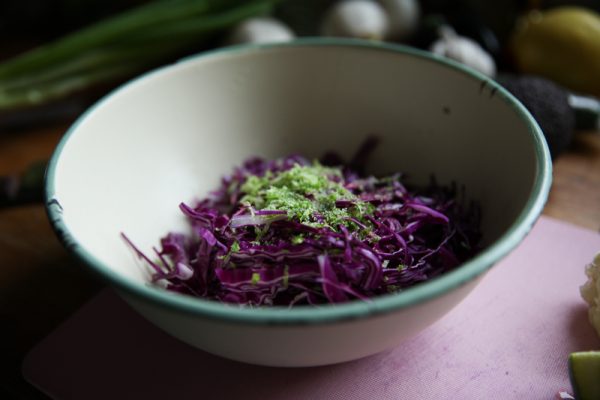 Red Cabbage Coleslaw
About 10 oz / 300 g red cabbage
2 limes
2 tbsp olive oil
salt
black pepper
The recipe will be enough for a side for 2-4 persons depending on what else you might be serving. When I first made it I used it for that Chimichurri taco and it was enough for about eight tacos. Since the recipe is easy and cabbage is often cheap it shouldn't be a problem if you end up with a little bit of leftovers.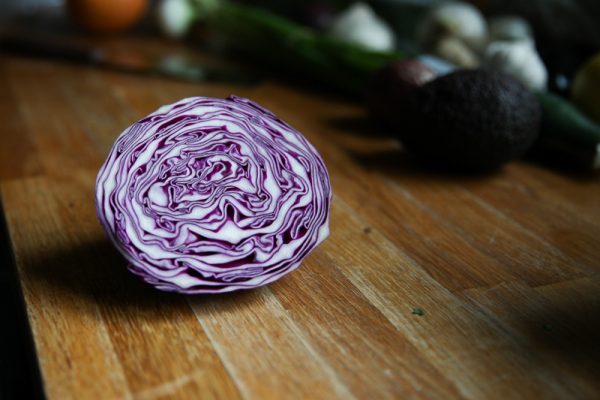 Shred the cabbage as thin as you can. Rinse the limes in water and then grate them both using a Microplane into the cabbage. Then cut the limes in half and squeeze into the cabbage. Add the olive oil. Season with salt and black pepper. Check the flavor and adjust if necessary. Leave to rest for about one hour before serving.
The coleslaw will last for 2-3 days if kept cold and is great for much more than just tacos. Serve it as a side or for burgers and hot dogs.
This Apple and Fennel Coleslaw is a classic in our house, we serve it with all sorts of dishes like grilled meats, sausages, fish, tacos, and burgers. You can also use this as a base for a bigger salad.
The two main ingredients are Granny Smith Apples and Fennel. For our American readers, fennel might be called Anise in stores. All you do is cut the apple and fennel into thin strips and marinate it with oil, vinegar, lemon, salt, and pepper. It is a very fresh recipe for coleslaw so don't expect to get the regular mayonnaise packed coleslaw. This is something much fresher but you can, of course, serve it with everything you would serve a regular coleslaw.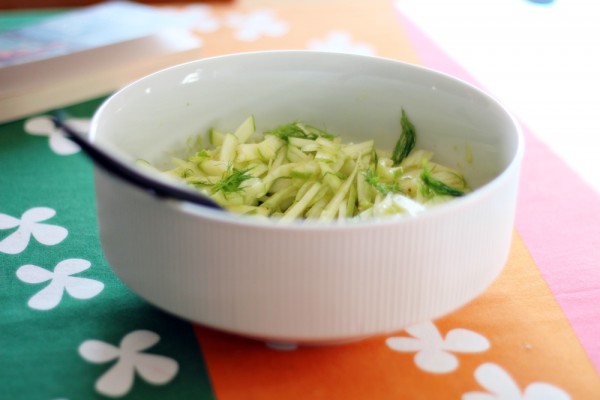 Apple and Fennel Coleslaw
Side dish, serves 4-6 people
2 Fennels
2 Granny Smith Apples
3 tbsp Olive Oil
1 tbsp Apple cider vinegar
1 lemon
black pepper, salt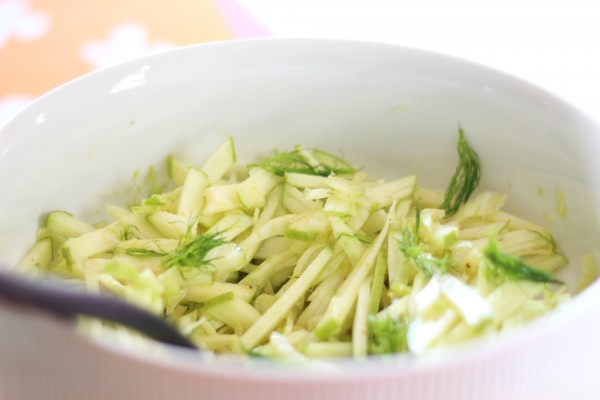 Split the fennel in half and cut away the root which is located at the bottom of the fennel. Slice it thin and add to a bowl. Split the apples and remove the seeds. Cut the apples into thin strips and add to the bowl.
Add the olive oil, apple cider vinegar and squeeze in the lemon. Season the salad with salt and pepper.
You can eat the salad straight away but I think it gets better if you leave it for an hour or so before serving. This also makes the fennel a bit softer.
Asian coleslaw is a great fresh, crunchy and sometimes spicy variety of coleslaw that also can be served as a small appetizer or tapas, even if you usually serve it as a side dish. In comparison to regular coleslaw, this is very different, much fresher in both texture and flavor.
I use white cabbage as my base for the salad and then add what I might have at home, this time this was carrots, spring onion and a bunch of herbs but you can use celery, apples, beets, pears, papaya and a bunch of other vegetables.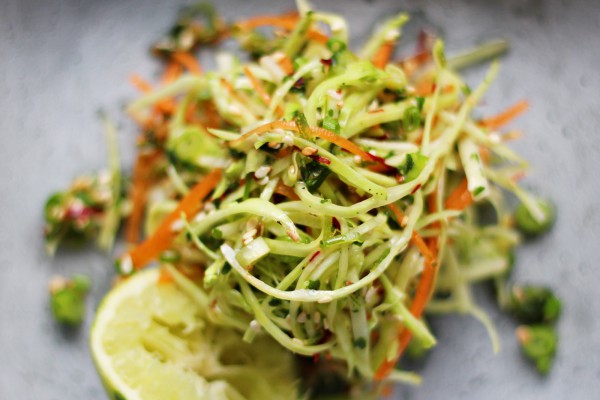 Same goes for the dressing, in this recipe I used sesame oil, olive oil, lime juice and chili but you can use soy sauce, lemon, vinegar, sriracha, oyster sauce and make the salad equally good but different for every time you serve it.
The only downside from regular coleslaw is that this one won't keep for very long, I usually serve it the same day, you can save it one or maybe two days but it won't be as good as on the first day. If you still want to prepare you can make the dressing and cut the vegetables a day ahead and dress the coleslaw a few hours before dinner time.
Asian Coleslaw with cabbage, carrots, lime and sesame seeds
white cabbage
carrots
spring onion
lime
sesame seeds roasted
sesame oil
olive oil
dried chili, strips or flakes
cilantro
chives
salt, pepper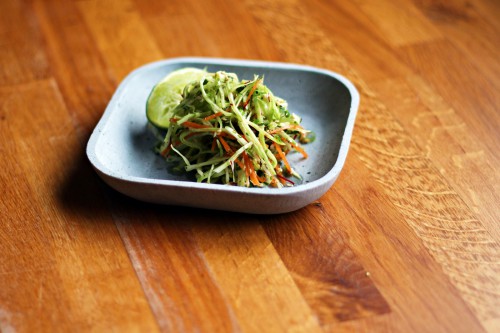 The veggies
Wash the cabbage and slice thin, remove any big stems before, add to a big bowl and sprinkle with salt, leave for one hour. This makes the cabbage softer and it will lose some of its water. Discard the water from the cabbage. Peel carrots and cut into thin strips, slice the spring onion and roughly chop the cilantro and chives. Combine all the vegetables in the bowl.
The dressing
With dressing, you'll need some measurements, for this dressing use 3 parts olive oil, 2 parts lime juice and one part sesame oil. Combine olive oil and sesame oil,  wash limes and grate the skin into the oil, then squeeze and add the lime juice. Add the chili, sesame seeds and season with salt and pepper.
Final steps and plating
Combine the dressing with the vegetables and check the taste, adjust if necessary. Serve on small plates with a lime on the side or as a side. Good luck!