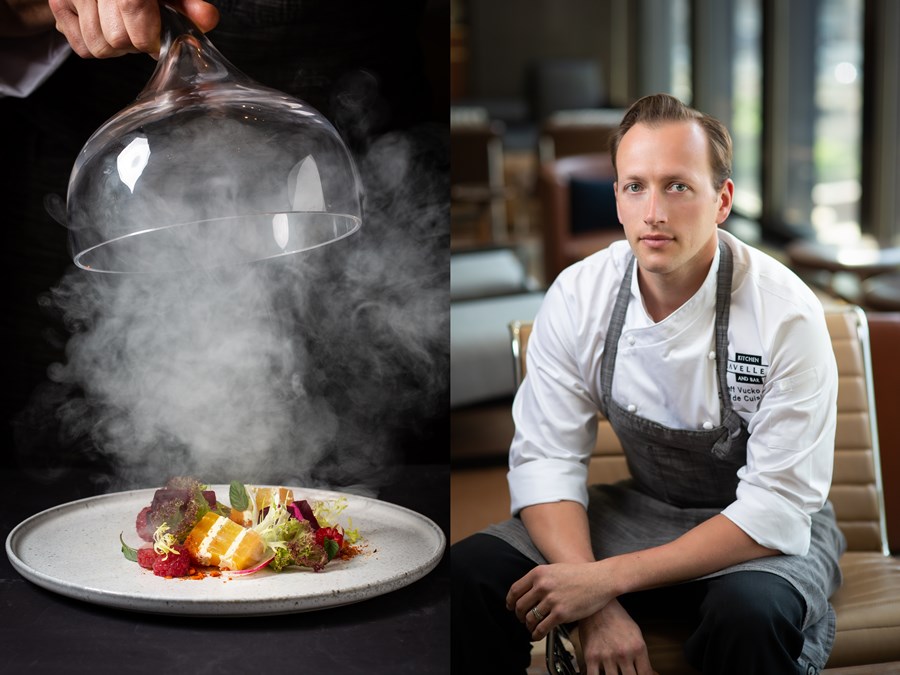 Meet Chef Jeff Vucko of Travelle in Chicago in an interview on how he became a chef, his favorite thing on the menu and much more.
What made you want to be a Chef?
I have always loved cooking and always wanted to have my own restaurant. In college, I worked at a lot of bars and I just love the industry. I have great memories of cooking with my grandparents, as well as cooking over an open fire in Boy Scouts.
You started out as an insurance broker, what made you change to the kitchen?
I wanted to jump into something new – something creative. I always thought of being a teacher, and this industry allows me to teach and allows me to be creative at the same time.
How would you describe your cuisine?
At Travelle at The Langham, our cuisine is seasonal American. I embrace the Green City Market and use as much fresh, local produce as I can. We also use luxury ingredients whenever possible. I try to stay up to date with my plating techniques and embrace the places where my sous chefs are from, too.
In your opinion, what makes a dish great and do you have a process when creating new dishes?
My process is inspired by techniques that I've read about and learned. I incorporate ingredients that are salty, sweet, and spicy. I play with different ingredients and textures and try to keep dishes balanced. I ask myself about different dishes – what is it missing? What can be taken away?
What's your favorite thing on the menu right now?
I would have to go with our Prime Bone-in Tomahawk Steak and Maine Lobster: a 32oz salt-crusted steak served with Travelle's signature A-1 sauce, bordelaise, truffled hollandaise, and shishitos in manchego and togarashi. It's our elevated take on surf and turf.
What makes Chicago stand out as a food city?
There are so many different cultures in Chicago and it's also competitive. Chicago is one of the biggest cities but there is something for everyone. For example, at Travelle, you can have one of the best burgers of your life at an affordable price in a luxury location.
Do you have a guilty pleasure in food?
I love king crab! When I was in 8th grade, my family went to Alaska for three weeks and I managed to gain 20 lbs. due to an all you can eat buffet – with plenty of king crab. I also have a sweet tooth and always have to order dessert when I'm out.
Do you have another passion besides food, something that you do on a day off to do something else?
I love golf and try to get to the range as much as possible on my days off.
What is your favorite culinary destination?
Napa – the food was next-level. My wife still remembers the look on my face after my first bite of 48-hour Wagyu steak. It melted in my mouth – I didn't want to swallow.
Who do you think I should interview at Ateriet?
Danielle Marelli, our Pastry Chef at Travelle at The Langham!
Thank you for your time Jeff and keep cooking!
Name: Jeff Vucko
Age: 32
Birth city: Downers Grove
Current city: Chicago
Education: University of Illinois, Champaign-Urbana and Le Cordon Bleu College of Culinary Arts in Chicago
Previous profession: Insurance broker
Favorite quote:" Float like a butterfly and sting like a bee."- Muhammad Ali
About Travelle at The Langham 
Travelle at The Langham is the main restaurant in the Langham Hotel in Chicago. The hotel is located on 330 North Wabash Ave just steps away from Millennium Park and the Magnificent Mile. On the second floor inside the hotel, you'll find Travelle at The Langham where Chef Jeff Vucko offers his seasonal modern American food.
Travelle is opened daily for dinner and breakfast and lunch Monday through Friday. For menus and reservations visit them online here and do check out Travelle on Facebook and Instagram as well.
About Ateriet's Chef Q&A
Chef Q&A at Ateriet is my way of giving great chefs the respect they deserve. I interview chefs from all over the world with the stuff I want to know. If you know a chef I should interview or have any other suggestions don't be afraid to let me know, just leave a comment or send an email. You can read my other Chef Q&A's here or explore all these great chefs and restaurants in my Chef Q&A Map, you'll find it here.
Tags: chef, chef interview, chicago, hotels, langham