Meet Chef Sujan Sarkar of ROOH Chicago in our Chef Q&A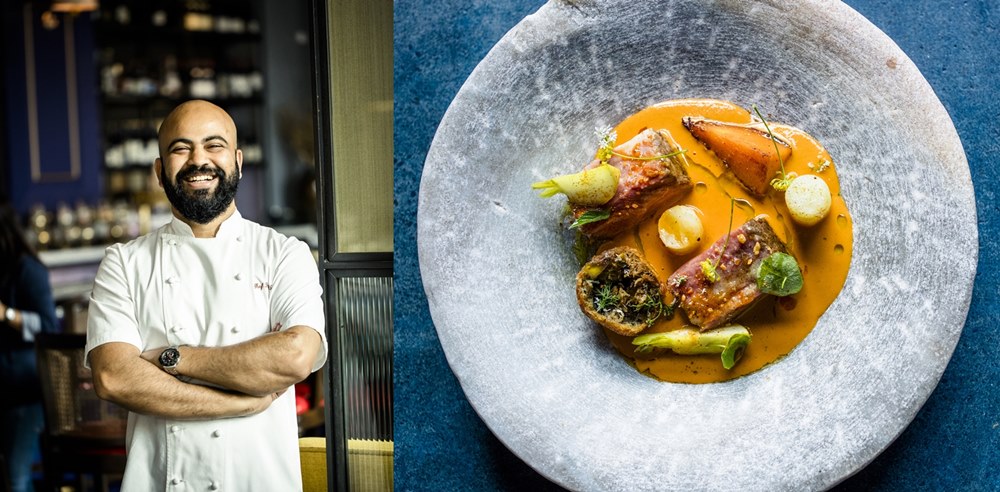 Sujan Sarkar has worked in more parts of the World than most chefs, from India to Dubai, London, and San Francisco. Keep reading as we talk about how he became a chef, why he chooses to expand in Chicago, what makes a dish great and much more.
ROOH in Chicago is the latest opening from Chef Sujan Sarkar. Since the doors opened earlier this year people have been lining up for the progressive modern Indian food that Sujan Sarkar has made his own. So it's not your ordinary Indian restaurant we are talking about here, and that goes for the drinks as well. A very inspired selection of house cocktails are available so when you go, make sure to try those as well as the food, now let's talk with Sujan Sarkar.
What made you want to be a Chef?
I hail from a suburb of Kolkata, and my childhood was deeply influenced by a natural respect for farming and local produce, thanks to my father. A lot of credit also goes to my mother and my upbringing, I grew up eating a variety of regional food, absorbing its flavors, many of which are still etched in my memory.
How would you describe your cuisine?
New Indian – Progressive Indian – International Indian.
Your latest opening is ROOH in Chicago, what made you choose Chicago as your new city?
I was always drawn to Chicago, the city has become quite a food-centric hot spot with several top chefs and of course one of my favorite restaurant Alinea… we felt that such a city would embrace a concept like ROOH well and it made sense to include it in our plans.
We all know about the success of ROOH in San Francisco, has the restaurant been as welcomed in Chicago as well?
Yes, more than what we even expected. It has been overwhelming. We get to cook for and serve a full house every day.
What can I expect as a guest at ROOH and what on the menu can't be missed?
A guest at ROOH should walk in expecting a new Indian experience. We're introducing people, not only to the new wave of Indian food but also how it has been shaped by contemporary sensibilities in terms of presentation, ambiance, décor, cocktails and more. It's about the vibe of experiencing a new India while preserving the core, the flavors that identify it as distinct.
So when you visit us please do not miss Gunpowder scallop with sweet corn malai curry, ROOH Butter Chicken, Beef short rib curry, Green chickpea and avocado bhel, cashew cake with phirni mousse.
Much of your training has been done in international kitchens, what impact do you think this has had on you as a chef? 
I think it taught me a great deal about discipline, respect for ingredients, flavor combinations, presentation and team-building – especially about identifying each ingredient, how to apply it to its full potential, the importance of seasonality of produce, maximizing its use… all practices we now strive to implement as the norm in our restaurants.
In your opinion, what makes a dish great and do you have a process when creating new dishes?
Excitement, it should evoke excitement in a person, before, after and even while they consume it, of course. The impact before deals with the visual and olfactory bit, during is where flavor and texture play a key role, and after is determined by memory, how much you remember the dish. Everything comes back to the sensory impact of the dish.
The creative process is very atypical…I carry a diary everywhere, it starts there. When I travel, I'm constantly gleaning inspiration, from things I see to when an idea strikes, I try to tease it out, what the flavor combinations could be, what the ingredients in a season would be, what story it resonates with. Often, I even draw out what a dish could be like.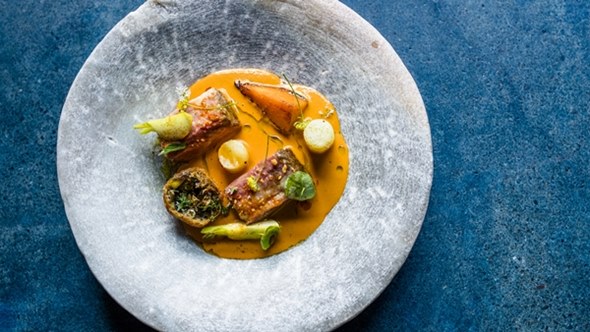 Not only is your food delicious, it often stands out with its vibrant colors and beautiful plating, it that something you work with just as much as with flavors?
Yes, presentation is very important. It's about an entire sensory experience and years of training in understanding flavor, technique and presentation have helped hone our signature attention to presentation as much as flavor.
ROOH in SF and Chicago, Baar Baar in New York, pop-ups in Delhi and much more, first of all, how do you have time for them all and secondly, do you think there is a risk of you spreading yourself too thin?
When you have an amazing team, it's all possible. People all over the world are doing wondrous things in the span of a day, we just do our best with our restaurants. So no, haven't felt that yet. In fact, I feel invigorated with our vision of bringing Indian cuisine into the new world. 
We need good New Indian restaurants in the United States and in fact, the world, and I'm happy to take this up as a mission. We have opportunities all over the world but we're going step by step, there's a method to the madness!
Do you have a guilty pleasure in food?
I'm a true Bengali, I have a sweet tooth and would happily eat dessert as my starter, main course and well, dessert.
Do you have another passion besides food, something that you do on a day off to do something else?
Netflix and Cricket 
What is your favorite culinary destination?
Spain
Who do you think I should interview at Ateriet?
My Pastry, Chef Naseer. He is only 25 and doing wonders already 
Thank you Sujan Sarkar and keep cooking!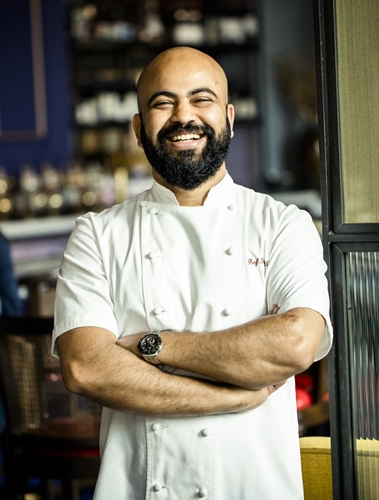 Name: Sujan Sarkar
Age: 40
Birth city: (suburb of) Kolkata
Current city: In transit
Education: BSE in Hospitality Administration & Culinary Arts, IHM
Previous profession: Being a chef has always been the one and only true calling I have pursued.
Favorite quote: Yes is the answer
About ROOH Chicago
ROOH Chicago opened its doors during spring of 2019, since then the people of Chicago have been lining up for the progressive modern Indian food and cocktails by Sujan Sarkar. ROOH is located at 736 W Randolph Street. Visit them online for menus and reservations.
About Ateriet's Chef Q&A
Chef Q&A at Ateriet is my way of giving great chefs the respect they deserve. I interview chefs from all over the world with the stuff I want to know. If you know a chef I should interview or have any other suggestions don't be afraid to let me know, just leave a comment or send an email. You can read my other Chef Q&A's here or explore all these great chefs and restaurants in my Chef Q&A Map, you'll find it here.