Eating at The Publican – A Night of Eating Way Too Much Food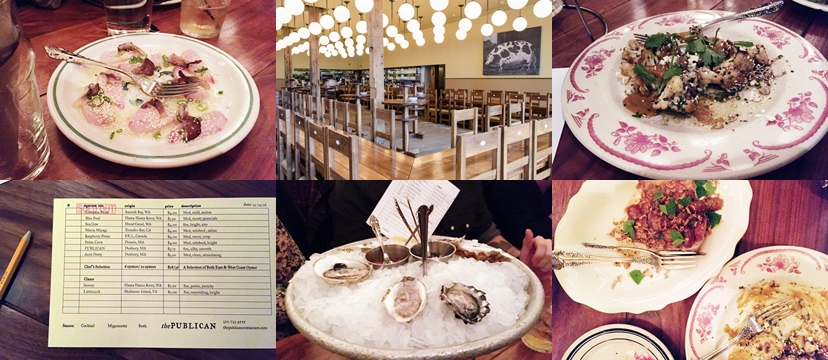 Read all about how it is to be eating at The Publican. It a night of eating way too much food. Mostly in a good way.
So what's it like to be eating at The Publican. Read all about it in my review. As part of an eating weekend in Chicago in November we decided to eat at The Publican. The Publican is part of the One Off Hospitality Group and it was opened in late 2008 by Chef Paul Kahan.
Paul Kahan and One Off is the team behind a number of popular restaurants in Chicago. Besides The Publican the group's restaurants include Big Star Tacos, Blackbird, Avec, Nico Osteria and a bunch more. So if you have an interest in food and plan to eat in Chicago you are bound to step into at least one of the group's restaurants.
Getting Reservations at The Publican
Reservations are encouraged, especially if you're more than two and want to eat at a special time. We ate on a Saturday and had made reservations early. When we arrived the place was packed and we had to hang out for about half an hour to get our table. Slightly annoying when you've made a reservation but the staff took care of us as good as they could.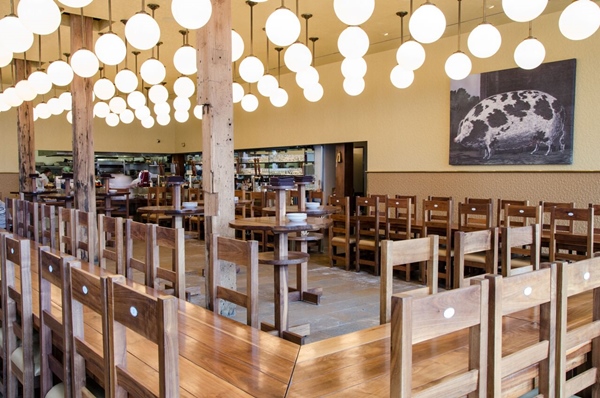 The Menu at The Publican
The slogan for The Publican is Oysters, Pork & Beer.That's really one of the reasons I wanted to go there. Who doesn't want to eat at a place that comes with that promise?
The menu is huge and split into categories. You've got vegetables, fish, bread and meat. The meat section is the largest but this also includes the charcuterie selection.
If you're into eating oysters they are presented on a separate daily menu that you can fill in to get your own selection. Each oyster is described with origin, size and taste. By my standards all the oysters are small. Some of the smallest I ever ate actually. Nothing wrong with that, I love oysters you can eat in one bite. But if you're comparing these with European Fine de Claires or Belons they are tiny.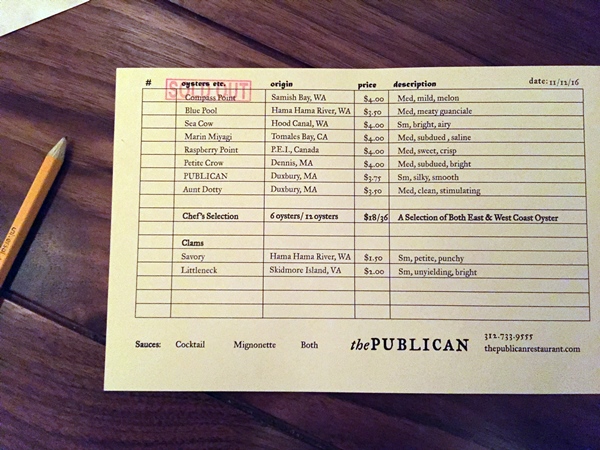 A great thing about the menu is that every dish lets us know where the main ingredient comes from. Almost all meat comes from The Slagel Family in Illinois. A farm that The Publican has a close collaboration with. Almost all ingredients are American, mainly from Illinois but also from other states like Iowa, Massachusetts and a few others.
The Beer and Wine List
The wine and cocktail list is good, nothing that stands out but a nice selection. The list is mostly European with many wines from Austria. The beer list is naturally way bigger. A big selection for both draught and bottled beers. Most beers comes from Chicago, Belgium and Germany.
Eating at The Publican
Instead of choosing a bunch of different dishes we decided to go for the Chef's Menu. At $65 you'll get a curated menu that changes daily. A greatest hits if you will. The dishes are served family style on separate plates so eat with people you like to share with.
This is what we've got for our Chef's Menu.
Spicy Pork Rinds dusted with chili powder – the best pork rinds I ever had and one of the signature dishes of The Publican. Crunchy, huge, slightly spicy and delicious. I already planning to recreate these at home this winter. Served in a big paper cone.
Riletter with cherry jam and grilled sourdough – delicious rilette, paired perfectly with the cherry jam and crunchy bread.
Olive Flounder Crudo with mushroom sott´olio, sesame seed and vinegar – another great dish, fresh fish with plenty of acidity.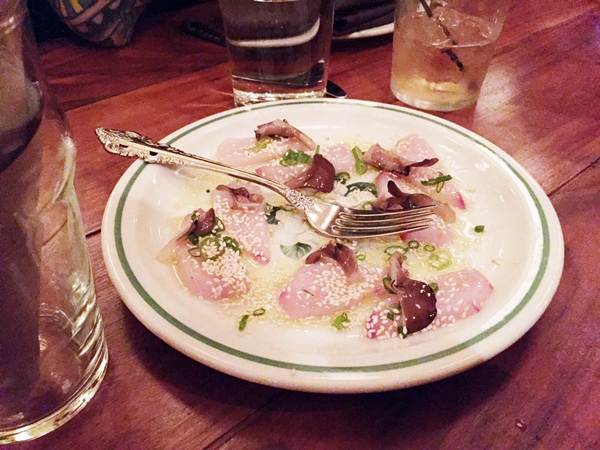 Chef selection of oysters – a small selection of oysters. We actually skipped the oysters when we first ordered but changed our minds and added six oysters. Very small with great flavor. Comes with red wine vinegar and shallots or lemon on the side. I recommend going for twelve oysters if you're into oysters.
Cauliflower with cilantro, feta, butter masala and cashew dukkah – Fried cauliflower with cashew, cheese and cilantro on top. Delicious.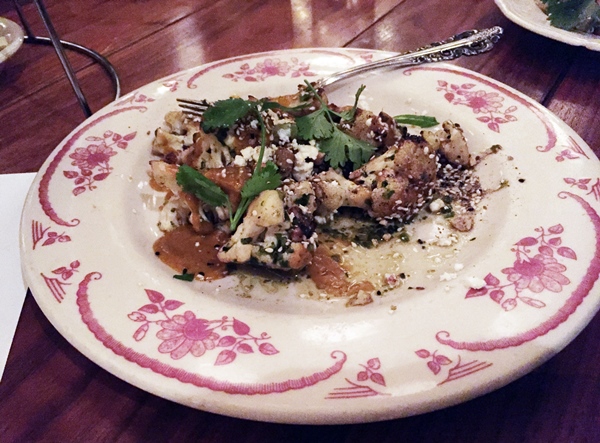 Smoked mackerel with sour cream, lentil, dill and pickled beet – This dish was just as much about the beets as the mackerel. Paired great with the mackerel which didn't overpower the other flavors.
Skate wing with charred fresno, poppyseed, grapes and mint – One fried wing of skate, the texture of skate is a little bit different from most fish. Perfectly cooked with plenty of moisture left and it worked nicely with the grapes. Grapes in warm food is not a favorite for me but here it worked.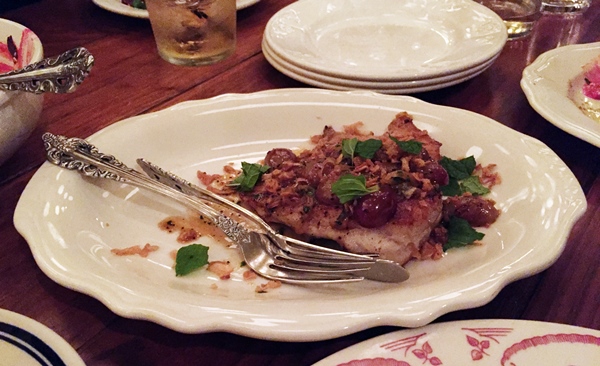 Toulouse sausage with waxman potato, pesto and sunflower seeds – This was ok but not that special. Not bad but it didn't stand out. Would have worked better with a more spicy sausage.
Porchetta with Parmesan and cilantro – Delicious but by this dish we were so full we could barely eat anything of it. A little bit too heavy on the fatty parts of the porchetta as well. Great flavors though.
Fried Sweet Potatoes with mayonnaise, peppers and scallions – Same here as for the porchetta. Ate just a few pieces, taste was ok.
Belgian waffle with butter and blueberries – for some reason there is always just a tiny piece left in the stomach when the desserts arrive. This waffle was the best of the desserts. Crunchy and warm with a whipped butter and blueberries on the side. Just wished I would have been able to eat more of it.
Yoghurt panna cotta with berries – I forgot to take a photo of this one so panna cotta is not really a good description. I was some sort of panna cotta like pudding with a berry mousse or pudding on the side. Not my favorite dessert.
Chocolate hazelnut torte with coffee cream – very rich chocolate and hazelnut torte with coffee flavored whipped cream on the side. Usually I would love this but I was simply too full to fully enjoy it.
So that was that. I probably never walked out of a restaurant feeling fuller. That's really the only bad thing I can say about eating at The Publican. It's just too much food.
Every dish was delicious, from the vegetables to the rilette to the porchetta. Sure there are always details that you can pick on but all in all everything was great. Plating is simple and rustic. It looks and taste absolutely delicious.
What I would do if I got to decide was to just scale down on the serving size just a little bit. Since everything is so great tasting you end up cleaning every plate. So when more and more dishes gets put down in front of you you suddenly realize you're in trouble. Cutting the sizes by one third would have made us eat a little bit less and enjoy the ending even more.
But I guess that's not much of a critique is it? Complaining about how you got served too much food that was too delicious?
What does it cost to eat at The Publican?
We choose the Chef's Menu and added some oysters. With a little bit to drink, which wasn't much since we've geared up with some Boilermakers (cheap bourbon and beer) at the Lone Wolf bar around the corner just before we weren't that thirsty. Can highly recommend Lone Wolf by the way.
The menu comes in at $65, with drinks and coffee, tax and tips our check for four people ended at $450. Given the quality of the food and how delicious everything is that is incredibly cheap. That's not far from what we paid for each person at Alinea a few days before. A completely different experience of course but still.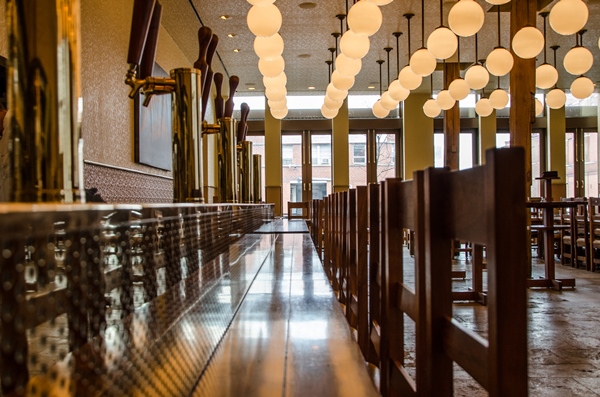 Service at The Publican
Service is quick, fuss-free and very friendly. Just the way I like it. The room is both crowded and the ambience is loud with great energy. If you're not lucky enough to get seated in any of the few booths you are sitting on long communal tables so expect to chat a bit with your table neighbors. So maybe not the place to go with your first date but with a gang of friends it the perfect spot.
Let's sum things up
Eating at The Publican was the best meal I had in Chicago. From start to finish one of the most delicious meals ever and the value is ridiculous. So to me the following sentence sums up a night at The Publican.
Eating at The Publican is an experience where the only thing you can complain about is that you're being served too much delicious food by a great team of people. 
Ateriet Restaurant Reviews
Ateriet loves restaurants and we eat out as much as we can. Although Ateriet's focus is not mainly reviewing restaurants sometimes we find places that are worth writing about. All those can be found under the tag Restaurant Reviews. We visit way more restaurants than we write about. It's also worth noting that we don't give out grades or anything like that, we just eat. Then sometimes we write. Enjoy.