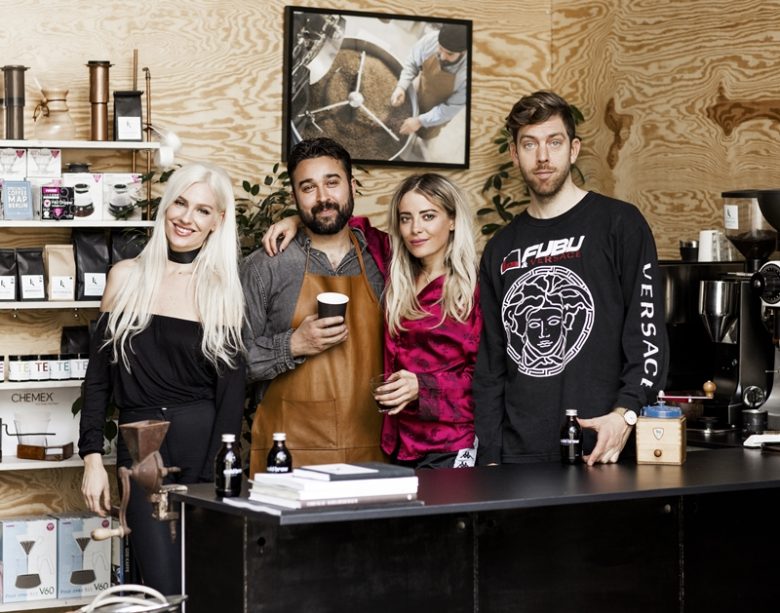 Stockholm-based cold brew coffee company have teamed up with Baileys finally bring great cold brew coffee to Swedes. In the process they are doing a cool pop-up in Stockholm and they are treating us to some great drink recipes to try at home, keep reading.
Cold brew coffee has been a big thing in the US for a long time by now but the trend hasn't gotten its hold on Sweden until now that is. Starting tomorrow on the 31st of May until the 4th of June Swedish cold brew coffee brand It's Cold Brew and Baileys are teaming up to kick off the summer with a pop-up coffee place. It is time for Swedes to embrace this great style of coffee as well.
But don't worry if you don't happen to be in Stockholm this weekend. Baileys and It's Cold Brew have created some great drink recipes that you can make at home, but first a few more words about the pop-up.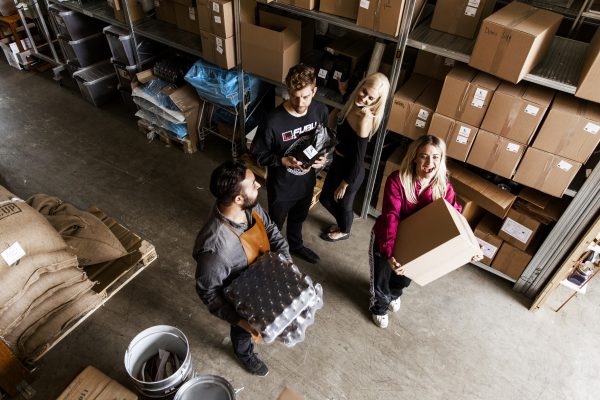 The Co-lab Pop-Up
The pop-up is called Co-lab and it is a collaboration between It's Cold Brew and Baileys. Together they will set up shop inside Morfar Ginko on Swedenborgsgatan on Södermalm in Stockholm between the 31st of May and 4th of June. At the same time as the pop-up starts the street where it is held gets turned into a no-car zone for the summer which makes this a great place to go even if you don't love cold brew coffee (but you do, so don't mind that).
At Co-lab you will get to try a selection of coffee drinks where cold brew coffee is flavored with the classic Baileys liqueur. Baileys is a classic drink to serve with coffee but it works just as good with cold brew as it does with regular coffee. So the idea is to get Swedes to try some cold coffee this summer. That shouldn't be a hard sell since Swedes is one of the top coffee drinkers in the world.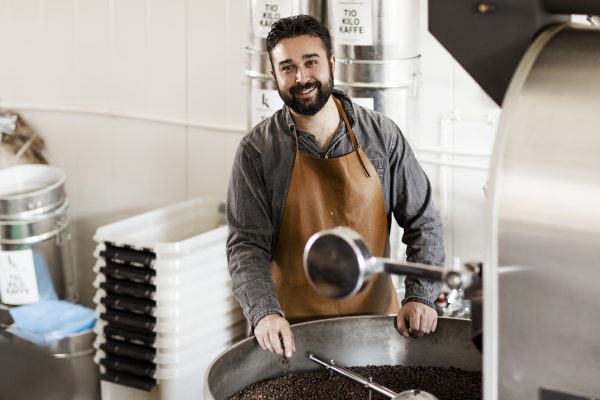 In addition to the drinks you can attend a workshop where you will learn how to brew your own cold brew and create your own drink with Baileys, for workshop tickets head over here. Luckily Baileys and It's Cold Brew have treated us to a few drink recipes to try at home. The recipes are created by Sara Hultberg who became Pastry Chef of The Year in Sweden, 2014. Enjoy!
Cold Brew Baileys Latte
1.3 oz / 4 cl Baileys Ice Coffee Latte
1.3 oz / 4 cl Cold Brew Coffee (for the ice cubes)
1.3 oz / 4 cl Cold Brew Coffee
0.3 oz / 1 cl Tonka bean syrup (recipe below)
fresh cherries
tonka bean
Freeze the cold brew in cubes. Fill a glass with crushed ice and mix with the frozen cold brew cubes. Add cold brew, tonka bean syrup and top with Baileys Ice Coffee Latte. Grate some of the tonka bean on top and garnish with fresh cherries.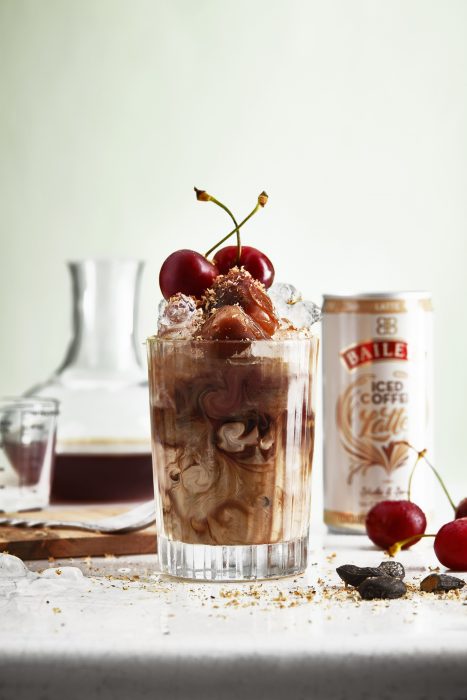 Tonka Bean Syrup
0.8 cups / 2 dl water
0.8 cups / 2 dl sugar
½ tonka bean
Chop the bean and add to a pot with the sugar and water. Bring to a boil and then leave to cool. Strain to remove the tonka bean.
Baileys After Beach
1.3 oz / 4 cl Baileys
1 oz / 3 cl Cold brew coffee
1 oz / 3 cl caramel syrup (recipe below)
Fudge
Sea salt
Crushed milk chocolate
Add Baileys, cold brew and the syrup to a shaker, add ice and shake. Strain into a cold glass and serve with pieces of fudge, a sprinkle of sea salt and the crushed chocolate.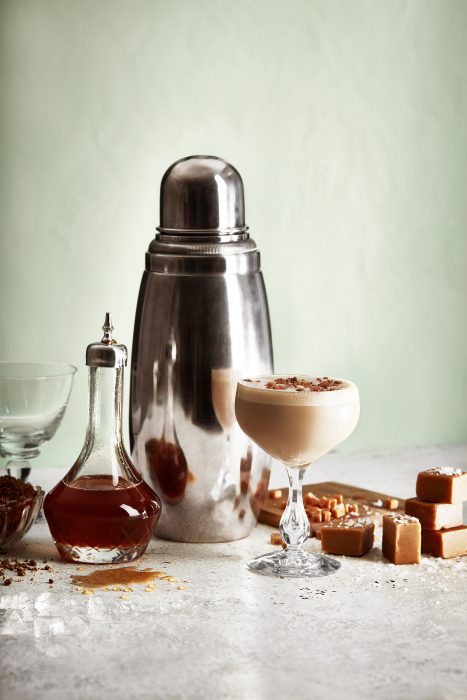 Caramel Syrup
1 cup / 2.5 dl sugar
1.6 oz / 0.5 dl honey
3.3 oz / 1 dl water
1.2 cups / 3 dl water
2 tsp sea salt
Add sugar, honey and the small part of the water into a pot and bring to a boil. Leave to simmer until it turns into a caramel with a golden color. Add the rest of the water a little bit at the time and add the salt. Leave to cool and then chill.
Cold Zest
1 oz / 3 cl Baileys
1 oz / 3 cl Cold Brew
0.7 oz / 2 cl citrus syrup
freshly ground cardamom
orange zest
ice
Fill a glass with crushed ice. Add cold brew, Baileys and citrus syrup. Garnish with cardamom and the orange zest.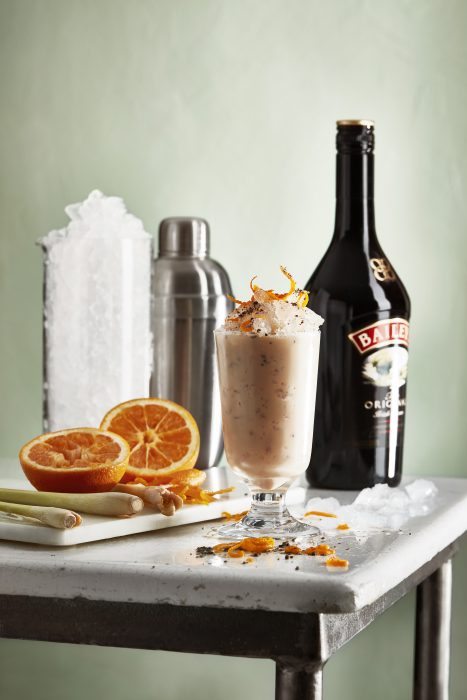 Citrus Syrup
0.8 cups / 2 dl sugar
0.8 cups / 2 dl water
2 stalks lemongrass
zest from 1 orange
Crush the lemongrass and then chop. Grate the zest of the orange. Add to a pot with the sugar and water and bring to a boil. Leave to cool and then strain. Store cold.
Tropical Cold Brew
0.7 oz / 2 cl Baileys
2 oz / 6 cl mango juice
2 oz / 6 cl coconut water
0.7 oz / 2 cl cold brew
0.3 oz / 1 cl simple syrup (1 part sugar, 1 part water)
ice
fresh coconut
raspberries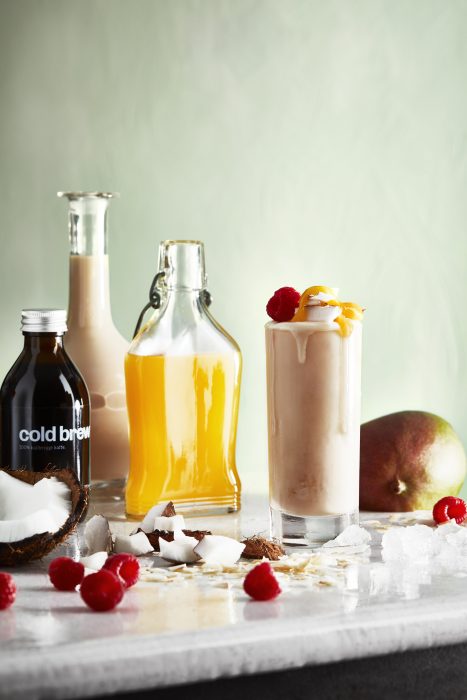 Add all ingredients to a shaker and shake with ice. Strain into a glass and serve with ice. Garnish with coconut and raspberries.
Hopefully you'll enjoy these recipes this summer, for more great ones make sure to check out the drink recipe section here at Ateriet. You'll find everything from classics like the Negroni to more modern creations like this Basil Lemon Cobbler, enjoy!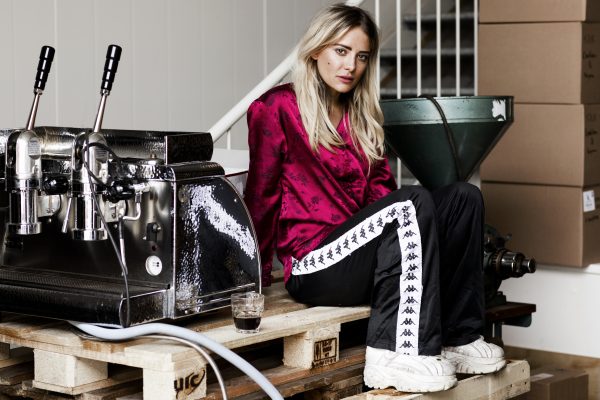 About It's Cold Brew
It's Cold Brew is a drink company located in Stockholm, they were the first company to produce bottled cold brew coffee in Sweden. The company is run by coffee-entrepreneur Aadel Kersh and musicians Fiona Fitzpatrick, Stefan Axel Foley and Mio Sallanto.
About Baileys
Baileys is the World's first cream liqueur and it gets it silky smooth flavor from cream, Irish whisky, cacao and vanilla. Baileys have won more medals than any of its competitor in the prestigious San Francisco World Spirits Awards. Baileys is the world's most selling liqueur and sells more than 82 million bottles annually.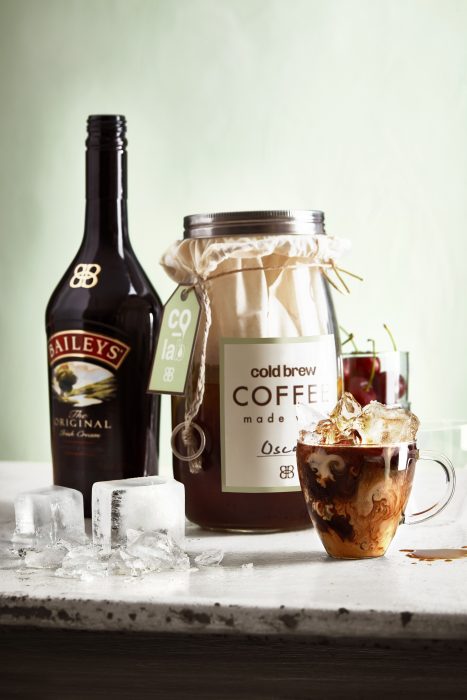 Tags: baileys, baileys recipes, coffee, cold brew coffee, drinks, music, pop up, stockholm, sweden