A-Z Food Photography Project – E is for Egg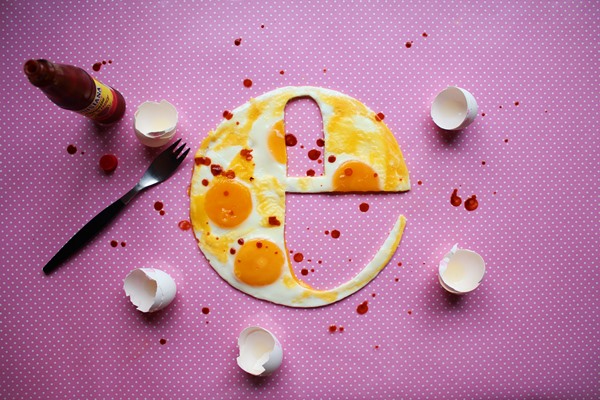 The A-Z Food Photography Project keeps on going, this time I am actually quite happy with the result. Which means I made some changes after my previous not as good letters in this project and spent a bit more time setting up before. Read and see it all below as I have come to part five in the A-Z Food Photography Project, number five is E and I chose E is for Egg, cause everybody loves eggs, right?
So I have come to part five in this project and decided more or less immediately that I should go with the egg. Eggs look cool and can be used in so many different ways. I was considering scrambling some eggs or try to arrange whole eggs in some cool way. Gave up those plans in my head before even trying them.
After some consideration I decided to just go with some pan fried eggs. That is one of the most common ways to eat it and it works really well visually. Also a frying pan is normally round which meant that I would automatically get a round shape if I fried a bunch of eggs at the same time. Thinking was over, time to go to work.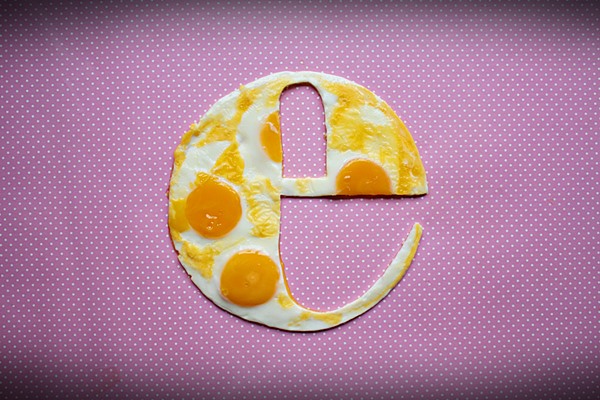 E is for Egg
First thing was to decide how the E would look. For the previous letters I have gone with a block style letter except for the D is for Doritos that I drew by hand. Now with the round shape that I really liked I wanted to keep that but still find a cool font that was not to complicated.
Luckily this is what computers are for. I just started up my text program and searched for a cool looking E that was also round. After some searching I found my E. The Bodoni MT Black. Then all I had to do was to simply draw it on a piece of paper, cut it and use it as a template for my egg.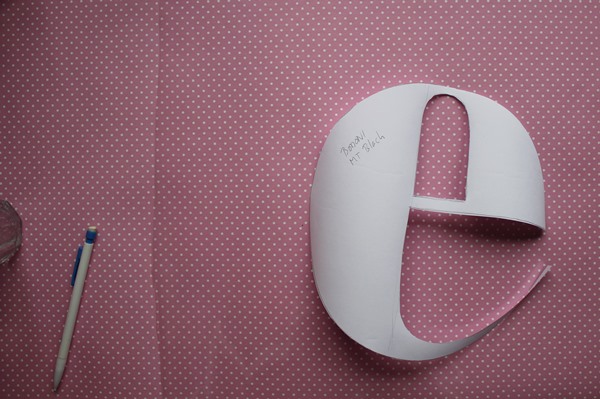 Now why didn't I just print the E you wonder? Well, as most people I am way better at buying printers than I am at buying new ink for printers. I think I've probably bought and thrown away three printers without ever buying new ink for any of them. Not the wisest but hey, I am improving on my drawing skills.
What I used
These are the material I used for this photo shoot.
Eggs, about six
Oil
Frying pan
A piece of sample wallpaper
Thin transparent film, the stuff you use for flowers
Knife
Paper
Scissors
Hot sauce
Camera
Tripod
Natural light
A good looking fork
Now for the previous shoots I used my black background that is very good. But if I am going to do 25 of these shoots I need some variation. So I searched in my props department, that is the fancy name for the garage and downstairs chaos storage. I found a piece of pink wallpaper sample with white dots on it.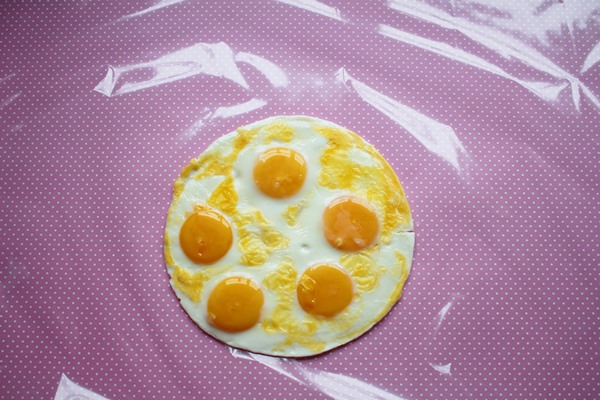 Great, that will work but I will have to throw away the sample and it will most likely be messy if I don't protect it. Luckily we had some transparent thick film that is used for flowers. You know the type of flowers you only give away.
So I rolled out the wallpaper close to my kitchen window and lay one layer of film on top, worked like a charm. Now let's do this.
Setting up the camera
Last time I was complaining about bad lighting. Bad excuse for being lazy on my part. I do own a tripod for my camera so I set it up before starting to fry any eggs and made a test shoot. Even with poor lighting this worked a lot better. I used my standard 18-55 kit lens for my Canon EOS 700d.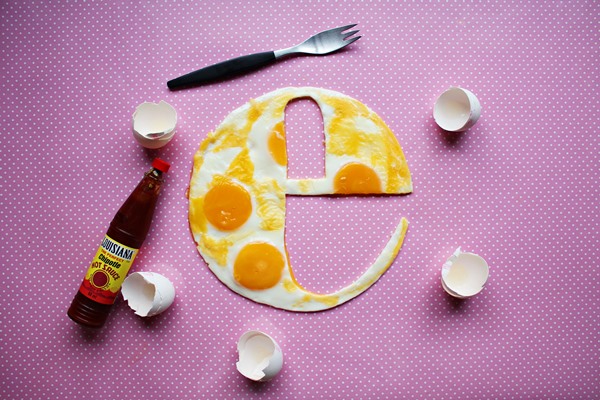 Now even though I have a tripod I couldn't get it straight above the intended E is for Egg place so I had to get creative and lean the tripod on two of its three legs on the bench. Not very professional but what works works. To avoid shaking the camera I set the settings to self timer so it wouldn't shake because of my setup and when taking the shot.
Frying some eggs
The easy part, I fried five eggs in one pan on low heat. I also added an extra yolk to get some yellow splashes of color in the white. Then I transferred the egg onto the film and let things cool. Once this was done I carefully lay my template on top and cut the egg carefully. Not easy but I think I managed ok. Some of the yolk ran out beside the E but I just wiped that off with some paper.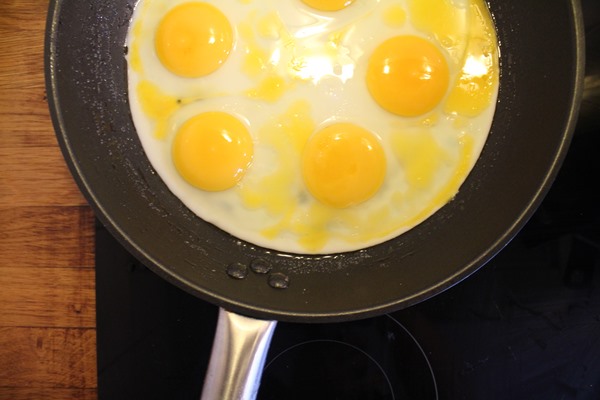 Taking the photos for E is for Egg
Then I simply took some photos. With a pre-tested setup it worked like a charm. Then after some photos of just the egg I added some props. Some eggshells, a bit of hot sauce and a designer fork. Because expensive vintage designer forks looks better on photos. And then I used that very fork to eat the egg.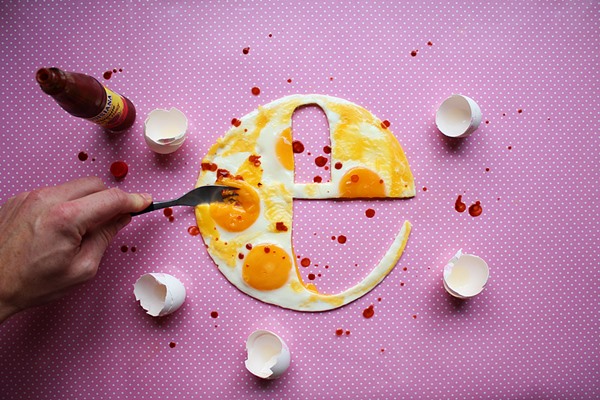 What I learned on E is for Egg
Lots of lessons learned this time, most important are these that I will try to use for all the coming letters in this A-Z Food Photography Project.
Setup and test shoot before shaping any letters.

Use different backgrounds

Always use a tripod

Different fonts look better so use different each time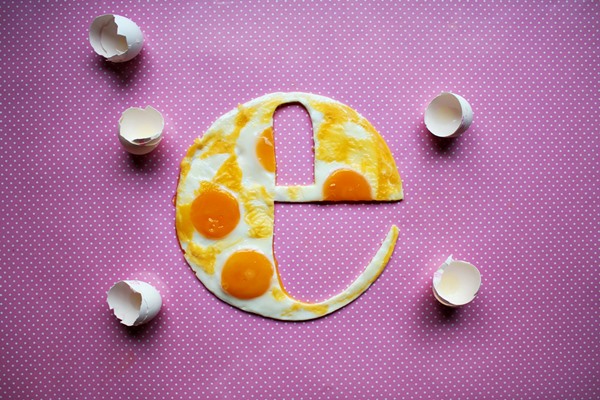 About A-Z Photography Project at Ateriet
A-Z Photography Project is a photo project here at Ateriet and at Instagram. The idea is to photograph each letter of the alphabet and let it represent one food or something edible. I am making the project for fun and to hopefully improve on my photography skills.
You can follow the project on Instagram under the tag #atozinfood where some of these photos will be published from our Instagram for Ateriet that you'll find at @AterietFood.
Feel free to share and contribute and come with critique about this project, just send us an email, leave a comment or connect on social media.