Beef Carpaccio with Arugula and Balsamic Vinegar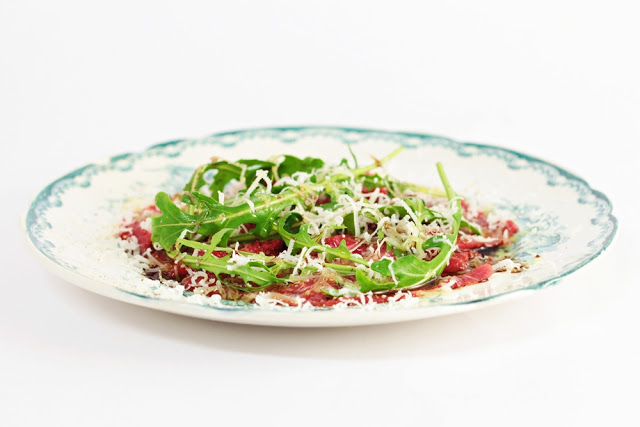 There's not much that beats a classic Beef Carpaccio. Let's go all classic with this one with fresh arugula, balsamic vinegar and Parmesan cheese.
Beef Carpaccio is one of my favorite classics that I always tend to go back to in one way or the other. I´ve made a lot of different toppings but I always seems to be going back to the classics which in my case is plenty of good olive oil, arugula, Parmigiano-Reggiano and a little bit of balsamic vinegar.
Carpaccio is said to have been invented in the fifties at Harry's Bar in Venice, Italy and according to Wikipedia it was usually served with lemon, olive oil, Parmesan and can be topped with arugula. So I guess this is not to far from the original. Also if you´re not that into balsamic vinegar replace it with lemon as stated by Wikipedia since this is really good as well.
As for the meat I always use beef tenderloin, you can use other cuts as well but I prefer the tenderloin. If you like you can also sear the meat before slicing and serving to give it a bit of grilled flavor. There are two ways of slicing the meat, one you can do as I did and simply just slice it as thin as you can and lightly press it using the blade of the knife to get it a bit thinner.
Beef Carpaccio in Restaurants
In restaurants you usually prepare the meat and then freeze it and slice it frozen or semi-frozen on an electric slicer. This will give you the opportunity to serve it thinner sliced but since most people don't have an good electric slicer at home you'll have to settle for the hand cut version. Another technique is to cut a bit thicker piece and then place it between to sheets of plastic film and pound it with a flat meat tenderizer. This is quite time consuming and you have to have a very stable surface to pound on to get a good result.
Although my recipe is quite classic the term Carpaccio has during the last ten to twenty years transformed into meaning more the technique of serving something very thinly sliced than the actual dish of sliced meat. So when you read Carpaccio on a menu next time it´s not a wild guess that it might be followed by something other than beef tenderloin.
Alright, lots of talk on carpaccio, on with the recipe!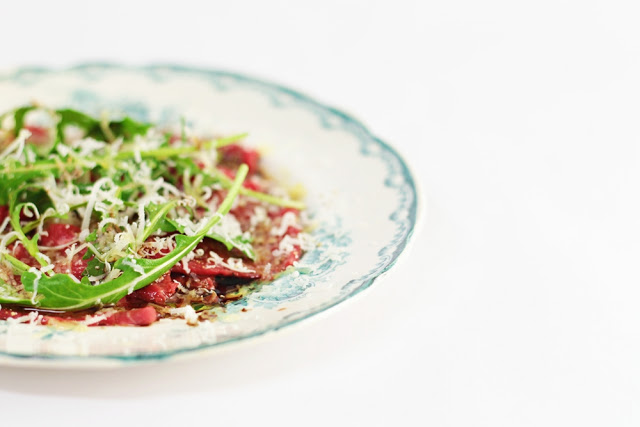 Beef Carpaccio with Arugula and Balsamic Vinegar
Serves 4 as an appetizer
250g fresh beef tenderloin
4 tbsp olive oil
4 tsp balsamic vinegar
50g / 1.7 oz Parmesan cheese (Parmigiano-Reggiano)
50g / 1.7 oz arugula
salt
pepper
Trim off any excess meat of the tenderloin and slice it as thin as you can using a sharp knife, you can make the slices a bit thinner if you use the blade of the knife and press each slice a little bit extra. Put the slices directly on the plate you're serving on and add olive oil and the vinegar. Season with salt and pepper and then add the arugula and grate a generous amount of Parmesan on top. Good luck!