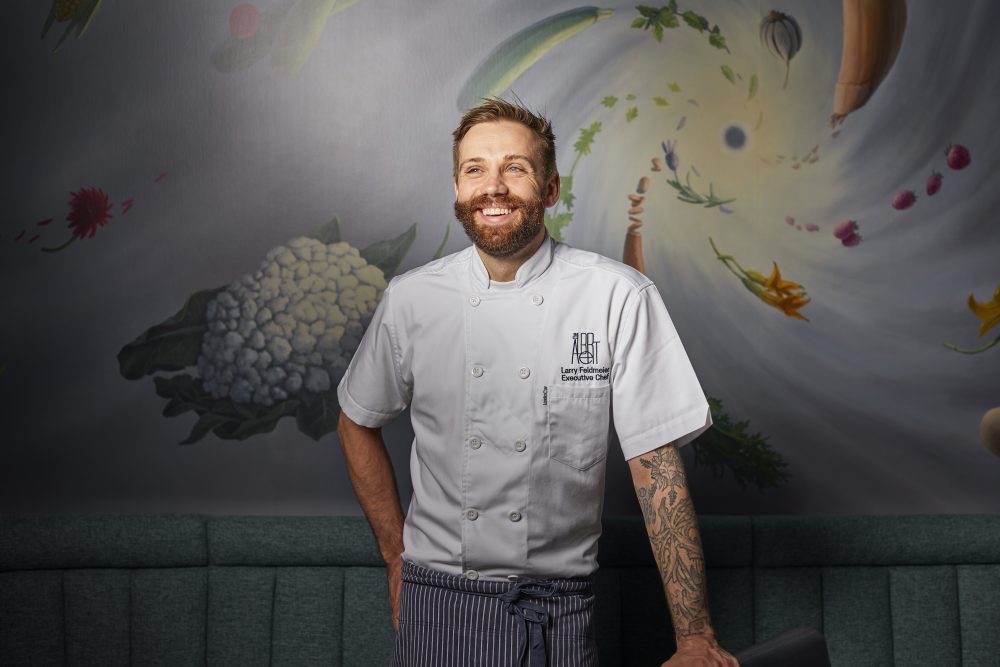 Larry Feldmeier is the new Executive Chef at The Albert, the praised restaurant at Hotel EMC2. Meet Larry in my Chef Q&A where we talk about what he will do at The Albert and much more, keep reading.
What made you want to be a Chef?
It was not a planned career. I had always worked in kitchens, and I just really enjoy being hands-on and learning about different foods.
Did you ever consider doing something else?
There were a couple times where I would get burnt out and think about doing something else, but I could never think of another job that I would want to do.
How would you describe your cuisine?
I like to think of my food as just well-executed cuisine. It's American food, with a mix of everything. I really enjoy learning classic flavors and techniques and putting those experiences onto my version of the plate.
You just joined The Albert as the new Executive Chef, what made you want to take this opportunity?
How could I not? There is always going to be that part of me that just wants to continue learning and gaining experiences as a cook, but after working in kitchens for the last 15 plus years, I felt I was ready to take that leap and The Albert seems like a great place to do that!
Have you made any big changes since you started?
Yes, I have basically changed the entire dinner menu and we installed a garden on our rooftop to grow some different greens.
Coming into an existing restaurant as a new Executive Chef, what do you see as the biggest challenges?
Coming into a new restaurant, you want everything done your way right away, but you need to have patience. There is a lot to do and it takes time to make changes to a system that is already in place, so you need to focus on what the important things are first. Which, for me, is my food.
What's your favorite thing on the menu?
I go back and forth daily, but right now I really like our Smoked Sea Trout with sorrel creme, cucumber and red wine braised onions. I just enjoy that we are able to use greens from our garden to make this dish and that we are able to execute freshly smoked fish on a dish like this.
Chicago is a great food city, as a first time visitor what can't be missed?
I may be one of the few that really enjoys deep dish pizza, but I would recommend Pequod's.
Do you have a guilty pleasure in food?
Taco Bell Quesadillas.
Do you have another passion besides food, something that you do on a day off to do something else?
I really enjoy snowboarding, I lived out west for a while, and I try to go as much as possible when I have free time.
What is your favorite culinary destination?
I have been to New York a couple times and every time I have, I've had amazing food, but I really want to visit Spain.
Who do you think I should interview at Ateriet?
Thomas Lents.
Thank you, Larry, for your time and keep cooking. Make sure to follow Larry Feldmeier on Instagram, find him here. More about The Albert and Hotel EMC2 below.
Name: Larry Feldmeier
Age: 35
Birth city: Mokena Il
Current city: Chicago Il
Favorite quote: "The more I learn, the more I realize how much I don't know." – Einstein
About the Albert
The Albert (a nod to the extraordinary scientist), located in Hotel EMC2 at 228 E Ontario, is a contemporary restaurant with seasonal, globally inspired dishes. The dynamic opening menu has been meticulously created to celebrate the fresh flavors and aromas of summer.
Unlike any culinary experience in the city, the restaurant offers the warmth of a 1930s institute of higher learning, where professors swirled a scotch and talked about the mysteries of the universe. The Albert also offers an intimate 20-seat open kitchen where diners are invited behind-the-scenes to witness a culinary canvas, firsthand, while marveling in the commissioned artwork from West Coast surrealist painter, Paul Bond, and local artist, Jonathan Plotkin.
At the center of the restaurant, a glass chandelier evokes a scientific experiment and pours house-made infused liquors. For more information or to book a reservation, visit www.thealbertchicago.com. You can also check them out on Facebook, Twitter and Instagram.
About Hotel EMC2
Hotel EMC2, boasting 195 beautifully designed rooms and over 4,800 square feet of flexible meeting space, opened its doors in spring 2017. A hotel that embodies imagination, inspiration and innovation, it captures the creative spirit: the essential, energetic ingredient that has led to the scientific understanding of the universe and that acts as the bedrock to artistic expression.
Hotel EMC2 strives to activate the mind through modern, upscale amenities, a restorative yet stimulating atmosphere and sumptuous, seasonal cuisine to enrich the soul, allowing guests to feel right at home.
This one-of-a-kind, boutique hotel is situated in the heart of the famed Magnificent Mile Shopping District within the vibrant Streeterville neighborhood and is pedestrian-friendly to Chicago's greatest attractions, shopping and dining. A luxurious urban refuge, Hotel EMC2 is dedicated to providing an artistic and creative experience, where we lodge those that carry a pencil, a paintbrush or a dream. For more information about Hotel EMC2, visit: www.hotelemc2.com.  
About Ateriet's Chef Q&A
Chef Q&A at Ateriet is my way of giving great chefs the respect they deserve. I interview chefs from all over the world with the stuff I want to know. If you know a chef I should interview or have any other suggestions don't be afraid to let me know, just leave a comment or send an email. You can read my other Chef Q&A's here or explore all these great chefs and restaurants in my Chef Q&A Map, you'll find it here.
Tags: chef interview, chef Q&A, chicago, interview, larry feldmeier, usa