8 Amazing Cabbage Recipes That Uses All Types of Cabbage

I've rounded up 8 amazing cabbage recipes that use all types of cabbage, you'll find recipes using kale, red cabbage, white cabbage, napa cabbage and even some Brussel sprouts. The style of these recipes are quite different from each other, consider this your guide to start cooking more with this lovely vegetable family.
I love these cabbage recipes, that's just how it is. They are very different from each other and that's a good thing. It helps both you and me see how this family of vegetables can be used in many diverse ways, and it is all delicious.
I do realize that many of you (including me) have been growing up not loving cabbage. That's not cabbage's fault. It the persons who mistreated these great vegetables. None of that in these recipes, they are all delicious. I promise. There are eight recipes in this post, all of the recipes have been published here before so in the title of each recipe, there is a link that will take you to the original post if you want to see some extra photos and read some more about them. Enjoy and good luck!
1.3-1.7 lb / 6-800g Napa cabbage
4 cloves garlic
1.5 thumb-sized piece of fresh ginger
3 tbsp Sambal Oelek
3 tbsp Fish Sauce
1-2 fresh green chilies (optional)
salt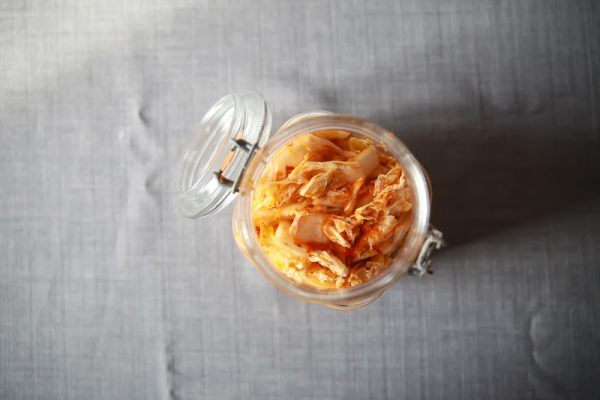 I used one head of Napa cabbage, after removing the bottom and chopping it the weight was about the same as in the recipe. So adjust the other ingredients in case you are making more or less.
Cut off the bottom of the napa cabbage. Slice it across and rinse with water. Transfer the cabbage to a big bowl and season with salt. Massage the salt into the cabbage and leave to rest for at least one hour. This will both season and soften the cabbage. Some of the water will be released as well.
Now let's make the marinade. Add all other ingredients to a mixer and mix into a paste. I used both a Sambal Oelek chili paste and fresh green chilies. But just the sambal works.
Then discard any water that has dripped out of the cabbage. Add the paste to the cabbage and mix.
Transfer the cabbage to a glass jar. Make sure to include the liquid as well. Push down the cabbage into the jar so it is as compact as possible. Done.
About The Recipe
This method is really how you make regular kimchi as well. So you can leave this to ferment at room temperature but I always start eating the same day. It takes at least a few days for it to ferment but by then I have usually eaten it all. Good luck and hope you like it as much as I do.
serves 4 as an appetizer
1 small head of fresh spring cabbage
8 tbsp creme fraiche
1 tbsp neutral oil
salt, pepper
1 lemon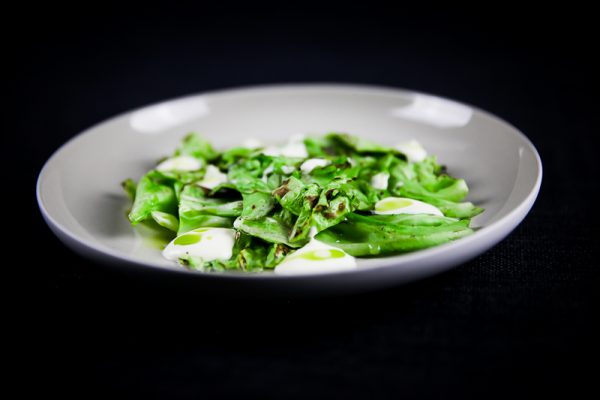 Herb Oil
0.5 cups / 1.2 dl neutral oil
2 tbsp olive oil
1 handful fresh chives
1 handful fresh parsley
salt
Let's start with the herb oil. Rinse the chives and parsley and add to a blender. Add the salt and oil and blend for about ten minutes. Strain through a coffee filter. That's it. The straining part takes some time, you might need to replace the coffee filter once or twice during the process. The best thing is to let it sit in the fridge overnight.
Oils like this can be used for lots of other dishes so it is a good idea to make a batch every now and then. This recipe will give more oil than you need. That's because you need to have something to mix, it just doesn't work that great to mix too little.
If you don't have a blender you can also make it using a handheld blender, that's what I did and it works just as good.
Remove the outer leaves from the cabbage and pull them apart in big pieces. The stems can be removed if they are thick. About 2 leaves for one serving is about the amount you need.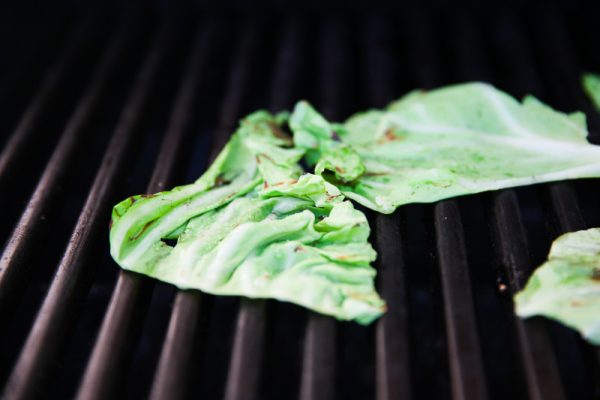 Grilling Cabbage
Brush the cabbage leaves with the oil and season with salt and pepper. Heat the grill. I used my gas grill when I did this dish. That works if you heat it properly before you start. A coal grill is better because it's easier to get higher temperatures.
Add the cabbage and grill about 30 seconds on each side. Remove and add to the plates. Add creme fraiche and herb oil. Sprinkle with some salt and give it a squeeze of a lemon, serve immediately. Good luck.
Serves 2-4 as a side
1 head of black cabbage, Nero di Toscano
1 handful of grated Parmesan cheese
2 cloves garlic
1.5 tbsp butter
1.5 tbsp olive oil
salt, pepper
1 lemon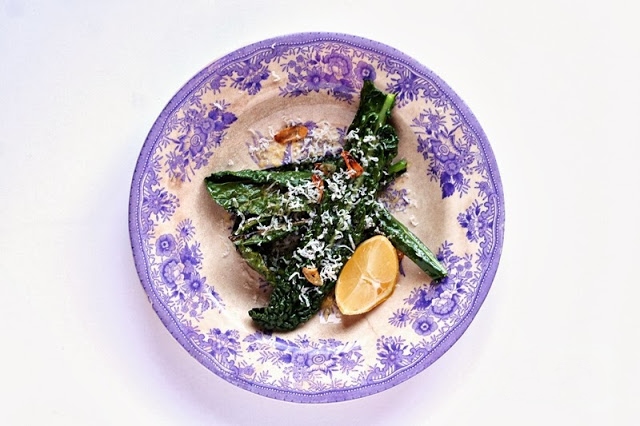 Rinse and remove the thickest end piece of each leaf on the cabbage, the stem of smaller leafs are ok to eat. Take a bite of a raw one and you will feel how much you need to take off. Peel and slice the garlic and heat the olive oil in a pan, add the garlic and let it get soft in the olive oil.
Add the cabbage and butter and roast the cabbage until soft. Season with salt and pepper. Put the cabbage on a plate and squeeze lemon juice on the cabbage and grate the Parmesan cheese on top. Serve warm.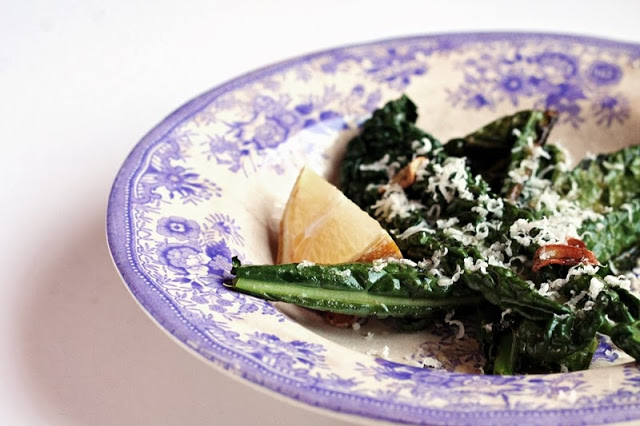 Serves 4 as an appetizer
250g / 8.8 oz fresh chanterelles
4 eggs
1 clove of garlic
1 sprig fresh rosemary
A few straws of chives
3 tbsp butter
4 big outer leaves of fresh white cabbage from one head of cabbage
1-2 slices of white bread
1,5 tbsp white wine vinegar
1,5 tbsp olive oil
Salt, pepper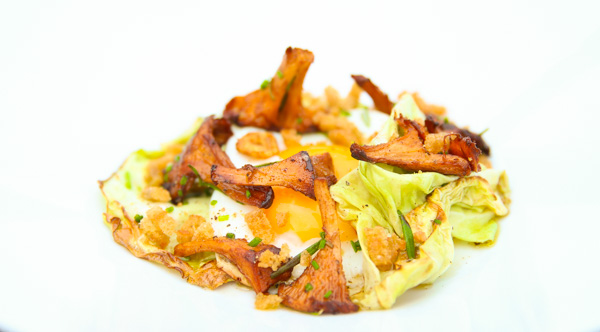 What to do
Remove the outer leaves of the cabbage, remove the stems from the leaves and cut into three big pieces for each serving. Save the rest of the cabbage for another day. Chop the chives and rosemary. Peel the garlic and slice thin. Remove any dirt from the chanterelles and pull into smaller pieces if they are big. Leave smaller one's whole.
Heat a frying pan and add the butter. Add the chanterelles and fry until slightly crisp and dark brown to golden in color, season with salt and pepper. Add the garlic and herbs and turn down the heat and cook for another minute. Remove the chanterelles and set aside. Keep warm.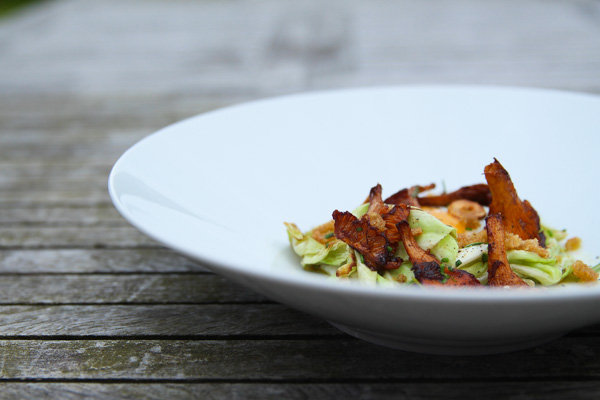 Reheat the butter and fry the white cabbage in the same butter. A few seconds on each side should be enough. Remove from the pan and season with salt, pepper. Marinate the cabbage while still warm with the vinegar and olive oil. Keep warm.
Fry the eggs in the pan at the same time as the bread. The bread should be crisp when the eggs are done, use two pans if you have trouble fitting it all at once. When the bread is crisp chop it to smaller pieces.
Plate the dish, start with some cabbage, then the egg and top things off with the chanterelles and croutons. Serve.
white cabbage
carrots
spring onion
lime
sesame seeds roasted
sesame oil
olive oil
dried chili, strips or flakes
cilantro
chives
salt, pepper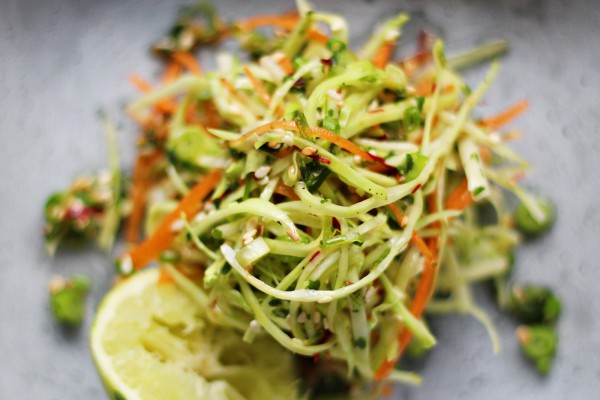 The veggies
Wash the cabbage and slice thin, remove any big stems before, add to a big bowl and sprinkle with salt, leave for one hour. This makes the cabbage softer and it will lose some of its water. Discard the water from the cabbage. Peel carrots and cut into thin strips, slice the spring onion and roughly chop the cilantro and chives. Combine all the vegetables in the bowl.
The dressing
With dressing, you'll need some measurements, for this dressing use 3 parts olive oil, 2 parts lime juice and one part sesame oil. Combine olive oil and sesame oil,  wash limes and grate the skin into the oil, then squeeze and add the lime juice. Add the chili, sesame seeds and season with salt and pepper.
Final steps and plating
Combine the dressing with the vegetables and check the taste, adjust if necessary. Serve on small plates with a lime on the side or as a side. Good luck!
Serves 4 as an appetizer
20 Brussel sprouts
2 lemons
2 tbsp butter
2 handfuls hazelnuts
salt, pepper
olive oil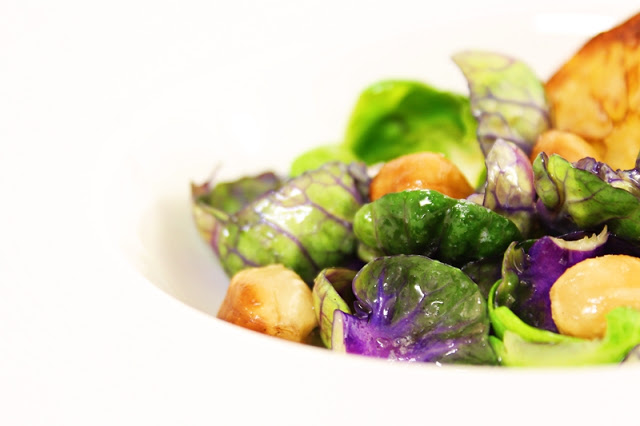 Remove the skin from the hazelnuts if you haven't bought peeled ones, all you need to do is boil them for a few seconds and then you can easily remove the skin which will crumble and go soft from the boiling. Then roast them with a little bit of salt and olive oil until golden.
Cut away leafs from the Brussel sprouts until you have about a handful for each serving. Rinse in cold water. Cut lemons in half and fry in butter on medium temperature until golden, this will not only look good but also flavor the butter and give the lemon a little bit of sweeter taste. Serve one-half lemon for each portion. Add a little bit of extra butter and turn up the heat after you removed the lemons. Add the Brussel sprouts to the butter and fry for a few seconds. You want them to be warm but almost completely raw. This gives them a great texture and removes the raw cabbage taste.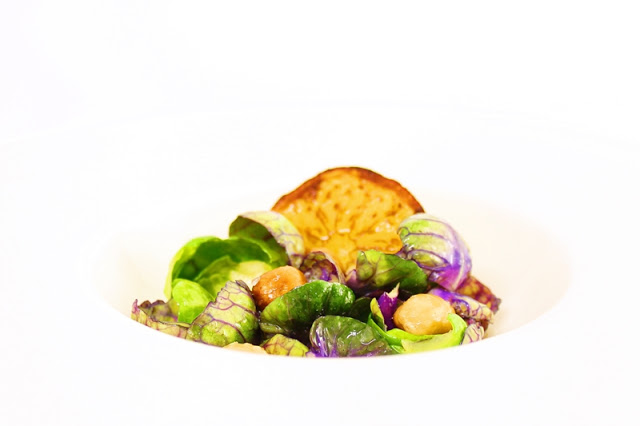 Serve immediately with the lemon and hazelnuts, add the butter that is left in the pan on top of the Brussel leafs. Good luck.
This is nowhere near an authentic kimchi but the flavor is amazing and it will give you a small taste of the real thing. Also, I added a few leafs of Thai basil to my paste because I really like the licorice notes. If you're in luck and have an Asian grocery store around you can also look for kimchi paste. I have tried a few of those and they are also OK to use for this quick variation.
savoy cabbage
Asian fish sauce
garlic
ginger
sambal oelek
vegetable oil
Thai basil (optional)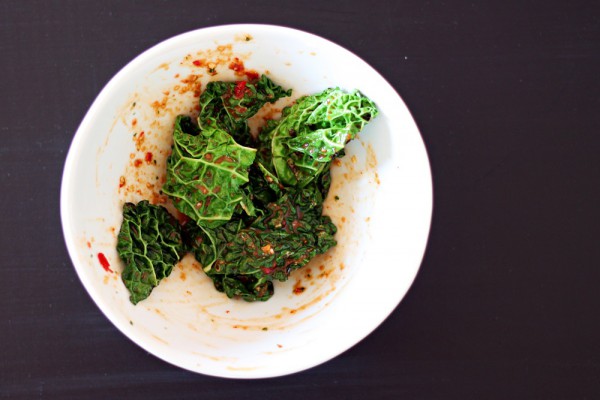 Rinse and remove any big stems from the cabbage. In a blender add equal parts of garlic, fish sauce, ginger and sambal oelek and mix into a paste. Add vegetable oil to a frying pan and add the cabbage and roast for a few seconds. Combine the cabbage with the paste. Check flavors and adjust if necessary. Also feel free to reduce or increase any ingredient if you like it any other way, good luck!
This recipe is part of my Ateriet Swedish Christmas Food Series, you can check out that here. This type of cabbage is also commonly served in Denmark for their traditional lunch sandwiches so you might bump into some if you're there.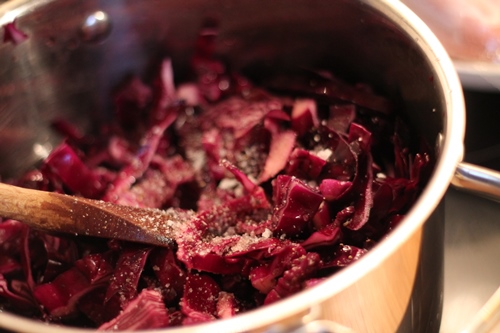 1 head of fresh red cabbage
2 apples
1 cinnamon stick
½ tsp ground cloves
2 bay leaves
4 tbsp honey
2 tbsp red wine vinegar
2 tbsp butter
1 cup / 2.3 dl red wine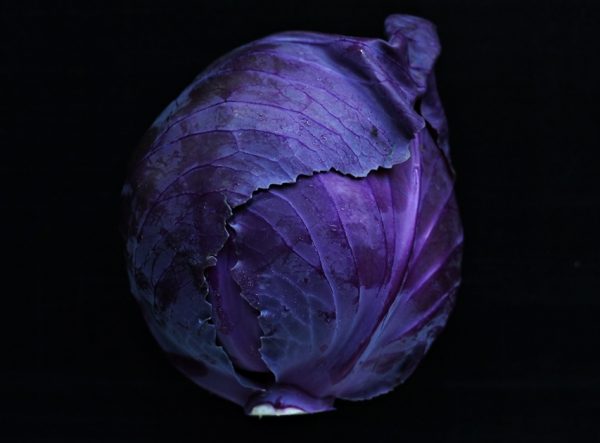 Split the cabbage in two and cut away the core. Then shred the cabbage. Shred the apples as well. Add the butter to a pot and add the cabbage. Fry on low heat for about 10-20 minutes or until it starts to release some moisture.
Add all the other ingredients besides salt and pepper and leave to simmer. Check while cooking so it doesn't burn on the bottom. You will want to reduce the liquids until the cabbage almost starts to glaze from the honey. Most people serve the cabbage too moist, this way is tastier.
Once the cabbage starts to look shiny and the sauce left starts to thicken season with salt and pepper. The cabbage can be chilled and reheated if not served right away.