Chef Q&A with Kyle Schutte of The FLATS Restaurant, Beverly Hills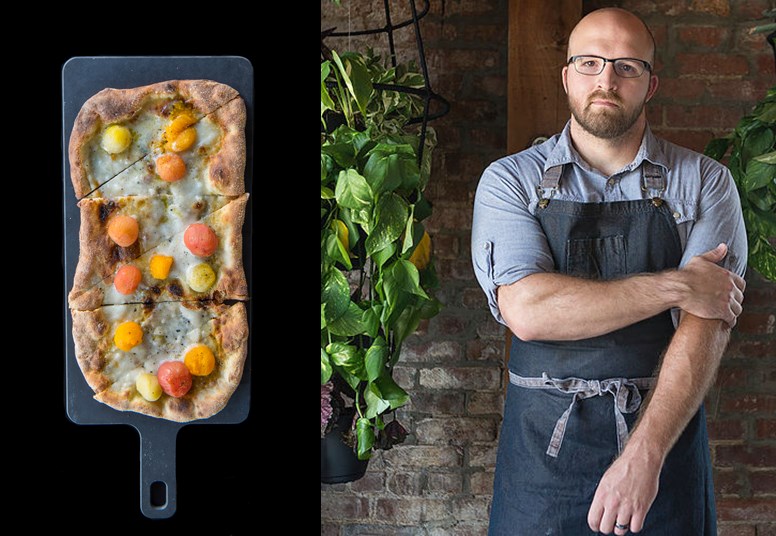 Chef Kyle Schutte is the man behind The FLATS Restaurant which recently opened in Beverly Hills. In this Q&A we talk all about the great flatbread pizzas at his first restaurant, his 52 weeks at the market project and how an ice cream sandwich made him change his life, keep reading.
Kyle Schutte opened The Flats Restaurant in Beverly Hills this spring and already this is becoming and LA and Beverly Hills favorite. There he offers a modern and fun dining experience that takes flatbread pizzas to another level.
With house-cured meats, dynamite cocktails and pizza flavors you've never thought of trying he is setting the bar for what a flatbread pizza is at the highest level. I've got the chance to ask Kyle Schutte some questions about The FLATS and about his profession.
What made you want to become a Chef?
Growing up I had always had a creative side and only really felt at peace when that side was being exercised. I went to college to pursue a degree in psychology and dove head-first into my studies.
I was thriving at school and loved the material, but the creative side of my life had gone by the wayside and I was starting to feel very anxious as I realized this probably was not the right path for me. I am a person who needs a plan and suddenly I didn't have one. I was 21, had no idea what I was going to do and was legitimately beginning to panic.
Then I went on this spur-of-the-moment trip to Maui and was sitting in this sea-side steakhouse having dinner when everything changed. For dessert, I ordered the house-made ice cream sandwich and when I bit into it, just for a moment I was no longer in Hawaii, I had no worries about my future, I was a 6-year-old kid with my dad eating an ice cream sandwich after a little league game. That dessert had taken me back to a better time. That chef was able to be creative and that ice cream reinforced everything I loved about psychology. The way our past experiences shape the way we experience our world and if we as cooks are able to tap into good memories we can make a real connection with our guests.
I went home, dropped out of school, went to the best restaurant in town, knocked on their door and literally told the sous chef "I know nothing about food, but I want to learn and I'll work hard."
How would you describe your cuisine?
Anything goes. If it's traditional I'll pass. I get bored easily and always want to be pushing for something new, exciting, fun and left of center… sometimes way left.
You've just opened The FLATS, a new restaurant in Beverly Hills, what can you tell us about it?
The FLATS is sort of my rebellion against those who have called my food "intellectual" and "unapproachable". I really believe some of these diners came into my previous restaurants with that preconception, maybe because of some of the techniques I use or maybe because of something they had heard.
With the FLATS I wanted to present my food via the unapologetically approachable flatbread pizza. I mean people will try anything if it's on a pizza. But then the rebellious side of me intentionally re-examined the other staples of a typical pizza restaurant to hopefully make my guests feel comfortable enough to try something new and maybe even challenge themselves a little.
What makes a pizza from The FLATS different from any other pizza?
For starters, we are cooking flatbreads. This is important because our flatbreads are lighter, a little healthier and definitely edgier than pizzas (although a 6 year old has told me her cheese flatbread was "better than dominos").
Past this distinction, everything from our dough, to our fresh cheeses and even our charcuterie is made in house. I don't know another place where you could order a pepperoni pizza and the dough, marinara, mozzarella and pepperoni was made under that roof.
Do you have a personal favorite pizza?
My personal favorite is the apple. Partially because it's tasty as hell and partially because it's one of the flats that really got me thinking about this concept. The base is a reduction of sparkling wine, champagne vinegar and sugar then it's topped with robiola cheese and braised bacon before being garnished with fresh slices of apple, powdered thyme and black pepper.
For me it's the perfect combination of that sweet and sour gastrique, smoky bacon, stinky cheese, black pepper spice, earthy thyme and fresh crisp apple.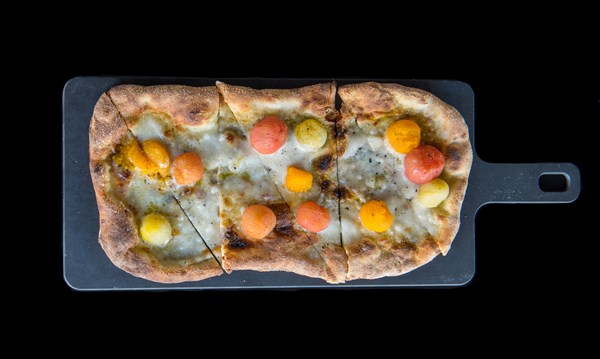 You also make house-cured charcuterie at The FLATS, what cuts do you like to work with?
The great thing about charcuterie is we are only limited by our imagination, which we are not running low on anytime soon. We started our program with traditional cuts in non traditional cures.
Currently we have sauerkraut cured duck breast, root beer cured pork jowl, pho cured beef eye of round, and then a slew of pork butt and beef chuck salamis. In the future who knows… maybe some cured marrow or even some vegetal cures will be hanging.
How do you continue to grow as a Chef, do you have a process or method to keep evolving in the profession?
I grow by doing two things: First, I follow my intuition. By this I mean I do what feels right and I avoid what feels wrong. This may seem obvious, but sometimes it's hard to avoid trends in any profession. I never force myself into or away from anything. I hand my gut the keys and let it steer. So far it has kept me on a forward trajectory.
More importantly, I am constantly forcing myself into uncomfortable and insecure positions and the FLATS has been greatly shaped by this approach. Fermentation was a baffling and complicated process to me so to my wife's chagrin I began stocking the house with home-made kimchis and vinegars.
Then charcuterie was way too intimidating so I began to experiment and slowly I built that into my repertoire. Breads used to scare me so I forced myself to learn to bake and then to create my own dough and cake recipes. I think you only get better by pushing yourself to be uncomfortable and I haven't been comfortable for years.
I saw that you have a project called 52 weeks at the market, what is that?
While I was busy putting together the FLATS I was also doing some consulting work for a couple restaurants. I had gotten so busy that I hadn't been to the farmer's market in quite a while. When my contract ran up at one of these restaurants I knew I wanted to reacquaint myself with the market, because after all it was California produce and ranches that made me want to move here in the first place.
The market is a source of limitless inspiration and I wanted to share that process with as many people as I could so I decided to start the 52 Weeks At The Market project. Each Wednesday for a year I went to the Downtown Santa Monica farmers market with no preconceived dish in mind and quite literally let the market's bounty guide me.
Sometimes inspiration struck right away and other times it would take a couple loops around the market to find THAT ingredient to spark a dish. Then I would take a picture of the market and the ingredients for the week and of course give credit to the farmers. At the end of each week I would take photos of the finished dish and share it all via Instagram. Currently the entire year can be found at @ChefKyleSchutte or with the hashtag search #52WeeksAtTheMarket on Instagram.
Most of the week's blog posts with commentary and multiple pictures have been posted to www.KyleSchutte.com with the last few to come soon. I would love to compile the blog posts, pictures and recipes from the project into a cookbook to pay homage to the Southern California farmers, ranchers and artisans who not only dedicate their lives to feeding us all but provide endless inspiration.
You've competed and won in Cutthroat Kitchen, is competing in food something you've considered doing more of?
Honestly, I view each day at the restaurant as a competition just because that's who I am and how I keep myself motivated. Being super competitive I can't say that I'm shut off to the idea of doing more shows or competitions, but honestly I hope to get myself to a place where I would be looked at as a judge rather than someone still needing to prove themselves.
Do you have a guilty pleasure in food?
I like simple cheap things. I'll pass on the truffle and foie (for myself and in my restaurants). For me there's nothing better than a fragrant steamy bowl of pho and a Vietnamese iced coffee.
As far as guilty pleasures though, I have the world's worst sweet tooth. Ice cream is that thing for me, so much so that I rarely let myself indulge because moderation becomes problematic. When I discovered the Stumptown Coffee & Compartes Love Nuts from Salt & Straw I literally had to give up ice cream for a year because I was having a cone every night!
What is your favorite culinary destination?
Here in LA there are so many great choices. Before we took the space where the FLATS is now I would have said Red Medicine which is probably why we jumped at the chance to take the building. But my all-time favorite restaurant is Jose Andres' Oyamel in Washington DC… the guy is a genius!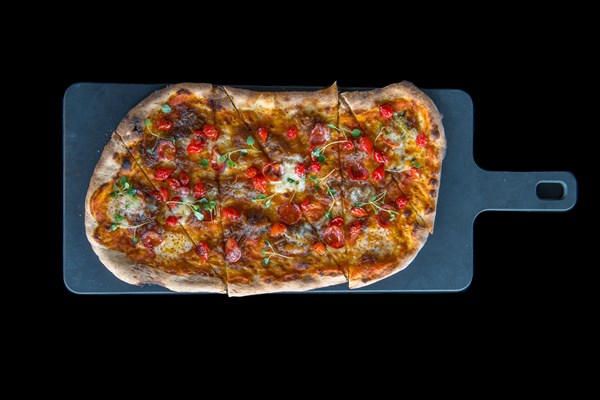 If I'm a food lover visiting LA, what can't I miss?
LA has so many great upscale restaurants but the best finds can be a bit out of the way. The green mole made with root beer leaf and pistachio at La Casita Mexicana in Bell, CA cannot be missed. A trip around Thai Town in East Hollywood will never disappoint. Also, Smorgasburg on Sunday's in the Arts District and Grand Central Market downtown are the things dreams are made of.
Who do you think I should interview at Ateriet?
I would love to see a series of interviews with the farmers who make the local markets possible, not just in LA but around the country. It's so important that they get the recognition and appreciation they deserve.
They are doing hard humbling work with great pride and I think small community farms need to be supported socially and financially as much as possible. If you want to start in LA I have some great people I can introduce you to.
Sounds like a plan, thanks and keep making great stuff!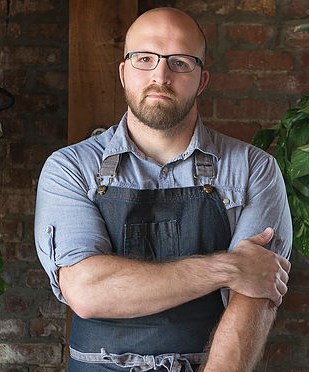 Name: Kyle Schutte
Age: 34
Birth city: Greybull Wyoming
Current city: Los Angeles, California
Education: Art Institute of Atlanta, Culinary Arts Management
Favourite quote: Anything ever said by Ron Swanson ever
You can read more about The FLATS below, to keep up with Kyle Schutte I recommend following him on Instagram here.
About The FLATS Restaurant
The FLATS is a modern, sophisticated and fun dining experience with a focus on artisanal flatbread pizzas adorned with the best local, sustainable and humanely raised produce, meats and sea life available.
Accompanied by shareable starters, untraditional house-cured meats and a world-class cocktail program dinner at the FLATS is truly a social event. The FLATS brings together local as well as exotic ingredients, out-of-the- box flavor combinations and artistic plating to its diners via an unapologetically accessible culinary medium sure to make it a destination for the pickiest foodies and casual diners alike.
The FLATS is located on 8400 Wilshire Boulevard, Beverly Hills. For menus and reservations visit The FLATS online here and connect online via Instagram or Facebook.
About Ateriet's Chef Q&A
Chef Q&A at Ateriet is my way of giving great chefs the respect they deserve. I interview chefs from all over the world with the stuff I want to know. If you know a chef I should interview or have any other suggestions don't be afraid to let me know, just leave a comment or send an email. You can read my other Chef Q&A's here or explore all these great chefs and restaurants in my Chef Q&A Map, you'll find it here.