Eating at Noma – How I ate the most expensive lunch in my life and still walked away smiling.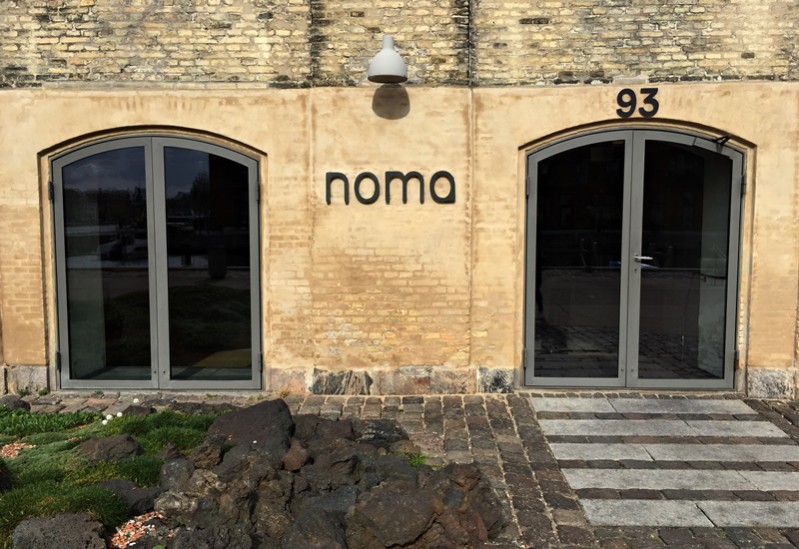 Eating at Noma in Copenhagen turned out to be the most expensive lunch I ever had. I left with a smile on my face and can't wait to go back. Read why.
So Eating at Noma. This is without a doubt one of the most talked about restaurant experiences worldwide. The only one I think even come close is the glory days of El Bulli, where I never had the chance to go.
When I read all those other reviews about Noma it's all about how everything is sourced from the Nordic. About eating weird things like ants how impossible it is to get a table. But sadly not that much on how delicious the food are while still being innovative. Not much about how great and personal the service is. Very few words on how transparent and open the restaurant is about, well everything.
Let's go through it all, from start to finish.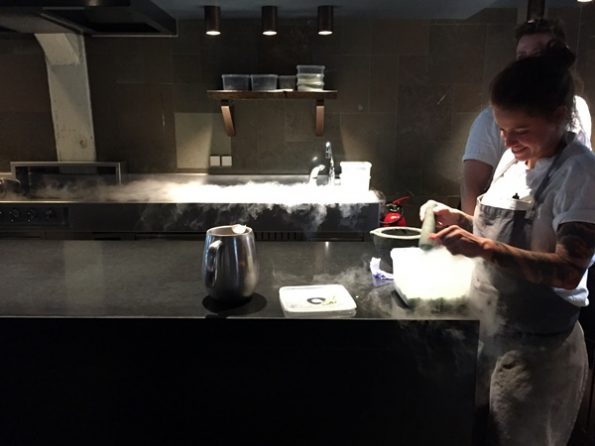 Getting a table at Noma
If you search online on how to score a table at Noma you'll find that it's impossible. If you ask me I have no better answers. I've been sitting in that online que without getting a reservations a few times already.
The thing is, I happened to be walking past Noma on my way to Copenhagen Street Food which is highly recommended by the way. Me and my wife was standing outside when the door opened. A nice maître d' came out and started chatting. We asked if we could eat something. She said yes.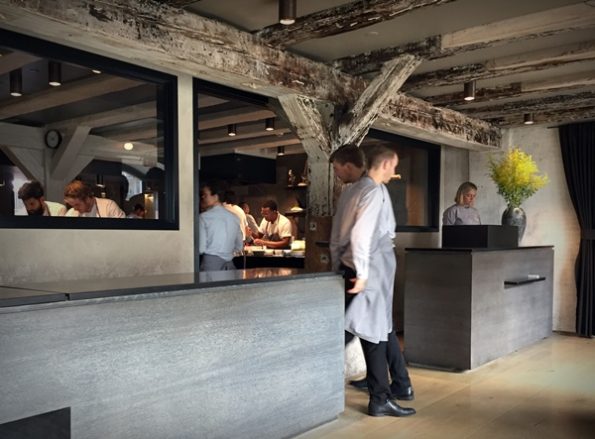 What had happened was that they had gotten a late cancellation and we just happened to be walking by. If I fantasize it could also be that they had stalked me since I'm a super influential food writer and they just had to get me to sit down for a meal. It's that or luck.
I'm hoping for the food writer fame but I'm pretty sure I got lucky. That I happened to be in Copenhagen to celebrate my birthday didn't hurt either.
To actually score a table I still think the best way is to try the online reservation system. Also try to group a gang together, it is much easier to get a reservation if you are part of a bigger party.
The perfect service
So without a booking and a long time longing to finally eat at this almost legendary place we get invited in. Once we take a step into the restaurant everything more or less stops. Half the kitchen and every waiter in eyesight rushes up to us and shouts welcome, wishes me a happy birthday and immediately sets us down at our table.
We get seated, asked if we want something to drink to set things in motion. We ask for a glass of white wine, it gets poured in a matter of seconds. One sip later and our first dish is sitting in front of us.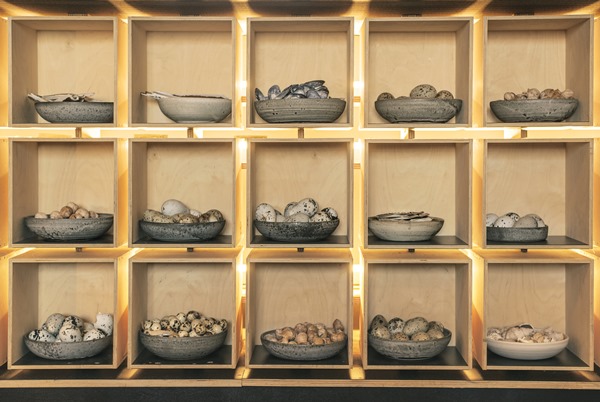 This all sounds like it would be normal but it really isn't. Usually getting a seat, a drink and something to eat can take way too long at far too many restaurants. Here we have been happily greeted, got poured a glass of wine and got our first dish. We've been inside the doors less than two minutes. That's the speed I always want. Not because I'm in a rush, but I am there to eat and drink. Hanging out by the maître d' won't make me happier. No matter how nice she or he is. (It was a she and she was really nice).
Service is quick, personal just at the right level, super friendly and fuss free. That means you'll get all the service you need. You will feel perfect but there will be no unnecessary crap like people brushing of breadcrumbs every two seconds over being over polite. The waiters actually makes us feel like we're friends, or at least could easily be.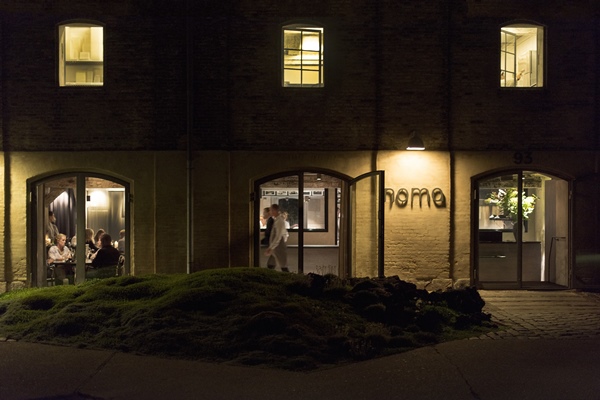 How the service works
The service is setup like this. Waiters bring wine, remove plates and make sure we are happy. The kitchen controls the pace and brings out all the food. That's the key to the tempo. For every dish one of the cooks from the part of the kitchen responsible serves us and tells us about how it has been prepared and if it should be eaten in a certain way. Some of them handle this great, some are not really comfortable doing it but they all handle themselves fine.
It's hard to explain exactly what it is I like so much about the service but I think it's something like this. You know how so many restaurants say that their restaurant should feel like home. Like being in someone's living room. Have you ever felt that way? If so you're lucky. Don't get me wrong, I love going to restaurants and I love to feel invited. Most restaurants have skilled staff that are friendly and provide great service, but I don't necessarily feel the living room feeling. At Noma I do.
It's because everyone seems genuinely happy to have us there. They treat us like equals and don't fuss around with stuff that doesn't matter. That's the key. And yes they can all be faking and secretly hate and despise us all, that's fine too. If you fake that good it's good enough for me.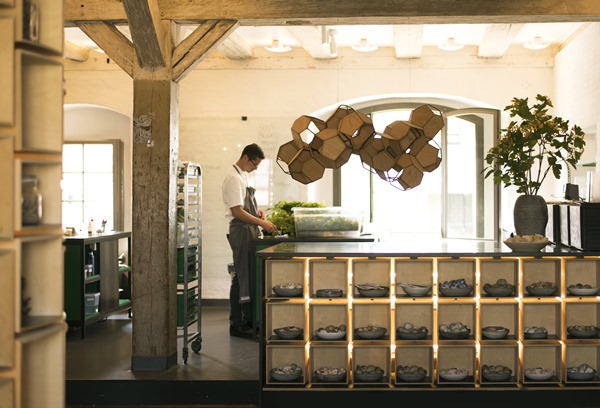 The Food at Noma
So let's talk food instead of service. As I mentioned there is always lots of talk about the food at Noma. For me that's too much talk about fermentation, an old manifest and ants on a shrimp.
That's fine but when you focus on that you miss out on the fact that they serve absolutely delicious food with loads of technical skills and innovation. To not make this post way too big I've selected some of the highlights from the menu when I ate. Keep in mind that the menu changes daily so by now things could be looking very different. If you work at Noma I ask for forgiveness in advance. It's not like I took notes during the meal so I'm sure I missed details or got some things wrong.
In my defense, it's like this. If you're taking notes at a restaurant like this you're doing it wrong. Enjoy it instead.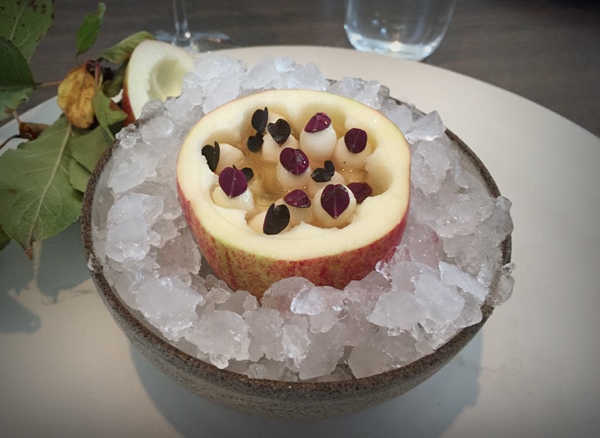 First out was this apple, the apple has been cored out with a metal apple baller. In the bottom of the apple is an apple puré, then the apple balls have been put back in and the apple is filled with fresh apple juice and topped with purple wood sorrel. The juice, balls, and puré is made from three different kinds of apples. Great presentation and a very refreshing start.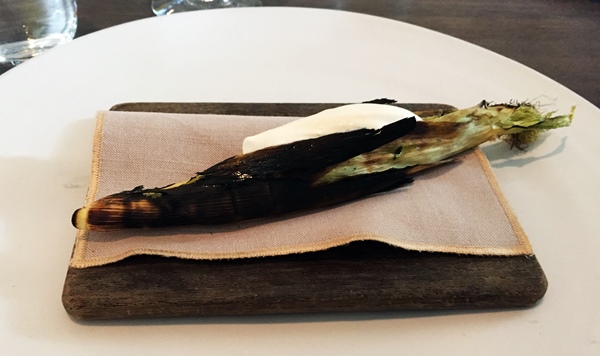 Grilled corn with horseradish. This is fresh corn, the cob has been pulled out and grilled and combined with nasturtium leaves. The horseradish cream was served tableside. The taste is fresher than corn and the burnt flavor paired great with the creamy horseradish sauce.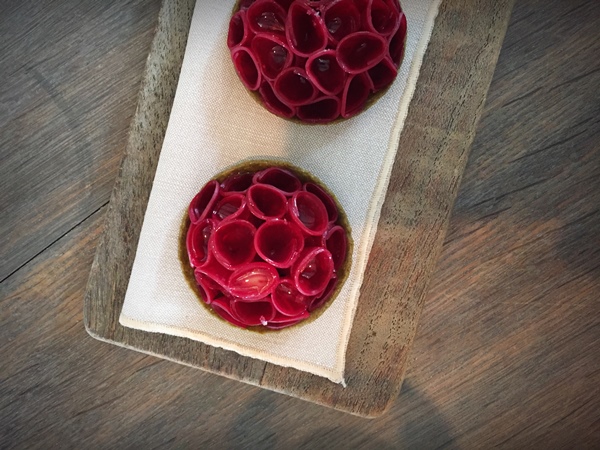 Radishes sliced and shaped into roses. The radish has been marinated in beet juice and is seasoned with horseradish and a little bit of cucumber juice. It is served on a seaweed cracker. Beautiful presentation and packed with flavor. The seaweed cracker doesn't taste that much of seaweed, more like a slightly crumbly cheese cracker.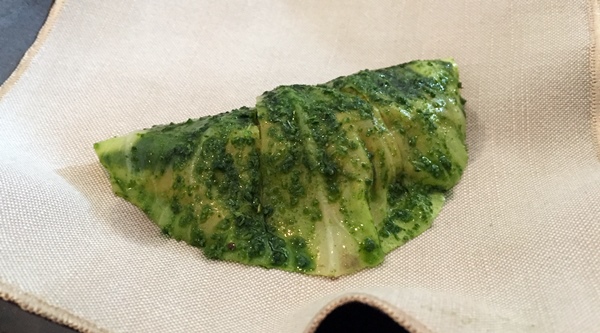 Fresh sea urchins from the Faroe Islands, rolled into cabbage and topped with a spruce vinaigrette. The texture and flavor of the sea urchin were absolutely crazy. Unbelievably creamy texture and one of the richest flavors from the sea I ever tasted. It's hard to see in this photo but the dish is cut up into three pieces so you get three generous bites.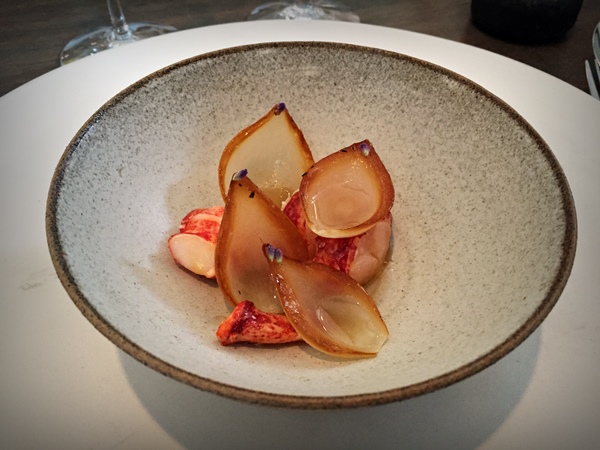 Lobster cooked in smoked butter with grilled onions and lavender. The lobster is cooked but not all the way through. Semi raw with a sweet rich flavor, a slight crunch from the onion and mild smokiness from the butter. The lavender actually sent off a distinct but mild aroma which put a nice twist on the dish.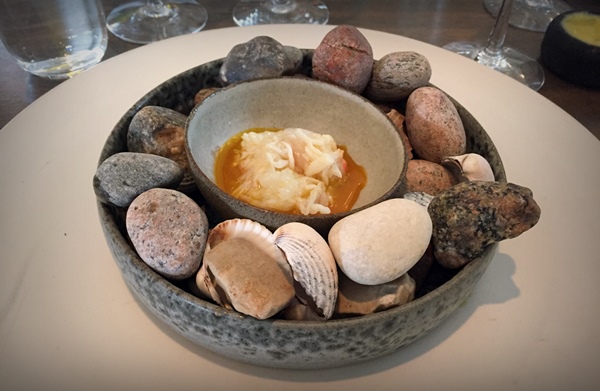 King Crab in marinated egg yolk. This one could feel slightly weird, at least if you don't love eggs. The egg is cooked to somewhere around 63 degrees Celsius and then peeled and the yolk has been marinated in Piso. Piso is Nomas homemade Miso, so fermented pea paste instead of the Japanese Miso. The flavor was egg and sweet crab all the way. Very creamy texture from both the egg and crab. I have to admit that I'm kind of guessing here on the technique, but I'm sure it could be done like that.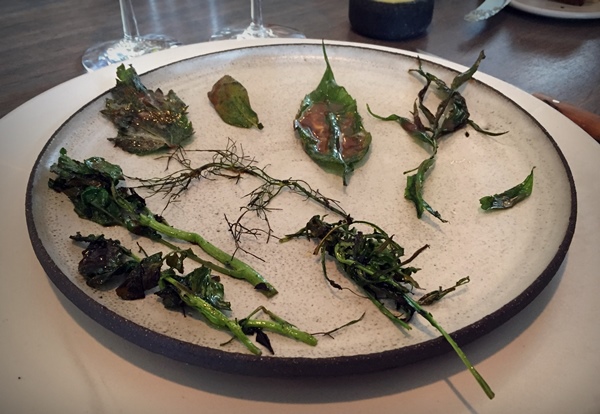 Grilled wild herbs with scallop paste. The dish is fresh wild herbs and plants. The plants are grilled over a coal grill for just a few seconds. The trick is to use a flat sieve that you normally use to make sure you don't get any lumps in your cakes. After grilling the herbs they're brushed with a scallop paste. To me it tasted like a concentrated langoustine stock without the sharp flavor you can get if you reduce stock the normal way. Sadly I forgot to ask how they make it.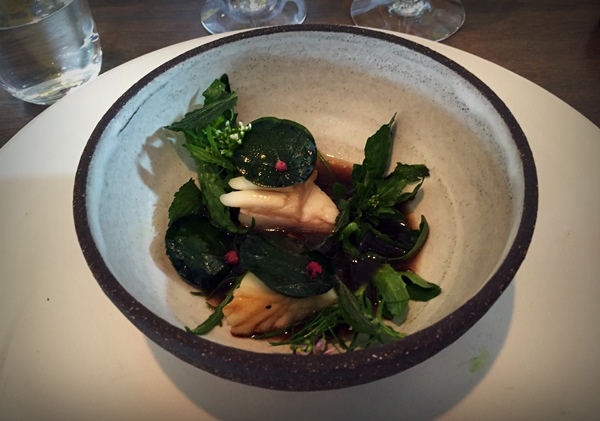 Turbot with mushroom broth, cress ravioli with shrimps and wild herbs. Stunning stuff, the combination of the mushrooms stock, turbot and wild herbs was way more flavorful than what you might expect. It's hard to see in this photo but the round cress leaves are actually ravioli filled with chopped shrimps. The cress leaves have replaced the pasta. This is technical skills where it matters. Perfectly executed and served without fuss, I didn't even see it before I almost ate it.
That's my highlights from the lunch before I move on to the desserts. Some things stand out. During the entire meal, there was no meat and no red wine. I didn't reflect on that until I was having coffee so that counts as a good grade if any.
The Desserts Deserves Extra Credit
So let's dig into some sweetness. Before I try to explain these dishes I just need to share how I feel about desserts. I'm the kind of guy who usually orders another appetizer when the rest of the table goes for dessert.  
The reason is that it is far too rare with innovation when it comes to dessert. You'll get some berries, a piece of cake, ice cream or chocolate. It always tastes good but it's never exciting. No matter how much I love ice cream I do like to try something different. Especially if I'm spending serious money to eat at a great restaurant.
When eating at Noma dessert is something else.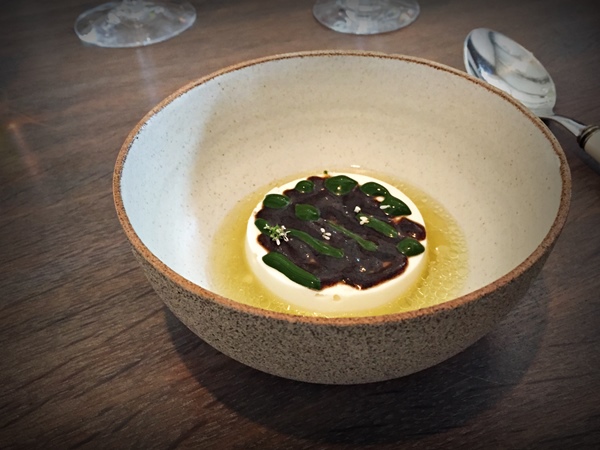 Sheep milk pudding, ant paste, fennel cream and a cold wood sorrel broth. One of the best desserts I ever had. The creamy milky pudding paired with the freshness of the ant paste and wood sorrel broth with a touch of licorice notes from the fennel was perfect. It was sweet but not as sweet as a regular dessert. One or two touches less and this could have just as easily been served at the beginning of the meal.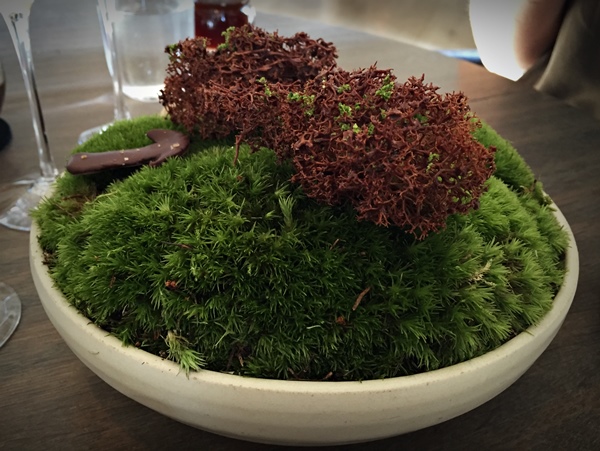 You'll see this dish all the time online. The moss like chocolate to the right is just what it looks like. Moss sprayed with chocolate. Crispy with a touch of the forest. But the thing I really loved was the slice of mushroom to the left. Like a thin slice of creamy chocolate dipped fudge with a deep but still mild cepe mushroom flavor. I had no idea that the fudge like sweetness of cepe mushrooms would pair so well with the mushroom flavor but it really was magic. This is innovation the way it should be. New, delicious and technical on the right side of crazy.
The Wine List
So here's the thing. I love wine, I've read a couple of wine books, I tried loads of wine and even took some wine classes. But I'm still not that interested that I keep track of what I'm drinking or what is what on a wine list. Sure I have a couple of go-to choices if I'm buying a full bottle. Luckily all decent or good restaurants have very skilled sommeliers. They love wine and know way more than I will ever bother to learn. So if there is a package deal I will happily go for it.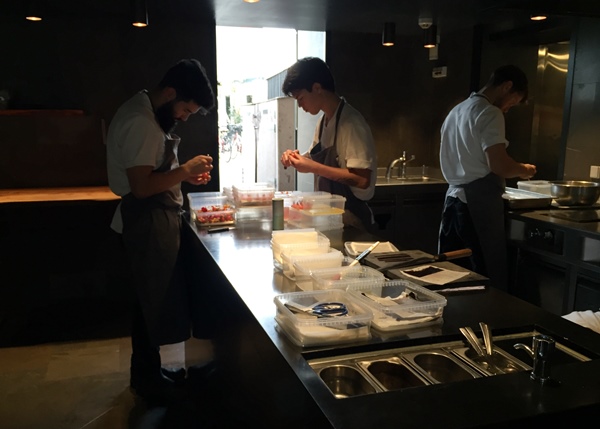 I took the full wine pairing at Noma. To keep it short they were all great. All white and all European. Some was made in the now so popular and disputed natural way. That means a slightly different style than most regular wines. More natural fruit, sometimes too much oxidation, sometimes it smells like old rotten apples. Luckily these were all on the right side of natural and matched the food perfectly.
The only thing from the wine pairing I didn't like was the last glass. It was some sort of bright yellow Saké from Japan. It tasted sort of like liquid bread yeast with some acid in it. So I'll pass on that one next time.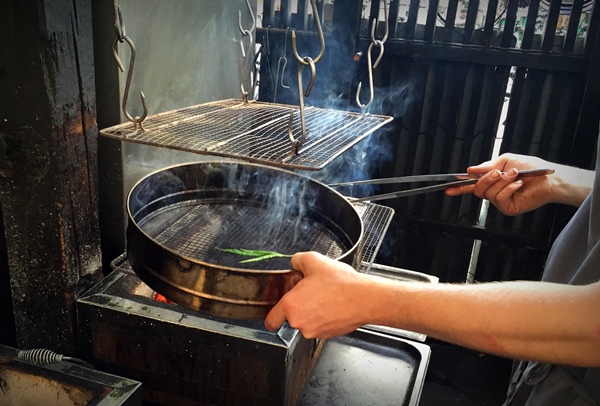 Kitchen Tour at Noma
To end the meal we like everyone else there were offered to take a kitchen tour and of course we did. This is another thing I really loved about the visit. I know that many kitchens lets you take a look into the kitchen but this is something different.
It was not like a guided tour at a Museum. More like we were visiting a friend we've just met. The cook who took us on the tour was from Italy and during the tour we've got to see everything we wanted. From the live king crabs to the other cooks prepping for dinner service, a tour of the grill, the fermentation lab and anything else we asked for.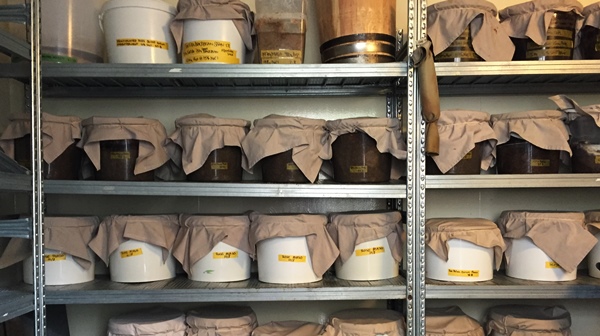 This is the thing that really stands out. How everyone in the staff, from us getting there to us leaving made us feel like we had stopped by to visit good friends. That's a very rare thing in any restaurant.
I know the talk about Noma is all about the food but the service at all levels should be just as praised as what they put on your plate.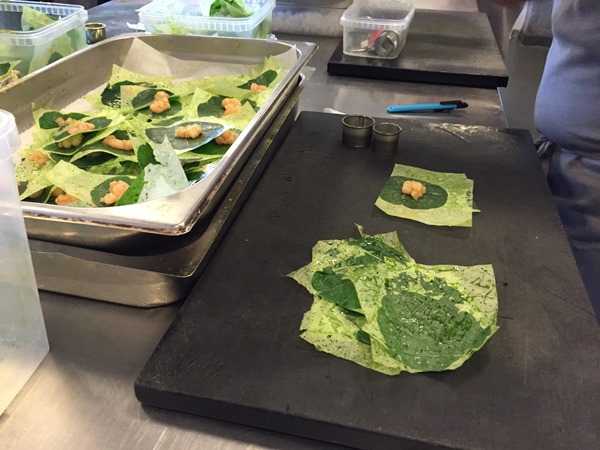 So, how much does it cost to eat at Noma?
Some people might say that you can't put a price on an experience like this. Turns out they are wrong. Eating a full lunch or dinner (they are the same) at Noma will cost you 1.900 DKK for the food and 1.100 DKK for the wine pairing. With a glass of wine before dinner and some coffee that adds up to 3.250 Danish Kroner. That's around $500 for lunch. For one.
Now how do you justify spending that much money on a lunch, no matter how tasty? Personally I tell myself that food is both my profession and my biggest interest. Then I use my credit card and the month after I will live on rye bread and water.
And I can't wait to go back.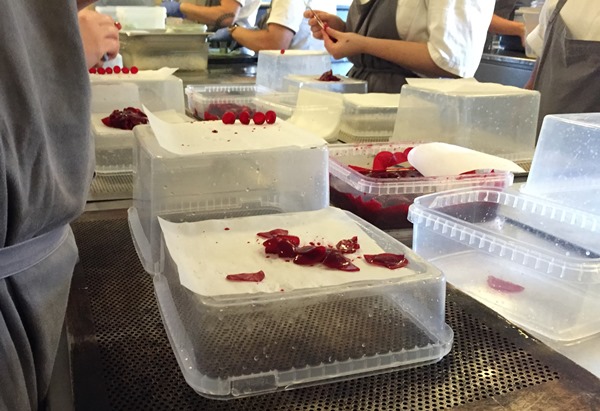 So if you want to be eating at Noma check out their website here.
Ateriet Restaurant Reviews
Ateriet loves restaurants and we eat out as much as we can. Although Ateriet's focus is not mainly reviewing restaurants sometimes we find places that are worth writing about. All those can be found under the tag Restaurant Reviews. We visit way more restaurants than we write about. It's also worth noting that we don't give out grades or anything like that, we just eat. Then sometimes we write. Enjoy.