Meet Edin Dzemat of Brasserie By EDz in Our Chef Q&A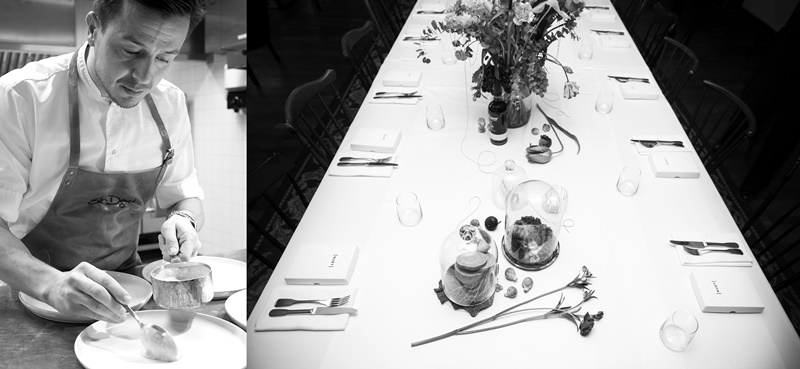 Meet Edin Dzemat of Brasserie by EDz and the upcoming dzeMAT in our Chef Q&A, we talk Sweden, Bosnia, his on-going pop-up tour and reaching for three Michelin stars, keep reading.
Edin Dzemat is the Chef of Brasserie by EDz. Since its opening in 2016 it has put the small town of Kosta on the Swedish culinary map. Now Edin Dzemat have teamed up with Zacapa Rum and bartender Jonas B. Andersson for a pop-up restaurant tour in Sweden called Nuet. Next year another restaurant, which will be called dzeMAT, will open in Kosta with the ambition of gaining three Michelin stars.
Let's start from the beginning; what made you want to become a Chef?
By chance really, my Bosnian friends had decided to study to become auto mechanics. That wasn't something I wanted to pursue so that more or less left me with the only option – culinary school. Once I started my education I committed fully and gave it my all.
How would you describe your cuisine?
My food is contemporary and I always try to create a sense of irritation. Irritation is how I describe that I want something to stand out, something unexpected. It can be a flavour, texture or presentation of the food. Furthermore, in my food Swedish meets Bosnian influences.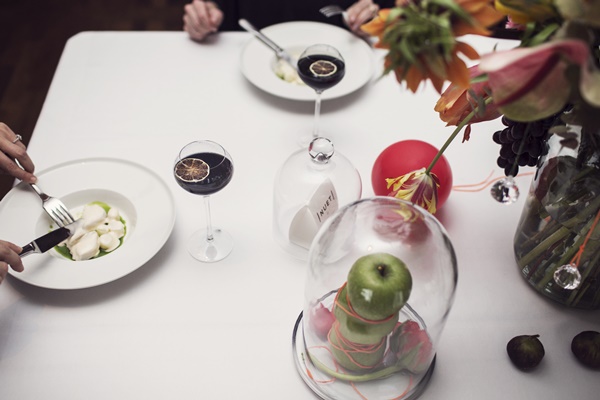 You're in the middle of a pop-up restaurant tour in Sweden called Nuet, what can you tell us about that?
We live in a world where we are constantly online and being bombarded with impressions. Everything is happening at incredible speed, constantly. That why one of the world's best bartenders Jonas B. Andersson and I have teamed up with Zacapa Rum to create the pop-up restaurant Nuet. It's a "here and now" food and drink concept. Nuet means 'present' in Swedish.
The goal is to create an experience that involves all the senses and that makes people take a break, think and reflect about the food and drinks they are served. To make it possible mobile phones are not allowed and we guide our guests on how they can use their sense to the utmost. The full menu is not public until after our food tour is over.
What we want to do is simply help our guests live in the now and enjoy the food, drinks and company. All the senses will be involved and the focus will be the craftsmanship of gastronomy and quality of the drinks.
So far we've had two dinners at Lydmar in Stockholm and one at Johannes Kök in Linköping. Next up is Gothenburg where we will host a dinner at Sjömagasinet on the 26th of April, don't miss it!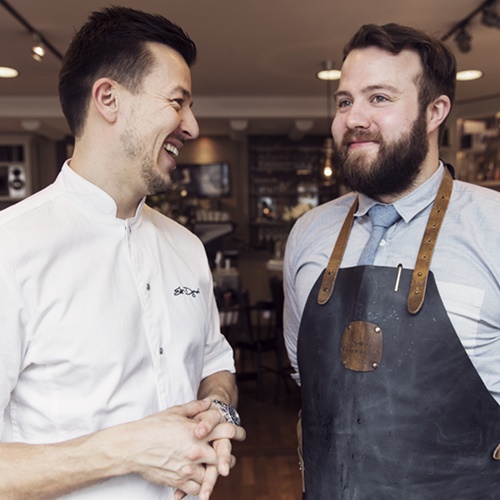 The traveling chef is becoming more and more common, is that something you would like to explore more in the future?
Yes absolutely, I would love to explore Japan. I want to learn more about their food culture and cooking methods. It's the craftsmanship, purity and attention to detail in Japanese cuisine I want to learn more about. I would also love to go to South America.
You were born in Bosnia-Hercegovina and came to Sweden when you were eleven years old. Do you still have a strong connection to your old country and what effect do you think your background have had on your food?
I have a very strong connection to Bosnia; I go there on a regular basis. Actually I was just there and took part in two big TV-Shows. I'm actually better known in Bosnia than I am in Sweden. I try to explore more of the Bosnian food tradition. The old dishes and techniques in Bosnian food like fermentation and curing are very interesting to me.
The gastronomy in Bosnia hasn't come as far as in Sweden, there are no Michelin starred restaurants for example. So in my spare time I hold lectures and try to inspire and motivate more restaurants to progress in gastronomy.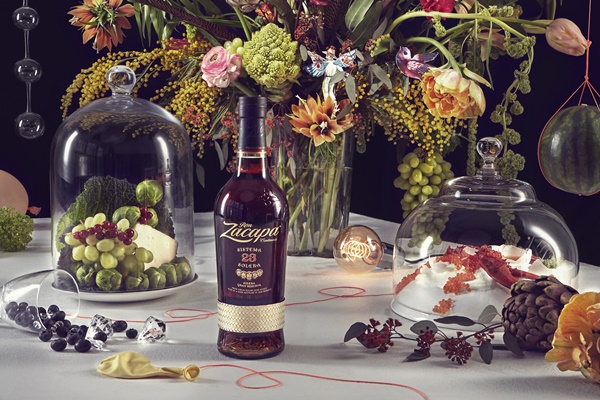 Last year you moved from Gothenburg and the Linnea Art restaurant to open Brasserie by EDz in Kosta, Sweden. How have the restaurant been received?
It has become a very successful concept; we are fully booked for months ahead. Brasserie by EDz is a very personal restaurant. We serve great food with great service in an almost at home environment.
In 2018 you will open a second restaurant in Kosta called dzeMAT, what can we expect?
You can expect a restaurant that will be unique. We will have cooking methods that nobody in the world have where we will be cooking some of the food on liquid glass.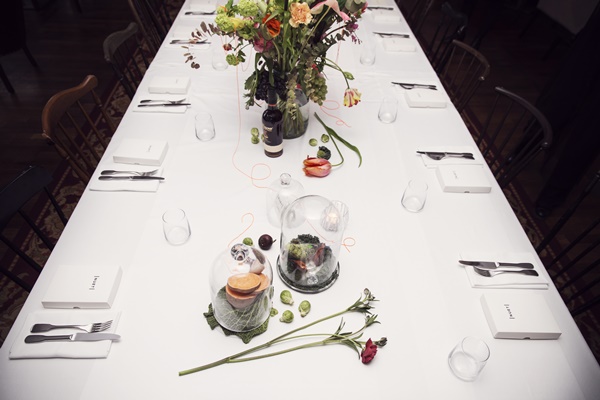 I've heard you say that the ambition with dzeMAT is three Michelin stars, what made you put that pressure on yourself?
I always aim for the top, otherwise what's the point? My partner in the restaurant is a little bit crazy as well and he also always aims for the top. I guess it's in my nature. It doesn't matter what it is, starting a restaurant or some other competition, I always want to be the best at what I do.
I also heard you will introduce some new cooking techniques from Bosnia at dzeMAT, what are those?
The technique is called Sac and it is a way of grilling and smoking at the same time, it is done under a copper lid. You can cook any food using this method but we will take it to a new level.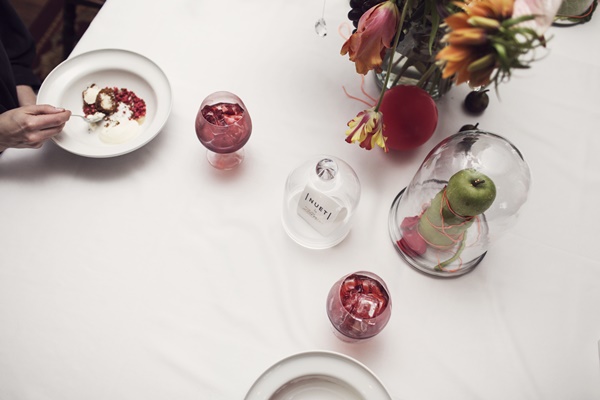 Kosta is not close to any of the major cities in Sweden, do you think that makes it easier or harder to succeed with a restaurant at the top level?
It doesn't matter where it is. The important thing is to make it great and create a unique restaurant experience.
What is your favourite culinary destination?
Tokyo like I mentioned before. I love the craftsmanship, purity and attention to detail in Japanese cuisine.
Who do you think I should interview next at Ateriet?
Mats Vollmer, Vollmers in Malmö, Sweden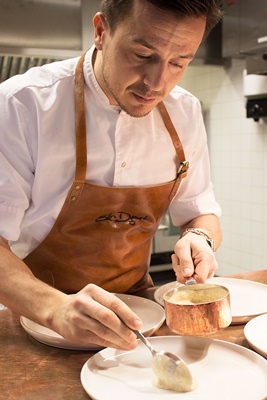 Name: Edin Dzemat
Age: 33
Birth city: Gislaved
Current city: Kosta Boda and Stockholm
Education: Culinary School in Värnamo, Sweden
Previous profession: I used to work in a grocery store and in a metal factory.
Favourite quote: Nothing is impossible, just more or less difficult
Thank you Edin Dzemat for your time and good luck with Nuet and the new restaurant. More about Brasserie by EDz and dzeMAT below.
About Brasserie by EDz and dzeMAT
Brasserie by EDz was opened in the Kosta Boda Art Hotel in Kosta in the south of Sweden in 2016. The hotel also doubles as an art gallery and everything within the hotel is for sale. The brasserie is Edin Dzemat's interpretation of a modern brasserie where he serves innovative cuisine in a rustic environment. The menu is based on local and seasonal produce.
In 2018 a second restaurant called dzeMAT will be opened with the ambition of becoming the first Swedish restaurant with three Michelin stars. For booking and reservations at both Brasserie by EDz and the upcoming dzeMAT visit the Kosta Boda Art Hotel website here.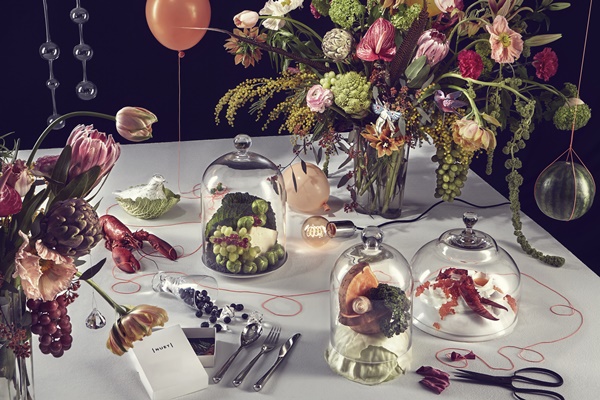 About Ateriet's Chef Q&A
Chef Q&A at Ateriet is my way of giving great chefs the respect they deserve. I interview chefs from all over the world with the stuff I want to know. If you know a chef I should interview or have any other suggestions don't be afraid to let me know, just leave a comment or send an email. You can read my other Chef Q&A's here or explore all these great chefs and restaurants in my Chef Q&A Map, you'll find it here.