Meet Colby and Megan Garrelts of Bluestem and Rye Restaurants, Kansas City in our Chef Q&A
In this Chef Q&A you'll get to meet not one but two great chefs as I interview Colby and Megan Garrelts of Kansas City Restaurants Bluestem and Rye. Meet them in a talk about their restaurants, Midwestern cuisine and the dining scene in Kansas, keep reading.
Colby and Megan Garrelts met when they were both working in Chicago. Colby as a chef and Megan as a pastry chef. After a few years of working together they packed their things and moved to where Colby grew up, Kansas City, Missouri.
There they opened up Bluestem Restaurant in 2004 which quickly became one of the top restaurants in Kansas City. In 2012 they opened up their second restaurant Rye in Leawood in the southern part of Kansas City. Bluestem continues to be one of the top restaurants in the Midwest and Rye have become a favorite for anyone looking for great Midwestern comfort food. Colby and Megan Garrelts still takes charge of one part of the kitchen, Colby for the savory and Megan for the sweet things, now let's talk food.
Can you start of by telling us a bit about the difference between your two restaurants Bluestem and Rye?
Colby & Megan – Bluestem is a fine dining restaurant focusing on multi course menus using local and artisanal products. It is quite small with only 13 tables in the dining room and an open kitchen.
We also have a bar in the entry area of the restaurant that seats around 40 people with an open pastry kitchen. We serve dinner only in our small intimate space located in the heart of the entertainment district of Kansas City, called Westport. Bluestem has been operating since 2004 and has been the pilot for us to be able to expand with another concept some years later, Rye.
Rye is our interpretation of Midwestern comfort food using local farmers and cooking techniques from our home region. It is a much larger space about 4 times the size of bluestem with the addition of private dining rooms, a large double sided bar, and a big patio.
Rye is also located in Leawood Kansas a suburb of Kansas City slightly south of the urban center. It was built so we could entertain large crowds, families, and serve food we both grew up eating. Rye has been open since December of 2012 serving brunch on the weekends, lunch, and dinner nightly.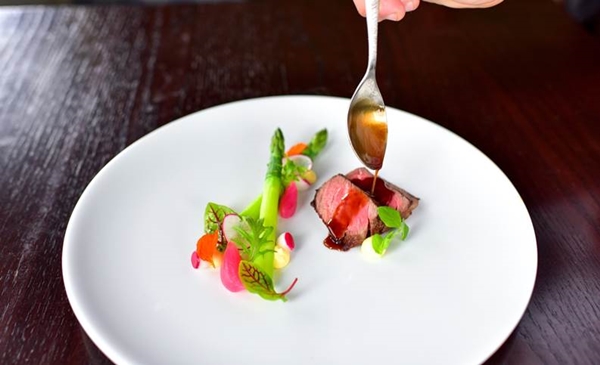 How would you describe your style of cooking?
Colby & Megan – Traditional (being rye) & progressive (being bluestem) American
What do you think is the best part about Midwestern cuisine?
Colby – It's homey and unpretentious.
Megan – It's home for us, a reminder of our heritage.
Is there a dish or ingredient that is very specific for Kansas City, something special you have to have when you visit?
Colby – Everyone needs to experience Kansas City style BBQ. It defines our city and culture and quite frankly we believe it's the best BBQ in the country!
Megan – I am a little biased here in that dessert rules my world, I encourage people to eat lots of pie while in the Midwest particularly ours at Rye. BBQ is second to sugar for me. Additionally Christopher Elbow's chocolates are king and our local beers from Boulevard brewery and local spirits from J. Rieger are not to be missed as well
At Bluestem you give the option of eating 3, 5 or a ten course tasting where many other top restaurants only offer a single menu, how come you've chose that setup for the menu?
Colby & Megan – We would love to offer one menu, but our city seems to shy away from restaurants that are too limited. We felt it was a good way for us to offer multi course meals and still give the customers some control over their menu selections.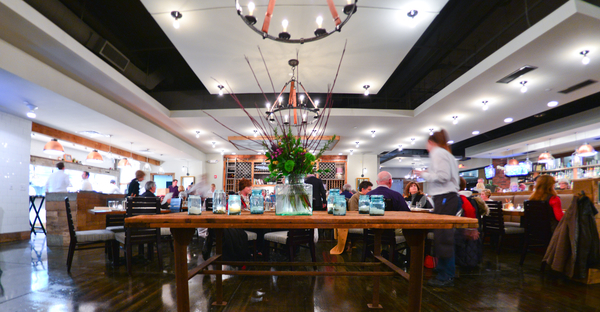 You met in Chicago in the kitchen of Tru and ended up together with two successful restaurants in Kansas City, was it a plan early on to opening a place together?
Colby – It was always my dream to own my own places. It was kind of a tough sell to Meg in the beginning but she seems happy with it now!
Megan – Colby always wanted to return to his home in KC to open a restaurant. I knew this when we met. I have always wanted my own place too, but he pushed me along maybe a little sooner then I thought for my own goals. However I am so glad we came to KC when we did and took the risk early on. We opened Bluestem when I was 23 and we would probably not do that level of stress and fine dining now with two kids and an older mind.
Did you ever consider opening in any other part or city instead of Kansas City?
Colby & Megan – We look at every opportunity that comes our way. It must feel right to in order to work. We would consider another city if the economics were right and our schedule could allow us the time to travel regularly for visits and meetings.
Many cities seems to be getting more and more great restaurants and the quality is constantly getting better, is it the same in Kansas City and how has the dining scene changed since you opened Bluestem?
Colby & Megan – The dining scene in KC has changed a ton since we opened. There wasn't much of anything going on. I think regionalism has played a big part in making the restaurant scene in most cities in the US. People are finally feeling proud of where they live and are from and you're seeing it in not only the restaurants, but in the culture of the city.
We also believe people leave the places they are from, travel, experience cooking in other areas, and gather ideas then ultimately return to their homes far more than before to make something great happen in the city or town they grew up in.
It's also a lot easier to share and gather ideas now in the way of media, restaurant websites, and social media. Information is being shared faster now –  in our early days of cooking you had to wait for a new cookbook to arrive at the bookstore and/or actually eat the chef's food to gain perspective, now everything is a click away.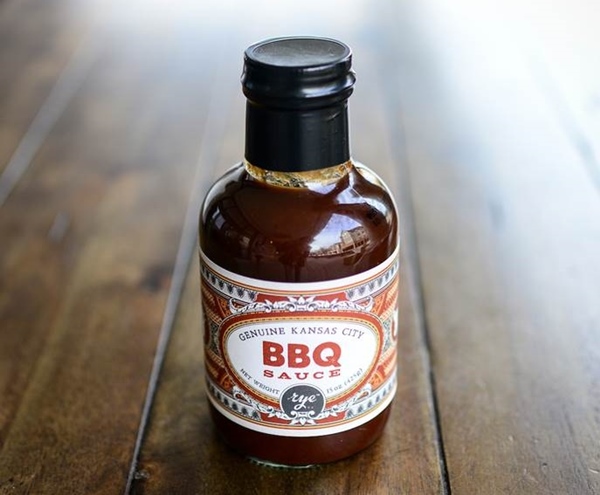 How do you split the work between you, do you bounce of ideas and dishes between each other or do you keep in your own corners so to speak?
Colby – We kind of keep in our own corners so to speak. Meg deals with all things sweet and me the savory, however we both work together when it comes to the business items and administrative duties.
Do you have a process when creating new dishes?
Colby – Not really. We let the seasons drive the ship. When new seasons come around it always points us in a new direction.
Megan – The seasonal changes as Colby mentioned above are the driving force on our dessert menus too. Some items stay all year long at Rye because quite frankly our guests may get mad if we took them off the menu such as our lemon meringue & banana cream pies. The other menu items change with what we have in season.
At bluestem seasons also play a major role however that menu for both desserts & savory dishes have sort of an anything goes mentality in terms of creative freedom. Since it is such a small restaurant we can bring things in and out when we get bored or have a new idea much more easily than Rye because of the volume we serve at Rye.
At Rye you've been frying up quite a lot of chicken and it has become your signature dish for the restaurant. How do you work with a dish like that, do you still try to improve and tweak it or do you leave it like it's always been?
Colby – With signature dishes like the chicken, we pretty much leave it be unless something comes up with it. Consistency is very important in a restaurant concept like Rye. In the earlier days of Rye we did tweak the formula slightly as our goal was a really good consistent product that our team could execute every day.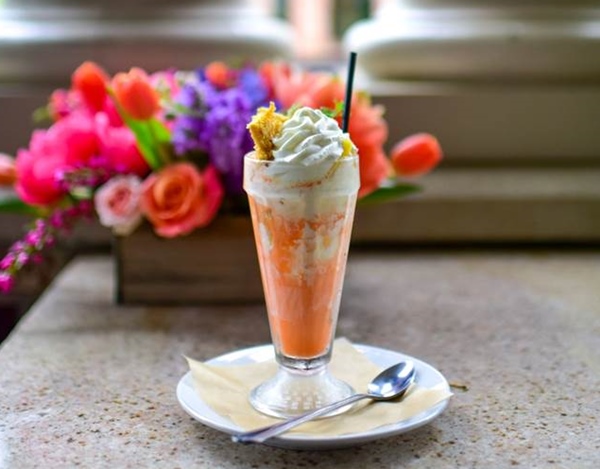 I'm kind of jealous of the huge selection of Ryes as well, is that a personal interest as well?
Colby – I love whiskey. All of them! Rye is just a natural fit for whisky and Rye. I wouldn't necessarily say it's a "personal interest" but more of something that just happened organically.
We have a very talented bar staff that has done a great job with our inventory and product selection. We also do several Whiskey events and tastings throughout the year to educate our staff and to give our guests something new to taste and enjoy at the restaurant in addition to regular lunch or dinner service.  
Where do you like to travel for culinary inspiration?
Colby & Megan – Almost anywhere we go is inspirational. We love to see how regions all over the country are starting to own their heritage and celebrate the foods and traditions in their hometowns. We love the south and northeast of American cooking from the recipes to the foods that grow in those regions. The Northeast particularly for crabs and other fresh seafood, sweet corn, blueberries, and the ocean.
We were in Norway and France last year and it was incredible too. Hugely inspirational to deep sea dive for fresh seafood off the coast of Norway then to have it prepared by Chef Christopher Haatuft of Lysverket in Bergen. With him and his team we also forged along the fjords and cooked a collaborative dinner featuring our American Midwestern cuisine and some of their local ingredients.
In France, we dined and stayed at Michel Bras and longtime bucket list for us. His use of the surrounding terroir to gather ingredients from, the fresh milk cheeses, the wine, and pastries were all deeply moving for us as this was a culinary destination we were long waiting for.
Do you have a guilty pleasure in food, and if so what is it?
Colby – Cheez It Crackers & Miller High Life
Megan – Chocolate Devil's Food Cake with Buttercream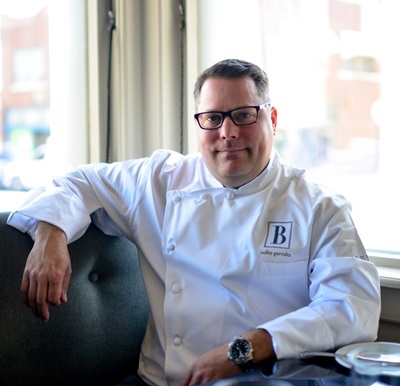 Name: Colby Garrelts
Age: 42
Birth city: Kansas City, Missouri
Current city: Kansas City, Missouri
Education: Johnson County Community College Culinary Arts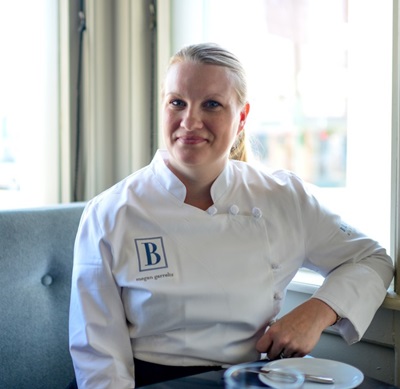 Name: Megan Garrelts
Age: 37
Birth city: Chicago, Illinois
Current city: Kansas City, Missouri
Education: Baking & Pastry Arts @ The Culinary Institute of America in Hyde Park, NY
About Bluestem Restaurant
Bluestem was opened in 2004 by Colby and Megan Garrelts. Bluestem offers a progressive American cuisine. It has received local and national accolades including being named a 2015 and 2017 James Beard Foundation semi-finalist for Outstanding Restaurant. Bluestem is opened for dinner Tuesday – Saturday and is located on 900 Westport Road, Kansas City MO. For menus and reservations visit them online here. You can also connect with Bluestem online at Facebook, Instagram and Twitter.
About Rye Restaurant
Rye is Colby and Megan Garrelts celebration of traditional Midwestern recipes, ingredients and flavors. Midwestern comfort food at it's greatest. Rye is opened daily for lunch and dinner and is located on 10551 Mission Rd, Leawood KS. For menus and reservations visit Rye online or connect at Facebook, Instagram and Twitter.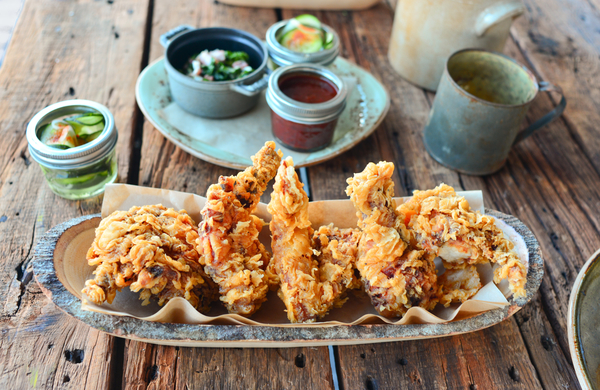 About Ateriet's Chef Q&A
Chef Q&A at Ateriet is my way of giving great chefs the respect they deserve. I interview chefs from all over the world with the stuff I want to know. If you know a chef I should interview or have any other suggestions don't be afraid to let me know, just leave a comment or send an email. You can read my other Chef Q&A's here or explore all these great chefs and restaurants in my Chef Q&A Map, you'll find it here.