Chef Q&A with Kim Canteenwalla of Honey Salt, Las Vegas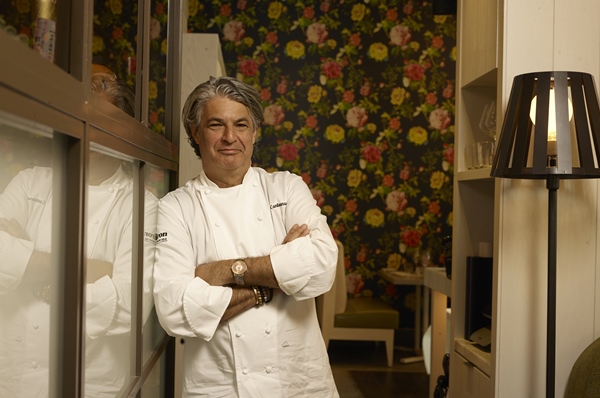 Meet Chef Kim Canteenwalla, after working as a Chef all over the world Kim Canteenwalla has now found a home in Las Vegas, Nevada. Starting out with restaurant Honey Salt in Las Vegas Kim Canteenwalla have now built a small restaurant empire with his wife Elizabeth Blau. We asked Kim about his favorite food memories, the vibrant restaurant scene in Las Vegas and Kim shares a fishing memory I think we all wished were our own, keep reading.
Have you always wanted to work with food?
No, originally I wanted to be a baseball player or a hockey player. By the time I was 16 or so I realized that wasn't going to happen, and since then it's always been food.
What's you favorite food memory?
When I was a young chef in Toronto, working at the Four Seasons, a bunch of other chefs and I went on a fishing trip outside of the city one night after a long stretch of working holiday doubles. We raided the pantry a little bit before leaving and loaded up a couple of cases of wine, a few bottles of cognac, some caviar, great butter, bread from the bakery, a bunch of lemons, and a few other select goodies.
We drove all night and got up to the lake just before sunrise, had a couple of bottles of the wine and went to sleep. The next day we got in our boats and went out on the lake and fished all day, but we'd left most of our supplies back at camp, so by the time we got back to camp were starving.
We had caught a ton of perch and sunfish, and we cooked them simply in cast iron over our campfire, lots of lemon, foraged some herbs, and butter. It was this surreal experience of eating with these guys, we were all classically trained, and we had this incredible wine and cognac, but the focus for all of us was this fish we had just caught, simply cooked over the fire.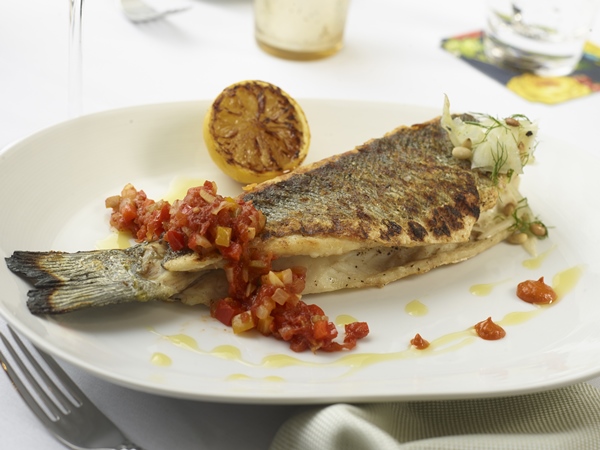 Do you have any favorite ingredients at the moment?
This time of year I love Nantucket Bay Scallops. Also we're coming into citrus season which means blood oranges, another favorite of mine. And I always cook with pink peppercorns, I love their tartness and the brightness they bring to marinades, especially with seafood.
Ceviche of Nantucket bay scallops with blood orange and pink peppercorn is one of my favorite dishes, and there is only a brief window that I can put it all together right around this time of year.
How would you describe your style of cooking?
Improvisational. I think it's very organic and fluid, especially when I am cooking at home. I don't think that's an easy question for any chef to answer, as I think our style is often closely tied to a process that is constantly evolving. However, for me, it's always about feeling what I'm cooking, working organically, never cooking from a recipe, try not to repeat a dish, it is a freestyle to me, kind of improvisation, like a musician in some ways.
You have experience from all over the world, what is your favorite country outside the US when it comes to food?
Singapore. The mix of all the different Asian flavors and cuisines coming together in one city, combined with a great street food culture and a country-wide love of dining. Food is such a big part of the culture there, and the passion of the locals, combined with such an international population make it an incredible country to discover food.
Is there a country out there that you haven't had the chance to visit that you're looking forward to?
Not a country – a whole continent – South America. I have been able to travel to many places but not that part of the world. The wine, the food, the landscape, I am dying to explore Argentina, Brazil, Chile, Peru, I have heard incredible things about Columbia.
Of course it is an enormous continent full of diverse culinary traditions and history, it would be great to spend a few months exploring the amazing fine dining restaurants in some of the capitals as well as all of the amazing farms and vineyards in the country. If I had to chose one country I think Argentina has been calling me, but I would hate to confine my travels.
Las Vegas has become a serious culinary city with Chefs from all over the world opening up exciting restaurants, what are your thoughts on that?
It has been incredible to see Las Vegas develop as a culinary destination. There are few places where you can get access to such an incredible array of world famous chefs in only a few square miles. This huge concentration of high quality chefs and restaurants has also given us the ability to access incredible ingredients in the middle of the desert. We get some of the best fish in the world, meats, vegetables, wine allocations – they are flown in directly to Las Vegas.
The purchasing power of the casinos combined with the demands of these world class chefs have created a pretty amazing supply chain. Also – with the rise of dining in Las Vegas it has also brought great talent, guys who came over as sous chefs or commis now have their own restaurants or have helped open great new concepts. It has been great for the dining scene here as a whole – both on and off the Strip. SUPPLY CHAIN – we get the best of everything, fresh, in the middle of the city.
You're keeping busy with developing new and exciting restaurants and concepts, how is this compared to just working with one restaurant?
In one restaurant I can be a lot more focused, but with development, four restaurants under operation, and our consulting projects – a need to spend a lot of my time managing my team and make sure they are running the restaurants to my expectations.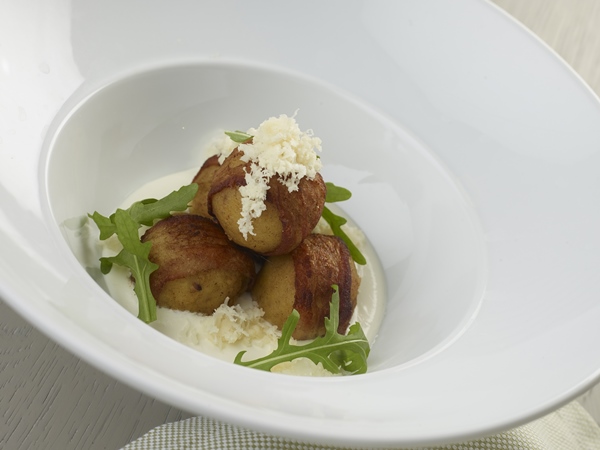 You are involved with some great charity organizations, can you tell us a bit more about that?
I work a lot with Three Square, which is our local community food bank. Food insecurity is a huge issue the world over, in Las Vegas alone over 50% of students are enrolled in reduced price or free lunch programs, and one in three don't know where their next meal is coming from. Three Square has a wide variety of programs that help provide some security in the community.
As a chef I think that making sure everyone is fed is incredibly important. It is hard to think in a town with so many high end restaurants and so much spent on food that so many people are not sure where their next meal is coming from. It is our responsibility to help change that.
Do you have a guilty pleasure in food, and if so what is it?
As a Canadian I am tempted to say poutine, which I love, but I also really love dark bitter chocolate.
Who do you think we should interview next at Ateriet?
Sven Mede.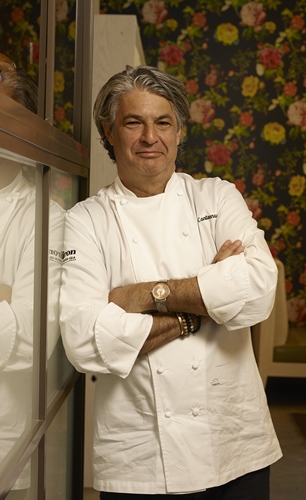 Name: Chef Kim Canteenwalla
Age: 55
Born: Karachi, Pakistan
Current city: Las Vegas, NV
Education: Riverdale High School, Montreal; Institute St. Dennis, Montreal
Previous profession: Always done this
Favourite quote: Be yourself
Thank you for your time Kim and good luck in the future with all your projects.
Read more about Chef Kim Canteenwalla and his and Elizabeth Blau's restaurant business below.
About Kim Canteenwalla
Chef Kim Canteenwalla comes from more than 25 years of experience from restaurants and hospitality service. During his years Kim Canteenwalla have gained experience in Singapore, Thailand, Bali, Dubai and Cambodia among others. Kim has also been a part of the Four Seasons Hotel in Toronto as well as the MGM Grand in Las Vegas. Now Kim Canteenwalla is the principal and managing director at Blau + associates where he run four restaurants and additional consulting projects.
About Blau + associates
Blau + associates is a restaurant and hospitality development company founded in 2002 by Elizabeth Blau and Kim Canteenwalla. Blau + associates run four different Las Vegas restaurants.
Honey Salt – Located in west Las Vegas Honey Salt serves farm to table cuisine with focus on local ingredients. Find out more about Honey Salt at Facebook and Twitter.
Buddy V's Ristorante – Here Kim Canteenwalla and Blau have partnered with Buddy "The Cake Boss" Valastro and are recreating Italian heirloom dishes from the Valastro family. Find Buddy V's at Facebook, Twitter and Instagram.
Made.LV – Made L.V is a new project where Kim Canteenwalla serves contemporary comfort food in a great environment. Find Made LV at Facebook
Andiron Steak & Sea – Another new project by Kim Canteenwalla, at Andiron Steak & Sea all things that are grilled, roasted, shucker and seared are being served in a great environment designed by Thomas Schlesser. You can also find Andiron at Facebook.
Besides these restaurants Blau + associates have been involved in creating a wide range of succesful restaurants all over the US.
About Ateriet's Chef Q&A
Chef Q&A at Ateriet is my way of giving great chefs the respect they deserve. I interview chefs from all over the world with the stuff I want to know. If you know a chef I should interview or have any other suggestions don't be afraid to let me know, just leave a comment or send an email. You can read my other Chef Q&A's here or explore all these great chefs and restaurants in my Chef Q&A Map, you'll find it here.